Must Do
Top 10 Things to Do in Arizona
We know there are a lot of options when planning your ultimate Arizona road trip. So we've shortened them to a diverse list of our favourites, including outdoor adventures, lodging, food experiences and Arizona's unique culture—many of which can be enjoyed by all ages and abilities.
As a matter of convenience, all of the following places and activities are within driving distance of Arizona's main airport, Phoenix Sky Harbor International. Should you prefer to hit the road, and you have access to a camper or RV, we've noted when there are appropriate accommodations.

We tried to keep things simple by omitting places that require advance, and sometimes hard-to-obtain, permits such as Havasu Falls, Antelope Canyon, Aravaipa Canyon or Fossil Creek; however, if you're planning well-enough ahead, we suggest giving them a go.
1. Grand Canyon National Park
As one of the seven natural wonders of the world, the Grand Canyon may likely already be on your itinerary. Spanning nearly the entire northern border of the state, the canyon is comprised of three rims—North, East and South—and Grand Canyon West, which sits on American Indian tribal land. The South Rim is the most accessible from Phoenix and open year-round.

Camp or stay in a lodge for a few nights, while you explore by bike, foot, or boat during the day. Need more inspiration? Check out our itinerary suggestion for Three Perfect Days at the Grand Canyon. Trailer Village is the only spot within the park with RV hookups and reservations can be made online.
2. Saguaro National Park
Perhaps one of the most unique—and recognizable—features of Arizona is the saguaro cactus. This massive cactus, which can grow up to 18 meters, can be found in most low-elevation areas of the state. But, it is in Tucson, in southern Arizona, where you'll find the most in Saguaro National Park, which surrounds the city.

A sunrise hike is our favourite way to experience this park. Afterward, visit the Arizona-Sonora Desert Museum to view the infamous Western Diamondback Rattlesnake. Feeling fancy? Spend a night at this desert-chic inn that borders Saguaro National Park West. There is no vehicle or RV camping available, only permits for backcountry camping.
3. Canyon de Chelly National Monument
For almost 5,000 years people have been living within the walls of Canyon de Chelly—and many Navajo families still do. Within the 84,000 acres of protected land lies an incredible history of human occupation dating back to the Ancient Puebloans, who saw the canyon and its resources as a valuable place to plant crops and raise families. Visitors today can drive the north and south rim scenic drives, or hike within the canyon with an authorized Navajo guide. Camping is available, but there are no hookups—find out more about camper RV accommodations and camping here.
4. Monument Valley Navajo Tribal Park
Located on the Arizona-Utah border, Monument Valley Navajo Tribal Park has one of the most iconic views in the western US. In fact, many of John Wayne's western movies were filmed in here. If you make the trip north to the park, there are a few lodging options such as The View Hotel at Monument Valley or Goulding's, which offers a hotel and a campground with camper RV accommodations. For an immersive experience, hike or ride on horseback through the park with a guide.
5. Stay at an Arizona dude ranch
What's more western than staying at a dude ranch? Arizona has many to choose from throughout the state. Relive the Old West with cowboy cookouts, horseback riding, yoga and wellness activities, live entertainment, guided hikes, and more.
6. Explore Sedona
Sedona is known for its red-rock formations amidst beautiful, pine forests. You may have also heard about the Sedona energy vortexes. Either way, Sedona is a great weekend getaway full of amazing hikes, world-class mountain biking, and unbeatable desert spas. Our favourite spot to camp with tents is Manzanita Campground—for camper RVs it's Rancho Sedona.
7. Sample local, award-winning wine
Luckily for us Arizonans, there are three major grape-growing regions in the state that provide local wine. Spend a day touring one of our wine trails for a chance to experience a relaxing day outside, sipping wine in the warm sun with incredible views. If you'd rather stay close to the city, check out these metro-area tasting rooms that feature local wine in either Tucson or Phoenix.
8. Chiricahua National Monument
Near Wilcox, one of those three wine-growing regions in southern Arizona, you'll find Chiricahua National Monument. The landscape is dotted with hoodoos, the large spires of rocks balanced on other rocks, and natural rock arches, which give Chiricahua the nicknames "Wonderland of Rocks" or "Land of Standing Up Rocks." Hiking and sightseeing are the most popular activities in Chiricahua. Bonita Canyon Campground has spots for both tents and camper RVs under 29 feet (9 meters), but no hookups are provided.
9. Treat Yourself to a Fancy Resort Stay
If the perfect temperatures and sunny skies in Arizona don't already make you feel like you're on holiday, book yourself a stay at a luxurious Arizona resort to soak in the good weather out by the pool or out on the golf course. Choose from towns like Sedona, Tucson or Scottsdale, and be sure to explore the amazing summer value rates on 5-Star Resorts!
10. Experience the night-life and food of Flagstaff
Other than eating tacos like they're going out of style, we hope visitors bring a diverse palate when they visit, as Arizona has a lot of different food to offer. Flagstaff is a great place to experience food from Mexican to Indian to Hawaiian, and as "Arizona's Craft Beer City," a wide variety of beer to sample. Challenge yourself to trek the Flagstaff-Grand Canyon AleTrail, by visiting all nine breweries and receiving a sticker from each. Flagstaff's downtown area is known for its mountain-town charm and lively night-life.

Again, these are just a few of our favourite places and experiences to be had in Arizona, but there is still so much more. Check out the itinerary ideas below for more experiences and activities to explore.
Even More to Do "Only-in-AZ"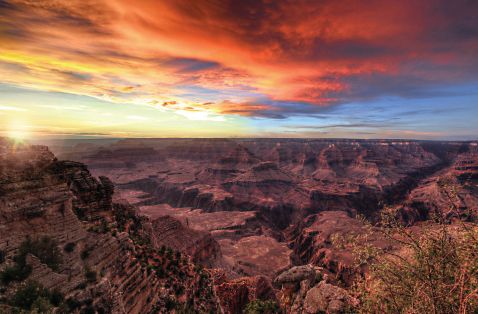 Outdoor Adventures
For those making their first trip to the Grand Canyon, here's an expert take on when to go, where to stay, and how to get around.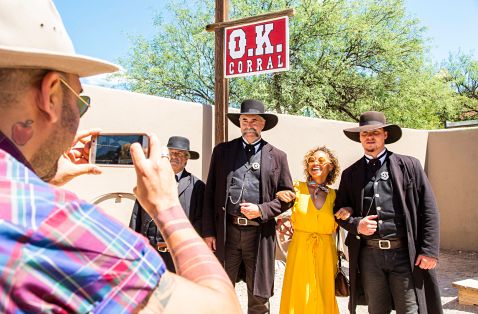 Must Do
Arizona's a big state with a lot to see and do for just about anyone, but these 13 experiences are only found here.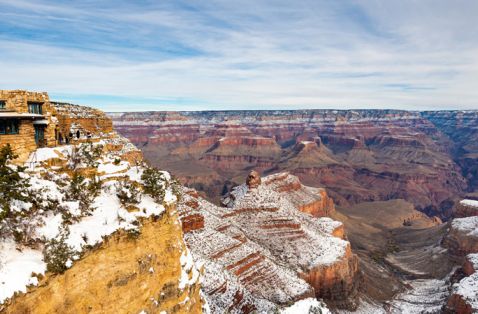 Must Do
From spiritual escapes and rafting adventures to Wild West shootouts, here are 10 must-do uncommon experiences in the Grand Canyon State.