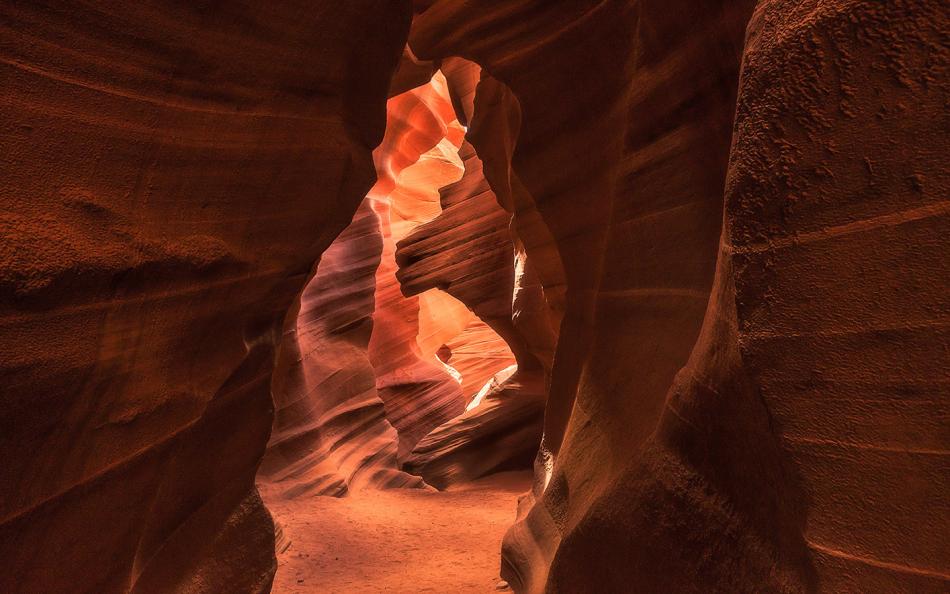 A Guide to Visiting Antelope Canyon the 'Right Way'
Antelope Canyon's otherworldly beauty makes it one of the most highly sought after destinations in the world, and access to this natural marvel is granted only with a Navajo guide. Here, we step you through the process of how to visit this astonishing place.
Antelope Canyon is like no other spot on earth. At midday, when the sun is shining, shafts of light cut into the canyon, illuminating the narrow orange and gold sandstone walls. The effect is almost surreal, and photographers from around the globe come to capture its beauty.
However, visiting Antelope Canyon isn't as simple as driving to a parking lot and walking up to the entrance. But we're here to help show you the ropes, from how to book a Navajo guide to tips on photographing the shifting light.
Getting to Antelope Canyon
Created by millions of years of erosion, Antelope Canyon is part of the Lake Powell Navajo Tribal Park, located 10 minutes east of Page, near the Arizona-Utah border. Although it is one slot canyon, there are two points within the park that you can visit: Upper Antelope Canyon and Lower Antelope Canyon.
Upper Antelope Canyon is at ground level, has less than a 2% incline and is the more popular entrance.
Lower Antelope Canyon requires walking down (and up) several flights of stairs and ladders.
From Phoenix, the drive north to Antelope Canyon is approximately four-and-a-half hours. Once there, your tours may last up to two hours when you figure in parking, the journey there and actual time spent in the canyons. For this reason, many people opt to stay overnight at least one evening (see "Where to stay").
Most tours begin in Page or at the park's entrance off Highway 98. Arrive at least 15 minutes early.
The basics
When to go
Antelope Canyon is open year-round; however, most people will try to visit mid-day during weekends from March through October, when the light shafts appear. Crowds will be at their peak then, which may make it difficult to snap that perfect shot

Find better rates, fewer people and still amazing views during the off-season from November through late February, and especially in January.

Though uncommon, Antelope Canyon may close during days of heavy rain or snow. This is more likely to happen from June to September, during Arizona's monsoon season.
What you'll need
You'll also need a prior reservation with an authorized Navajo guide to visit either Upper or Lower Antelope Canyon. Book online before you visit since tours can sell out weeks in advance. Additionally, you'll need:
A permit, though this is usually covered in your guide's fee (see below).
Good walking shoes, especially if visiting Lower Antelope Canyon.
See "What to bring" below for more specific items.
What it costs
Until recently, the cost varied significantly depending on whether you booked a sightseeing or photography tour. The tribe has reduced the availability of photography tours, however, because they frequently caused bottlenecks by allowing photographers to bring their tripod and spend more time setting up shots.

Most 90-minute tours of Upper Antelope Canyon cost between $50 and $90 (slightly less for children), although some operators offer discounts on their early bird and last chance tours. Hour-long tours of Lower Antelope Canyon cost $40, and up to $80 for deluxe options.

The price generally—but not always—includes taxes and the $8 Navajo permit fee. (Check with your tour company if you have any questions about additional fees.)
What to bring
Do: Wear closed-toe, sturdy shoes and layered clothing. Apply plenty of sunscreen, even in winter. Bring a hat or handkerchief for protection from the sand, and if you wear contact lenses, consider opting for eyeglasses instead. You are allowed to bring one bottle of water (and we highly recommend you do). Just make sure you take it out with you after the tour.

Don't: Bring bags, purses, fanny packs, tripods, monopods, selfie sticks, food and drinks—all are prohibited in the canyon.
There are no trash cans and no bathrooms in the canyon.
The trip into the canyon
Whether you start in Page or at the park's entrance, be prepared to ride in a four-wheel-drive vehicle through a sandy riverbed to the canyon. Each vehicle has a Navajo guide that ushers the group through, shares information about the formations and even helps stage some photos, including sand cascading over a rock ledge.

Sand is everywhere. On windy days, dust can blow into your nose, mouth and ears. If you have a DSLR camera, cover it when you are not using it (a plastic shower cap does the trick) and never change lenses inside the canyon.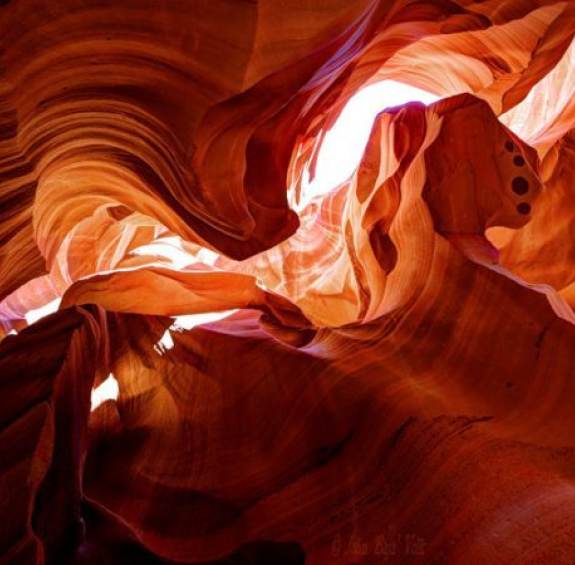 Photography tips
It's more challenging to photograph Antelope Canyon without a tripod, but you can still take amazing images. With a DSLR, opt for a high ISO setting and use a wide aperture. To photograph the beams of light, book a tour that will be in the canyon between 10 a.m. and 1 p.m., May through October. Don't forget to look up, especially when the canyon is crowded.

Several tour operators, such as Horseshoe Bend Slot Canyon Tours, also offer tours of nearby, nearly-as-spectacular canyons. Avid photographers may want to consider booking one of these tours, too. Simply inquire when booking.
Where to stay
Though hardly remote by some Arizona standards, Antelope Canyon is still considered a lengthy drive and hike for many areas of the state. Additionally, there are quite a few other amazing sites to see nearby—Horseshoe Bend, White Pocket and the Vermilion Cliffs, and Lake Powell—that many people choose to stay at least one night to get the most from their trip.

Hampton Inn and Suites Page - Lake Powell
This national chain is among the area's newer properties and ranks high among past guests for its clean, comfortable rooms, friendly staff and free hot breakfast. The large parking lot is able to accommodate boats, buses and RVs.

The Bear's Den B&B
Owners "Bubba and Deb-B" operate this cozy three-room bed and breakfast in Page that's fully ADA-compliant. Amenities include pillowtop mattresses, a small fridge and microwave, private bathrooms, and plenty of bear decor.

Shash Dine' Eco-Retreat
For a truly unique stay, book a Najavo hogan or sheepherder wagon at this sustainable glamping campsite and B&B operated by Baya, a member of the Navajo Nation. You will stay on Navajo land in one of eight simple accommodations—no electricity or running water, but fresh drinking water—with nothing but views for miles.

Lake Powell Resort
If a visit to Lake Powell and Glen Canyon National Recreation Area is on your list, you can't get closer than a stay at this resort located at Wahweap Marina in Page. Hotel guests can book a boat tour, dinner cruise or rent their own powerboat for an unforgettable day on the water.
Leave no trace
Antelope Canyon and the Navajo Nation lands are special places whose breathtaking beauty and natural habitats for local wildlife are worth preserving. Adhere to the Leave No Trace principles as much as you possibly can so future visitors may continue to enjoy.
Marvel at nature's artistry