My Arizona: Logan Tsinigine
In this series, real people share their insights and experiences about Arizona. From favorite hiking trails to prime spots for sunset photos, these folks tell all.
A "day at the office" for Logan Tsinigine has little to do with commutes or cubicle work.
The retired engineer co-owns Taadidiin Tours, a family-run guiding company in Page, Arizona, that takes travelers on tours of one of the most stunning natural wonders on the planet: Antelope Canyon. Tsinigine's days are filled with the slot canyon's undulating curves and sunset-hued walls — a sight so breathtaking it draws millions of visitors from around the globe.
"Antelope Canyon is the most photographed canyon in the entire world," says Tsinigine.
But this spectacular place can be witnessed only with a Navajo guide. Enter Tsinigine and Taadidiin Tours.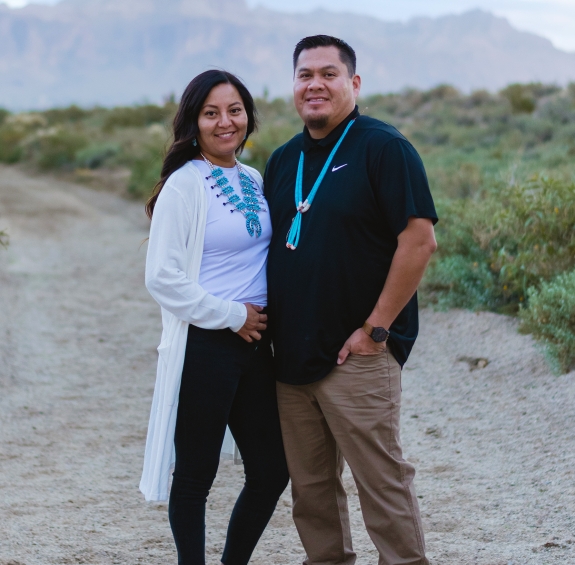 Founded by Logan Tsinigine's mother Rita Tadytin-Tsinigine in 2016, the company is one of 16 Diné-led tour operators of Antelope Canyon, and the only one that provides tours — both hiking and photography tours — to Cardiac Canyon and Antelope Canyon X, granting guests a unique private experience.

Guiding guests through Antelope Canyon is more than just sharing its beauty though. For Tsinigine and his mother, it's also about sharing their family's history, one that extends back generations with roots deep in the Canyon.
"Taadidin means corn pollen in Navajo," explains Tsinigine. "Tadidinii is the name of our great-great-grandfather. He hid his people in Antelope Canyon during the Navajo Long Walk. His name translates to Corn Pollen Man."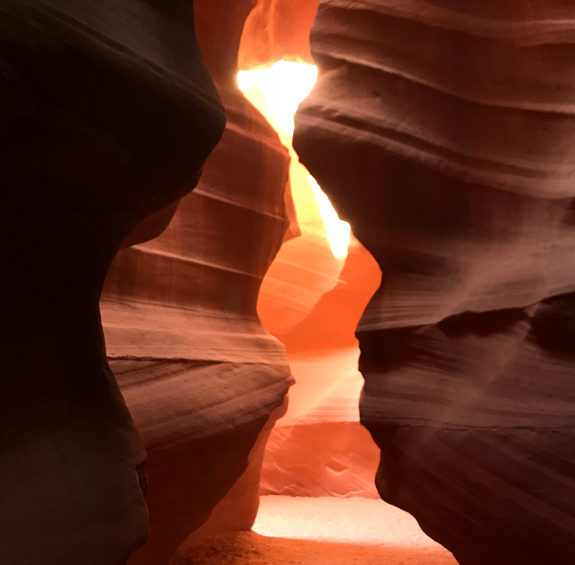 Tsinigine uses his tour company as an opportunity to highlight Diné culture, history and what the land, specifically Antelope Canyon, means to them.
"Guests are very grateful to see the Canyon and hear our story," Tsinigine says. "Most customers have limited knowledge of the Navajo people. I hope visitors leave wanting to know more about the Navajo people and continue to ask questions."
In addition to operating Taadidin Tours, Tsinigine also co-hosts the Antelope Canyon X Half Marathon with Diné runner Harold Bennally, an annual remembrance race through the Canyon that commences with a Navajo prayer.

Read on for Logan's Northern Arizona travel suggestions.
---
Best Spot to Watch the Sunset
Horseshoe Bend. This is where I proposed to my wife at sunset.
Favorite Hiking Trail
The hike between Cardiac Canyon and Antelope Canyon X. It's the same route as the half marathon.
FAVORITE HIKING TRAIL
Chris Greenstone.
Prettiest Place to Camp
North Rim of the Grand Canyon.
Most Interesting Museum
Museum of Northern Arizona.
Favorite Restaurant
State 48 Tavern in Page. The State 48 Burger is my favorite.
Favorite Way to Get Out on the Water
Kayaking around Lake Powell.
Best Local Shop
The stores at the Dam Plaza
Best Hike for Beginners
Page Rimview Trail near Page.
Most Scenic Place in Arizona
The Navajo Nation, especially after monsoon season, where it's my favorite place to see wildflowers.
Insider Tip
Be aware of the time changes! The Navajo Nation observes Daylight Saving Time, but the rest of Arizona is on Mountain Standard Time.
Final Thought
Exploring Arizona is a beautiful experience. One thing to remember: Arizona is HOME for us. Wherever you go, there are real people who have lived in these areas, many for thousands of years. This is their home. Be respectful. Antelope Canyon is our home; we welcome people every day into our backyard.
Electric Vehicle Charging Stations in Page