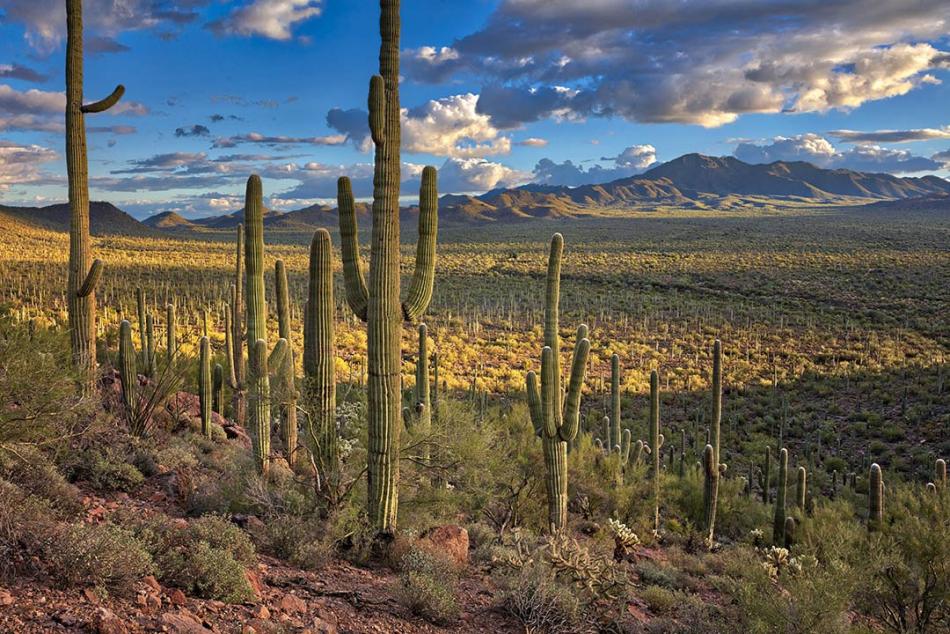 New to Nature? Leave No Trace in Arizona
If you're new to the outdoors—whether it's hiking a local trail, visiting a national park, or camping—following all the best practices can seem complicated or restrictive at first. Let us help break it down.
If you enjoy being in the great outdoors, you likely value your independence and wide-open spaces—not rules. Still, it can be helpful to have some guidelines for exploring outside to help preserve these special places for generations to come. Enter: the Seven Principles of Leave No Trace. Even the most rebellious would agree these are guidelines we can all support!
1. Plan ahead and be prepared: Success is best.
Arizona is one of the most biologically diverse states in the lower 48. Its changing landscape—from desert to forest in less than 150 miles—means you could get a raging sunburn and trudge through the snow on the same day. Getting caught off guard by the elements can be plain old embarrassing to outright dangerous.

Weather worries aside, lack of planning can also run the risk of traveling far to a park or tribal land only to be turned away because you didn't have a permit or reservation! Always pack a first-aid kit, extra water, layers, and make your reservation ahead of time. By planning ahead and being prepared, you will guarantee your road trip through Arizona remains an adventure, not a mishap.
2. Stick to the trails: Don't be a trailblazer.
When you venture outside, it's tempting to wander beyond the beaten path; but exploring off-trail can pose serious risks for the native plants and wildlife. This is especially true in the most popular natural areas like Horseshoe Bend, where footprints in the sand take years to disappear and also encourage others to follow in your footsteps (and possibly get lost). The benefit of respecting trails is tremendous! You'll help maintain the wildness of this incredible landscape, and also make sure you don't accidentally step on a barrel cactus—ouch!
3. Trash your trash: And protect water sources.
Pack it in, pack it out. Let's be honest—you traveled far to enjoy this natural landscape looking just as you saw it online or in a guidebook. Would anyone make the trip to the Grand Canyon if it looked like your neighborhood recycling bin? This "trashy" Leave No Trace principle is about more than throwing away your litter, but also applies to human waste, as well as washing items like dirty dishes or hands away from natural water sources, such as creeks. This can be a surprisingly difficult principle to fully implement, but once you have, you'll have unlocked a new level of outdoor mastery.
4. Leave what you find: Reciprocity at its best.
Arizona is full of natural treasures. That's one of the reasons so many people journey from around the world to experience the Grand Canyon State. But if we all took it home, there would be no reason to make the trip. There are petroglyphs, ancient artifacts, beautifully colored petrified wood, brilliant wildflowers, and much more. All are to be enjoyed from a respectable distance and left where they were found. The benefit of following this rule? You're sure to experience the best of Arizona because others have done the same for you.
5. Be careful with fire: Enjoy the stars instead.
Each of Arizona's six unique biomes—chaparral, desert, forest, grassland, tundra, and woodland—is vulnerable to fire. In 2020 alone, nearly 1 million acres of Arizona's wildernesses burned. When camping, follow fire regulations and etiquette to ensure a fantastic–and safe–trip. If you were hoping to have a fire but there's a fire ban in effect, don't fear! Arizona is home to more Dark Sky Places than anywhere else on the planet. The night sky will put on a show to overshadow any campfire or fireworks.
6. Respect wildlife: Don't feed the javelinas.
Arizona's wildlife comes in all shapes and sizes, from camouflaged lizards to stealthy bobcats. All told, there are more than 800 species of wildlife found in this southwestern state! When you spot one of these locals, maintain a respectful distance and never offer them a snack (even if they seem used to receiving human food). It's also a good idea to keep your pets on a leash and store food safely while camping. This way, Arizona's wildlife stays wild and you can enjoy them in their natural state.
7. Share the outdoors: It's cool to say hello.
Isn't it great that other people like to get outside, too? Optimize your interactions with other trail users by memorizing the right of way (it's easy) and practicing situational awareness. A friendly hello, allowing a faster group to pass, and yielding to other users goes a long way towards having the best time possible the next time you head outdoors.