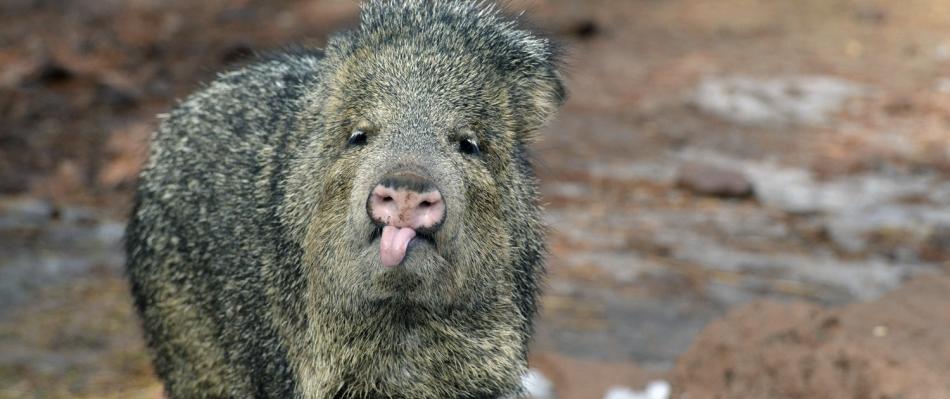 Outdoor Adventures
A Walk on Arizona's Wild Side
Whether you venture into the wild or visit an urban habitat, Arizona offers just the right animal viewing experience for you.
Arizona's millions of natural acres teem with wildlife—more than 900 species, in fact—from spiny lizards, great hairy scorpions and ladybugs to elk, eagles, buffalo and the tiny, living jewels called hummingbirds.
Grab a group or go out your own to get up and close to the state's watchable wildlife.
On your own
Most people are familiar with Arizona's six national forests and 22 national parks, monuments and wildlife refuges. People also love watching wildlife in Arizona's 30 state parks and natural areas.
Fewer people are aware of the state-run wildlife areas that dot our landscape. There are about 30 of these treasures across the state, and they are fabulous places to watch wildlife.
One of these state-run wildlife areas is Sipe White Mountain Wildlife Area along north-central Arizona's eastern border known for its July High Country Hummers festival. Attendees get to observe and photograph hummingbirds up close as experts capture, band and release the four species (broad-tailed, rufous, calliope and Black-chinned) that migrate through the area during monsoon.
Further north, wildlife watchers can witness one of the most biodiverse regions in the United States. The dense population of trees in the Tonto and Coconino National Forests is the perfect canopy for adventurers to escape the desert sun and search out fascinating critters.
The Lamar Haines Memorial Wildlife Area north of Flagstaff sports herds of elk and mule deer, as well as a long list of year-round resident birds that include Mexican-spotted owls and northern goshawks.
Farther north, just west of Highway 89 in Grand Canyon National Park, is the House Rock Wildlife Area. Home to one of two locations in Arizona where one can see state-managed bison herds, this area offers a rare glimpse at the majestic creatures that once roamed much of the western United States.
Western Arizona's sprawling desert plains and towering mountain ranges form ideal habitats for some of the state's most interesting desert-dwelling creatures. Don't be fooled! There is plenty of life to see out here.
The Kofa National Wildlife Refuge just southeast of Quartzsite is the state's second-largest wildlife preserve and home to a fairly large population of bighorn sheep, while the basin below is inhabited by badgers, desert tortoises and kit foxes.
For a wetter experience, head to Alamo Lake State Park on the Bill Williams River where you can spy waterfowl, shorebirds, Sonoran mud turtles, Great Plains toads and other wetland animals.
Much like the lands of western Arizona, the southern part of the state is largely desert with occasional mountain ranges, known as "sky islands" that punch through the desert floor to create vastly different ecosystems—one even turning red-orange each summer as ladybugs swarm the area. Other animal species to watch for include cougars, black bears, blue herons, and desert owls.
You don't even have to venture into the wilderness to see wildlife. Bats take nightly summer flights from beneath bridges in north Tucson and from the Maricopa County Flood Control tunnels in Phoenix.
A blue heron takes flight in the Sky Islands / Credit: Cochise County Tourism Council
On safari
If you prefer more guidance in your wildlife exploration, knowledgeable guides can take you to nature's best sites for spying Arizona's critters.
Sierra Vista's Southwest Wings Annual Birding and Nature Festival in August (and their smaller "Spring Fling" in May) schedule field trips to see birds, butterflies, dragonflies and bats all over the state.
For a smoother experience, hop aboard the Verde Canyon Railroad out of Clarkdale in central Arizona. Listen as narrators point out eagle nesting sites and likely places in the Verde Valley to see great blue heron, javelina and hawks from the train. Other rides include a special visit from a live eagle, courtesy of Liberty Wildlife, which provides wildlife rehabilitation, conservation and education throughout Arizona.
On foot
Pack your camera for one of these leisurely strolls that often promise great wildlife spotting in the summer.
Lovers of creepy crawlies should head to the state's many parks and preserves, such as Hassayampa River Preserve. Each month, rangers guide the curious on "Creatures of the Night Walks" to seek out nocturnal critters like owls, javelinas and scorpions.
During the day, take a scheduled walking tour at Boyce Thompson Arboretum near Superior for the chance to see lizards, dragonflies, songbirds or aquatic birds that reside among the exhibits of desert ecosystems.
Did you know? Arizona contains over half of North America's bird species, and Sierra Vista in southeastern Arizona is widely considered the hummingbird capital of the world (yes, world)! Throughout the year, the Southeastern Arizona Bird Observatory hosts hummingbird banding sessions during which staff and volunteers capture, band, measure and release these tiny travelers as part of a long-term study. Even better: There is no cost to observe.
Face-to-face

Binoculars aren't required for the close views offered by Arizona zoos and wildlife parks. Many also present all-ages shows and educational activities.
In northeast Arizona, find bighorn sheep, coyotes, rattlesnakes and other fauna native to the area in Window Rock at the Navajo Nation Zoo, the only American Indian-owned and operated zoo in the country.
Head south and get lost in a collection of 300-plus animal species and more than 1,300 native plants at the Arizona-Sonora Desert Museum, in Tucson, complete with regularly scheduled live demonstrations. Or cruise among the critters in your car at Bearizona near Williams or while riding in safari vehicles at the Out of Africa Wildlife Park in Camp Verde.
Keep the wildlife-spotting going at the following zoos and parks:
Nature festivals, large and small, take place all over Arizona throughout the year. At these events, people who love watching animals get together for field trips and workshops, and share inside information about nearby hot spots.
The state's biggest annual wildlife festivals are:
Regardless of how you plan to experience the natural wildlife of our state, Arizona offers a substantial amount of opportunities to learn and explore for all ages. Just remember to bring a camera!