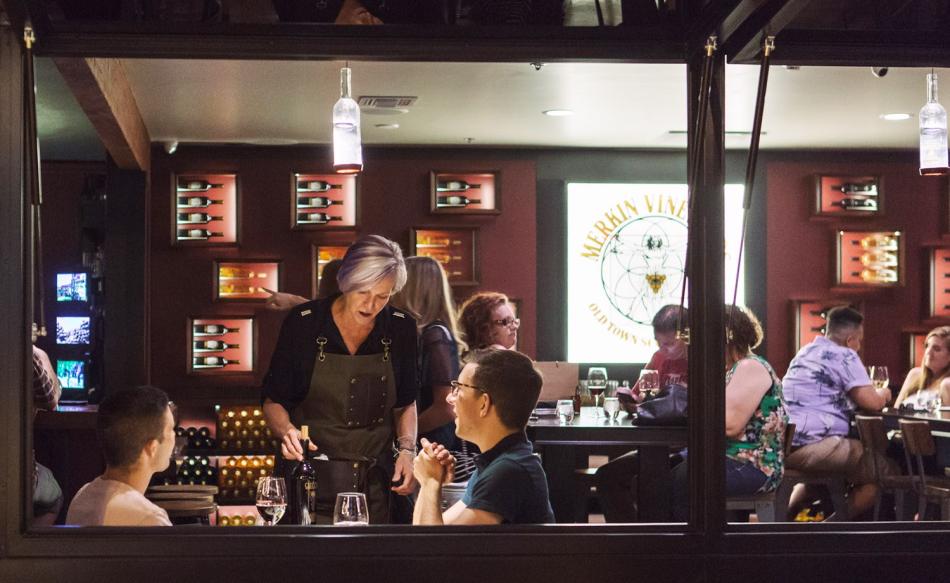 Arizona's Metro-Area Tasting Rooms
Visiting Arizona's wine country makes for a delightful day trip from Phoenix or Tucson. But if you can't make the trek, taste the fruits of our winemakers' labors at these in-town tasting rooms.
Metro Phoenix-area tasting rooms
Garage-East
Here, grapes are sourced from Southern Arizona vineyards in Sonoita and Willcox and used to make Syrah, Tempranillo, Pinot Gris, Sauvignon Blanc, rosé and their "Breakfast Wine," which mixes seasonal fruits with white wine and carbonation. At the tasting room in Gilbert, in Phoenix's East Valley, wines can be bottled—or canned—to take home and are paired with a small menu of bites from local purveyors.

3000 E. Ray Road, Gilbert
(480) 493-7151
Aridus Wine Company
This Scottsdale tasting room builds on the family-run winery's philosophy of repurposing when possible with reclaimed and/or natural materials mixed with chandeliers and leather aviator chairs. Grapes are sourced from Arizona, New Mexico and California and transformed into balanced, complex wines.

7173 E. Main St., Scottsdale
(520) 954-2676
Carlson Creek Vineyard
The setting and climate in Southern Arizona, where this family-owned winery resides, mimic those of Argentina, Chile and southern France, and their Rhône-style varietals have a South American touch. At the Scottsdale tasting room, with its 20-foot distressed copper bar and Art Deco tin ceiling, guests are invited to sample varietals like Malbec and Sangiovese.

4142 N. Marshall Way, Scottsdale
(480) 947-0636
GenuWine Arizona
A friendship between two former middle-school teachers and an eye-opening trip to France sparked the idea for this downtown Phoenix wine bar. Emily Rieve and Lindsey Schoenemann highlight many local wineries through their self-serve concept, including Arizona wineries Rune, Dos Cabezas and Merkin. On any given day, you'll find 24 wines "on tap."

888 N. 1st Ave., Ste. 101, Phoenix
(602) 682-7494
LDV Winery
When LDV owners Peggy Fiandaca and Curt Dunham chose the site for their vineyard in the Chiricahua Mountain foothills in Southern Arizona, they knew their wine had to respect and reflect the land. Focusing on sustainably grown and produced wines, LDV offers Rhône varietals: Grenache, Syrah, Petite Sirah and Viognier. The vineyard experience translates to their Scottsdale tasting room, too, where you'll find wine barrels and a spacious outdoor patio.

7134 E. Stetson Drive, Scottsdale
(480) 664-4822
Merkin Vineyards
Regional, sustainable and local are the pillars of Merkin Vineyards. The boutique winery focuses on high-elevation Spanish, French and Italian varietals produced in a tiny underground facility called The Bunker. In the Scottsdale tasting room, the local-first philosophy continues with an ever-changing menu made with ingredients the owners grow themselves or from other local growers.

7133 E. Stetson Drive, Scottsdale
(480) 912-1027
Salvatore Vineyards and Passion Cellars
Salvatore, named after the winemaker's grandfather, specializes in fruit-forward whites and complex reds made from grapes harvested at their Willcox vineyard. At the Scottsdale tasting room, featuring a long bar perfect for sharing wine and conversation, sample selections from both their Salvatore and Passion Cellar labels.

7064 E. 5th Ave., Scottsdale
(480) 423-2901

Su Vino Winery
Su Vino is all about personalization and craftsmanship, both in the bottle and at their Scottsdale tasting bar. In addition to making their own varietals and blends, including Malbec, Pinot Grigio and Port, they offer custom wines suited to your palate; if you want, you can even bottle, cork and label it yourself.

7330 E. Main St., Ste. 105, Scottsdale
(480) 994-8466

Winery 101
After honeymooning in Italy, Irlyn and Gavin Gallifant were so inspired by the winemaking lifestyle that they started Gallifant Cellars specializing in a single varietal. Their second label, SouthPaw Cellars, is an homage to Arizona featuring grapes from Southern Arizona. Both labels are available at their Peoria tasting room, an industrial, loft-inspired space.

9299 W. Olive Ave., Ste. 101, Peoria
(623) 242-0340

Tucson-area tasting rooms
Arizona Wine Collective
Owners Pete and Jeanne Snell sold their successful running stores to pursue their true passion: wine. This Tucson-based collective focuses only on homegrown Arizona labels such as Bodega Pierce, Laramita Cellars, Birds and Barrels and Chateau Tumbleweed. Their inviting tasting room in Tucson, with indoor and outdoor seating, also showcases locally produced bites.

4280 N. Campbell Ave., Tucson
(520) 329-8595
Flying Leap Vineyards
When Mark Beres, Marc Moeller and Tom Kitchens met at the US Air Force Academy in the 1980s, they had no idea they'd become winemakers in 2010. And yet here they are. Flying Leap produces wines and brandy-based spirits with French, Spanish and Italian grapes grown on Arizona estates in Elgin and Willcox. Highlighting "local" is important in the Tucson tasting room, where a gallery featuring works from Tucson artists overlooks a mesquite bar.

2940 N. Swan Road, Ste. 128, Tucson
(888) 431-5777
Sand-Reckoner Vineyards
Sarah and Rob Hammelman took separate journeys to arrive at their shared passion for winemaking, but when their paths finally converged, they founded Sand-Reckoner. Farming a small vineyard outside of Willcox, the couple works with other family-owned vineyards to produce wines that tell the flavor story of the high desert. On their 12-acre farm, their varietals include Malvasia Bianca, Picpoul Blanc, Roussanne and Grenache rosé. The high ceilings and minimalist aesthetic of their sleek tasting room in Tucson are perfect for showcasing rotating exhibits from the Conrad Wilde Gallery.

510 N. 7th Ave. #170, Tucson
(520) 833-0121
Wilhelm Family Vineyards
After they met while serving during the Gulf War, Karyl and Kevin Wilhelm bought land in Sonoita. Given the region's unique terroir, the couple decided to plant a vineyard. Their winery specializes in Spanish wines, but you'll also find French varietals and blends, sangrias and Port-style dessert wines. Their Tucson tasting room is a quainter version of the Sonoita one but equally inviting, and offers a beautiful view of the Catalina Mountains.

5425 N. Kolb Road #119, Tucson
(520) 900-7166
More Outings for Oenophiles
Wine Country
Arizona's diversity shines through in its people, its experiences and even its landscapes — a choice few of which present the perfect conditions...
Eat & Drink
Discover the regions and vineyards making Arizona a must stop for wine lovers. The wine industry in Arizona is rooted in the 1600s, but only...