Arizona Wines 101
Discover the regions and vineyards making Arizona a must stop for wine lovers.

The wine industry in Arizona is rooted in the 1600s, but only recently has the state's scene found acclaim with varietals native to Italy and Southern France.
Multiple wine regions span the Grand Canyon State, forming trails not meant for hikers but for oenophiles. Come along for a tour of the three main areas putting Arizona on the viticulture map, along with some of the wineries that make them worth exploring.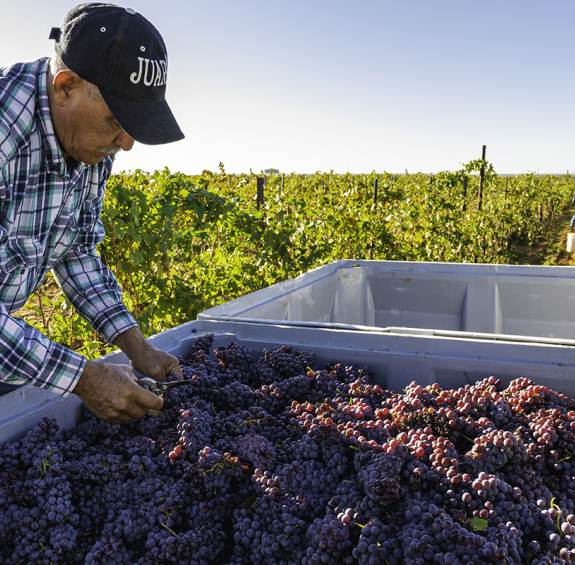 The Verde Valley
With its National Geographic-worthy red sandstone formations and purported mystical energy vortexes, Sedona is one of the epicenters of Arizona tourism. Turns out the hotspot is part of a larger network of northern towns whose volcanic soil and mild winters provide ideal conditions for cultivating Merlot, Chardonnay and Cabernet Sauvignon—and not the second-rate kind of grapes that wind up in a cheap grocery store party-in-a-box.

More than a decade ago, the Wall Street Journal recognized the region as a potential "Little Napa." Today, Sedona and the neighboring towns of Cottonwood, Jerome, Clarkdale and Cornville—collectively known as the Verde Valley—are home to a handful of vineyards and a dozen tasting rooms.

Find it: The longest of Arizona's three primary wine-growing trails, this drive spans about 12 miles. Its epicenter is Cottonwood, approximately 19 miles southwest of Sedona along Hwy 89A.
Alcantara Vineyards – Cottonwood
Co-founder Barbara Predmore's Under the Tuscan Sun fantasies brought her to the confluence of Oak Creek and the Verde River, where she and her husband Bob planted more than 13,000 vines encompassing a dozen grape varietals.

"The rocky limestone soil and sunny climate in the Verde are very similar to the winemaking regions of France and Italy," Predmore notes on the winery's website, "and after two years of experimentation the results are everything we hoped for and then some."

Alcantara's on-site tasting room is a pit stop for local kayakers. Pop in wet or dry for a sampler of five wines.
Caduceus Cellars – Jerome
Tool frontman Maynard James Keenan, who moved to Arizona in 1995, said the "mystical" terrain around Sedona inspired him to plant a vineyard. "Most of those I shared this vision with just sort of nodded and secretly hoped I would stay on my meds," he quips on the Caduceus Cellars website.

The winery and Keenan's associated Merkin Vineyards focus on Spanish and Italian varietals grown at high elevations on the slopes of Jerome's southeast-facing hills, producing 4,500 cases annually. Open daily—yes, even on Christmas—its Main Street tasting room offers glasses of cheekily named vintages such as Merkin's Chupacabra Rosa and Shinola.
Page Springs Cellars – Cornville
Located less than 20 minutes south of downtown Sedona, Page Springs Cellars offers a taste of the luxe tourist town with a more wallet-friendly, rural feel. The area's climate is similar to that of the Mediterranean and the soil is alkaline, lending itself naturally to Rhône-style varietals including Traminette and Syrah.

On the weekends, adults can tour part of the five-and-a-half-acre estate vineyard planted in 2003 by winemaker Eric Glomski. Relaxation options for guests include yoga and a chair massage among the vines.
Willcox
Desert soil isn't exactly conducive for growing—saguaros, Joshua trees and other spiny death hazards notwithstanding. Perceptions of Willcox's barren land changed in the 1980s and '90s when entrepreneurial vintners realized the cattle town's warm desert climate, high elevation, and sandy soil provide "terroir" similar to that in Argentina and Southern France.

Today, around three-quarters of the grapes grown in Arizona come from Willcox and the surrounding Sulphur Springs Valley. Vineyard owners have capitalized on the area's growing reputation by setting up shop in the center of town, making for highly walkable wine tasting tours.

Find it: Take exit 340 off of I-10 and head for the accessible cluster of tasting rooms on Railview Ave.
Keeling-Schaeffer Vineyards
Technically, the roots of Keeling-Schaefer are in California. After grafting, established vines are then shipped to Arizona for planting a year later. More than 20 of Keeling-Schaefer's wines have been rated by Wine Spectator, with three scoring an 89 (one of the highest ratings for an Arizona wine).

While the home field is in Pearce, 41 miles from Willcox, tastings are held in the historic 1917 Willcox Bank and Trust building. Founder Rod Keeling and his wife Jan actually lived in that tasting room while their vineyard villa was under construction.
Sonoita / Elgin
Sonoita, Arizona's first designated American Viticultural Area (AVA)—the other being Willcox—is at the top of its game, along with its tiny neighbor, Elgin (population 161). Grapes flourish at elevations of 4,500-5,000 feet here, making for some of the highest vineyards in the country.

The terrain is high desert grassland, which seems a poor fit for planting. But after soil scientist Dr. Gordon Dutt conducted a vineyard study here in 1973 and later opened a commercial winery, vintners flocked to the mountainous area for its Sonoma-esque growing temperatures and water-retaining soil.

Find it: Set between Sonoita and Elgin, just off Highway 82, this wine trail is made up of about a dozen vineyards and tasting rooms, with several in walking distance along Elgin Rd.
Callaghan Vineyards
When the POTUS drinks your wine, you know you're fermenting with the big boys. Callaghan vino has made guest appearances at White House events including a Clinton dinner and former Justice Sandra Day O'Connor's retirement.

"Our winemaking approach is decidedly simplistic—no gizmos, lots of barrels (new to four years old), aging on the lees, and little racking," founder Kent Callaghan says. On-site tastings are equally no-fuss yet elegant; stop in on the weekend for a tasting (crystal glass included), and you'll likely meet Callaghan in the flesh.
Dos Cabezas Wineworks
Two heads are better than one—or in this case, two vineyards are better than one. The dry, fruity reds and mild whites of Dos Cabezas come from dual growing parcels: Pronghorn Vineyard in Elgin and Cimarron Vineyard in the Kansas Settlement near Willcox.

The Sonoita tasting room is rustic and homey, with past pours ranging from a deep red to a funky, sparkling pink wine served in a can. The latter's rosy label design is taken from a painting by Leonard Bianco, whose son Chris owns Phoenix's award-winning Pizzeria Bianco.
Begin Your Own Wine Journey