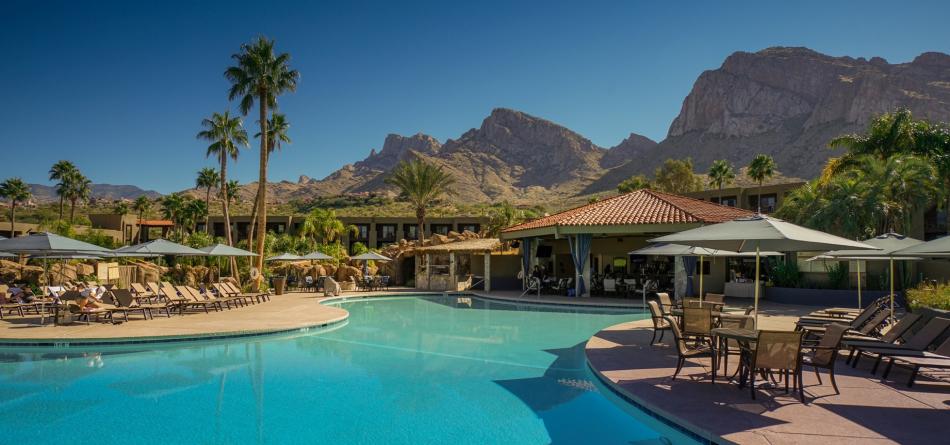 Places to Stay
Experience More at Arizona Resorts
From nature walks to native culture, unique activities at Arizona's resorts enhance your stay.
Sure, you can check into one of Arizona's fabled resorts and spend your time there admiring the beautiful setting, catching up on a Le Carré thriller or lolling by the pool, iced beverage in hand. Venture beyond your lounge chair, though, and you'll discover that many resorts offer guests learning experiences, where you can find out about everything from forest bathing and vortexes to native arts and owl behavior.
Some programs are complimentary, while others require a fee. Check ahead for details and schedules. Here are just some Arizona resorts that help you expand your mind.
Enchantment Resort, Sedona
In North Central Arizona, Sedona's Enchantment Resort is nestled deep in the red rocks of Boynton Canyon, where you can hike and mountain bike the trails that spiral out from the resort property. To get the calming vibe of the setting, the resort offers programs like a vortex lecture, where guests walk and learn about these mystical centers of energy, or the "Journey of Teas," which guides you through the tasting, preparation and health benefits of the brews. Stargazing, meditation, chanting and archaeology hikes are some other activities that dot Enchantment's weekly schedule.
L'Auberge de Sedona, Sedona
Not far away, L'Auberge de Sedona is a bucolic charmer on the shady banks of Oak Creek, where nature walks under the sycamore trees and feeding the ducks are soothing activities to while away an afternoon. The resort also features forest bathing, a Japanese-inspired, guided, meditative walk through the natural, creekside setting; blending classes at the spa, where guests can concoct their own botanically based body scrubs and bath salts; and full-moon meditation sessions - all aimed to disconnect you from your harried self.
Boulders Resort and Spa, Carefree
In Greater Phoenix, the Boulders Resort and Spa is tucked around a dramatic series of granite outcroppings - its architecture blending into the north Scottsdale desert site. True to its setting, you can try your hand at rock climbing, rappelling over the resort's waterfall or joining a guided desert hike or mountain biking excursion to nearby preserves and national forest. Exercise the brain with desert photography classes, a moonlight bicycling excursion that spotlights night-blooming cactus and nocturnal animals like coyotes and javelina, or astronomer-led stargazing sessions.
Hyatt Regency Scottsdale Resort & Spa at Gainey Ranch, Scottsdale
Hyatt Regency Scottsdale's lushly landscaped grounds and sleek interiors offer numerous spots for learning activities. Stop by the resort's Native American Learning Center to educate yourself about Arizona tribal history and culture or enjoy an American Indian song and dance performance on Friday evenings. The resort's Director of Wildlife lets you get semi-close, but not too personal, with birds of prey, including owls, falcons and hawks during mild temperatures, while a local wildlife group will let you peer at Sonoran Desert insects. Margarita- and guacamole-making classes teach you to replicate these Arizona favorites back home.
The Ritz-Carlton, Dove Mountain, Marana
In Southern Arizona, The Ritz-Carlton, Dove Mountain, is framed by the Tortolita Mountains just north of Tucson. Learning experiences at this luxe resort are inspired by its Sonoran Desert setting, with activities like a (safely guided) nighttime scorpion hunt, aided by a black light; a 3.5-mile cactus discovery walk that spotlights the mighty saguaro; and a hike to view rock art created by the ancient Hohokam people who once inhabited the area. Want more? The resort has geocaching activities, stargazing and a hike to the ruins of a historic ranch.
Hilton Tucson El Conquistador Golf & Tennis Resort, Tucson
Hilton Tucson El Conquistador is nestled below the craggy Santa Catalina Mountains and abuts the Coronado National Forest, so it's easy to take advantage of the resort's guided hikes as well as trail rides organized by the on-site stables. Look for the new Artist's Nest, a studio/gallery where you can watch a local artist work, or pick up a brochure for self-guided tours of the property's hummingbird and butterfly garden or the chef's garden. Astronomy buffs will like the solar telescopes to learn about the sun and, by night, the stargazing sessions.