The 'Best of' Arizona's Spas
Arizona's spas offer a range of wellness retreats, one to suit every style. Are you all about the views? Or do you prefer five-star luxury treatment? Check out this roundup of Arizona spas that top visitors' lists for everything from their meditative qualities to locally inspired treatments.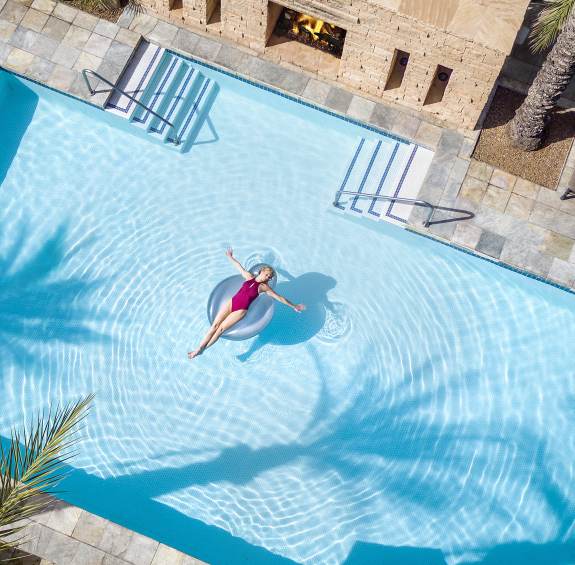 Among the top reasons to visit Arizona? Besides the Grand Canyon, Old West legends, Cactus League Spring Training and Sedona's vortexes, that is? The spas. There are dozens to choose from, each with distinctive offerings.
That's why we did the "hard work" of rounding up the top R&R experiences across the state, from desert-inspired treatments to immersive wellness retreats.
Best for Meditation
Boulders Resort & Spa
34631 N. Tom Darlington Dr, Carefree
(480) 595-3500
At Carefree's Boulders Resort & Spa, named for its beautiful mountainous surroundings, you can get lost in meaningful ways. Set off on a private meditation journey in the labyrinth or Tipi, or recalibrate the mind and body with reiki healing or chakra balancing.
Best for Desert-Inspired Treatments
The Ritz-Carlton, Dove Mountain
15000 N Secret Springs Dr, Marana
(520) 572-3030
For centuries, desert cultures have used gemstones to balance energy, soothe muscles and relieve stress. Signature treatments at The Ritz-Carlton Spa, Dove Mountain just north of Tucson are rooted in this tradition, incorporating the energy-based modalities of gemstones such as citrine and amethyst in massages, facials, soaks and baths.
Best for Innovative Offerings
Well & Being Spa at Fairmont Scottsdale Princess
7575 E Princess Dr, Scottsdale
(480) 585-2732
At Well & Being Spa in Scottsdale, traditional spa therapies share the spotlight with bold new treatments. For example, Singing Bowl Therapy harnesses the power of sound to activate chakras and clear energy, while Aerial Hammock Yoga uses a fabric hammock suspended from the ceiling to transition between poses, giving the yogi a euphoric feeling of weightlessness.
Best for Iconic Arizona Views
Sanctuary Resort Spa
5700 E McDonald Dr, Paradise Valley
(855) 245-2051
Tucked away on Camelback Mountain in Paradise Valley on the grounds of the resort, Sanctuary Resort Spa leans into its Sonoran Desert surroundings to instill tranquility. Overlooking Mummy Mountain, the Asian-inspired spa features a Zen meditation garden, reflection pond and outdoor treatment rooms where you can take in one of the city's most sought-after views.
Best for a Luxe Experience
Miraval Arizona
5000 E Via Estancia, Tucson
(855) 234-1672
Spread across 400 acres at the base of the Santa Catalina Mountains near Tucson, Miraval Arizona is wellness at its most luxurious. Here, every detail is taken care of—from your desert-view accommodations to meals designed by in-house nutritionists.
The spa retreat helps restore balance to the hectic chaos of life through tailored journeys featuring meditation, hiking, horseback riding, cooking classes and painting therapy.
Best for Native Therapies
Aji Spa at Sheraton Grand at Wild Horse Pass
5594 W Wild Horse Pass Blvd, Phoenix
(602) 385-5759
At Aji Spa in Chandler, traditions of the native Pima and Maricopa tribes are honored through design, art, architecture and treatments. Developed by cultural caretakers from the tribes, the spa's therapies are based on tribal history, including the Burden Basket Meditation inspired by the heavy baskets once carried by Pima women.
Best for Nature Lovers
L'Apothecary Nature Spa at L'Auberge de Sedona
301 L'Auberge Lane, Sedona
(855) 905-5745
Sedona's red-rock beauty serves as more than just inspiration at L'Apothecary Nature Spa. Here, nature is the star of the show, and signature treatments encourage you to connect with the surroundings in every sense. The seasonal Feet in the Creek experience begins with a meditative foot soak in Oak Creek, and Forest Bathing borrows from the Japanese practice of shinrin-yoku—taking a "bath" amongst the trees.
Best for a Wellness Weekend
Canyon Ranch
8600 E Rockcliff Road, Tucson
(800) 742-9000
Canyon Ranch offers a 360-degree approach to wellness at its Tucson resort. Yes, there are facials and massages, but The Life Enhancement Center® is the real draw. Whether it's sleeping better, finding your life's purpose, unleashing your creativity or learning how to eat well, the expert-led programs are designed to help you live your best, healthiest life.