Canyon de Chelly National Monument
Step back in time at Canyon de Chelly National Monument, Arizona. Explore the canyon walls that cradle hundreds of ancient pueblo ruins. Get up close with a hike or plan a guided tour to see even more scenic views.
History & Nature

Recognized as one of the longest continually inhabited landscapes in North America, see pueblo ruins built between 350 and 1300 A.D. – as well as a contemporary Navajo Indian community that still inhabits the canyon floor, herding sheep during the summer months.
NOTE (April 2022): White House Overlook and Trail, one of seven overlooks and the only public trail on South Rim Drive, remains closed due to safety concerns.
Things To Do

Two self-guided drives extend from the visitor center and follow the rims of the canyon. At the end of the South Rim Drive, take in the sights from the popular Spider Rock overlook, featuring the park's signature geological formation.
There's plenty more to see. Lace up your hiking boots and explore White House Ruins trail on your own, or enlist the services of a guide to access more of the canyon via ranger-led programs or Jeep or horseback excursions offered by authorized Navajo guides.
Hike or bike the 130-mile loop road around the canyon and get a bird's eye view of crimson-red walls and cliffs and the lush green cottonwood trees, livestock, corn fields and homes that dot the bottom of the canyon.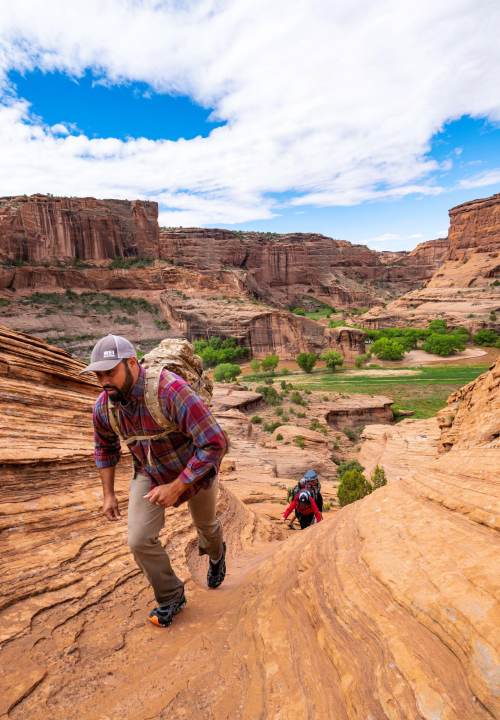 Hotels, Lodging & Camping
Take advantage of one of Canyon de Chelly's many campsites in the Cottonwood Campground. Or stay at one of the hotels in Chinle.
Hours & Pricing
Open daily, sunrise – sunset, year-round
Visitor Center: Open daily, 8 a.m. – 5 p.m., closed Thanksgiving, Christmas, and New Year's Day
* Please verify hours on the website.
Entrance Fees: Free
For More Information
Canyon de Chelly National Monument
PO Box 588
Chinle, AZ 86503
(928) 674-5500
More to Discover Near Canyon de Chelly National Monument
Cities
From Chinle, take the road less traveled in the geographical heart of the navajo nation.
Cities
Tour beautiful Cottonwood to take in the town's colorful past, abundant wildlife, and gorgeous scenery.