Saguaro National Park
Saguaro National Park in Tucson features giant saguaros in their native environment, plus access to wildlife viewing, hiking and scenic drives.
Arguably more iconic than the Grand Canyon, Arizona's towering, giant saguaros are synonymous with the desert.

For almost a century, Saguaro National Park near Tucson has helped protect and preserve its namesake while attracting visitors from around the world to view these natural "Kings of the Sonoran Desert."
Saguaro National Park's history and biodiversity
First designated as a National Monument in 1933, it would be another 64 years before the area was designated as Saguaro National Park with two districts—East & West—separated by the city of Tucson. In addition to the saguaros, which are unique to the Sonoran Desert (some reaching as high as 50 feet and 200-years-old), Saguaro National Park also features mountainous regions where pine and coniferous forests form a canvas of greenery—making this the most bio-diverse desert in Northern America.

These varied landscapes provide ideal habitats for a wide range of flora and fauna, including wildlife such as javelina, coyote, quail and desert tortoise in the lower elevations, and black bear, deer and Mexican spotted owl in the upper elevations. All told, there are more than 200 species of birds, 50 species of reptiles and 70 species of wildlife that have been documented in the park.

The area comprising Saguaro National Park is also the ancestral home of the Tohono O'odham people, who continue to play a role in the park's culture, visiting every year in the early summer to pick saguaro fruit.
Things to do
Start your visit at either district's visitor center where you can browse museum exhibits, watch informational slide shows, see cactus gardens, or shop at the Western National Parks Association Bookstore. The visitor centers also serve as the starting point for numerous hiking trails and scenic drives. At Saguaro East try the 8-mile paved Cactus Forest Drive, a favorite among cyclists. On the west side, try the scenic Bajada Loop Drive, a 5-mile graded gravel road suitable for most cars. No wheels? There are more than 170 miles of trails to explore, ranging from shorter paved nature trails to a longer trek into the wilderness.

Signal Hill Picnic Area is another popular destination where, after a short hike, you'll reach a lookout point with hundreds of petroglyphs etched into the rocks by the Hohokam—among them, one resembling a spiral. During the summer solstice, the sun passing through nearby rocks forms a silhouetted arrow that gradually finds its aim in the center of the spiral.

With daytime temperatures from the low 50s to the high 70s, the winter months (November to March) are the perfect time to join one of Saguaro National Park's guided walks covering some of the most notable areas of the park. During the late spring and summer months, when temperatures range from the mid-90s to the low 110s, programs are offered on an intermittent basis.
ACCESSIBILITY
The visitor centers in both districts are fully accessible with assistive door systems, flat surfaces, accessible restrooms, paved cactus garden paths, a Braille version of the park brochure, and captioned orientation programs. Additionally, Saguaro West's visitor center offers volume assist, audio descriptions, and neckloop telecoil couplers for its film program.
Both districts have paved trails with resting benches and exhibits about the plants and wildlife in the area. The ¼-mile Desert Ecology Trail at Saguaro East is graded to ADA standards and supports all types of wheelchairs. The ½-mile Desert Discovery Trail at Saguaro West also includes shaded ramadas and trail guides in Braille for rent at the visitor center.
There are six picnic areas within Saguaro National Park. In each area, there is at least one picnic table with an overhanging end for wheelchair access and accessible restrooms (no water). Ground surfaces in these areas are compacted soil and gravel.
"When you see a saguaro in person, it's difficult to comprehend their size and how unique they are; each one has its own personality. I never get tired of seeing a saguaro cactus. Every time I come out here, I see something different and I am still amazed by the Sonoran Desert.
Saguaros are like people. You'll go out during the sunset, see the silhouettes, and it looks like there are full families and groups of people interacting and enjoying themselves."
– Freddy G. Fernandez-Ramirez, Park Guide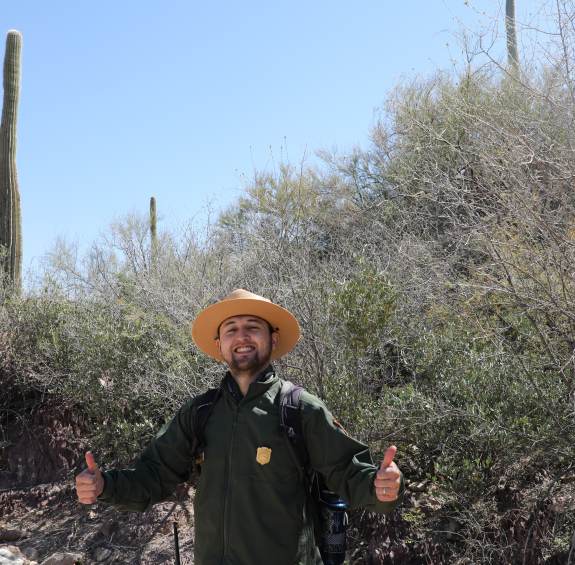 Where to stay

As Arizona's second-largest city, Tucson has many hotels, motels, upscale resorts, vacation rentals and charming bed and breakfasts. Stay in the picturesque foothills or in the center of town, you'll love exploring the city during your stay.

There are no car-accessible campgrounds within Saguaro National Park; however, you can camp in the backcountry of the Rincon Mountain District (Saguaro East). If you'd like to stay at one of the six designated campgrounds within the Saguaro Wilderness Area, you'll need to pre-purchase a permit at recreation.gov. Keep in mind that to access these campgrounds requires hiking around 4.5 miles in rugged terrain.

There are also dispersed camping options available in the BLM and Forest Service areas that surround the park and opportunities to stay in RV parks, state parks, and county parks.
Hours and pricing
Hours:
Tucson Mountain District (west): The park is open to vehicles from sunrise to sunset daily.
Rincon Mountain District (east): The park is open to vehicles from 5 a.m. - 8 p.m. (summer) and 5 a.m. - 6 p.m. (winter).
You can walk or bike into the park 24 hours a day.
Visitor Centers (includes both east and west): Daily, 9 a.m. to 5 p.m., closed on Thanksgiving and Christmas day.
Entrance fees allow for admission to Saguaro National Park for seven days and include both the Tucson Mountain District (West) and the Rincon Mountain District (East).
Vehicle: $25/vehicle
Motorcycle: $20/motorcycle
Individual/Bicycle (age 16 and older): $15/person
* Please verify hours and fees on the website.
For more information
Saguaro National Park
3693 S Old Spanish Trail
Tucson, AZ 85730
(520) 733-5153
More to Discover Near Saguaro National Park