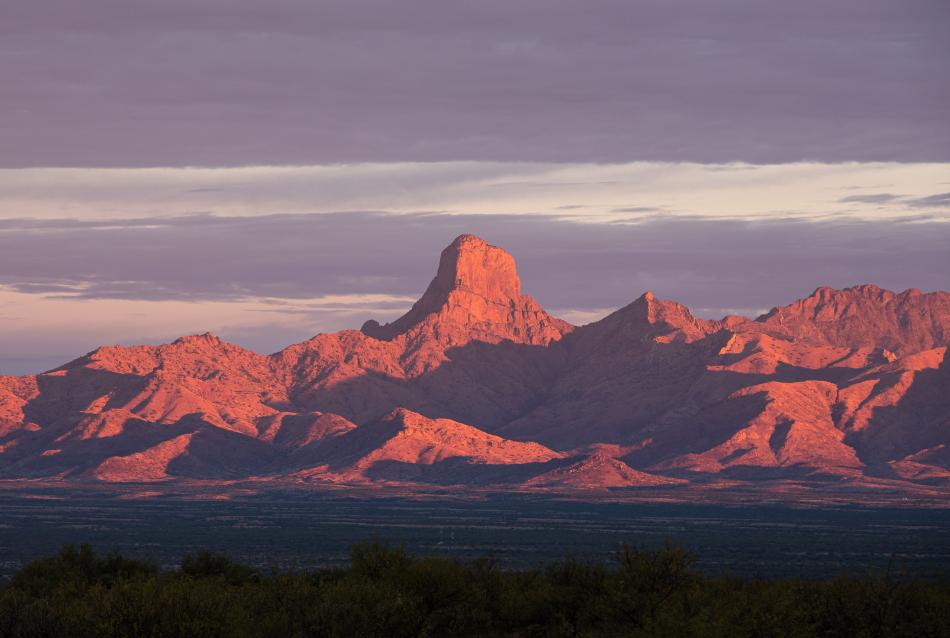 7 Amazing, Completely Under-the-Radar Arizona Parks
Arizona may be the Grand Canyon State, but there are a wealth of equally impressive landscapes far beyond the world-famous national park. If you're interested in hiking, camping and nature photography, consider visiting some of these spots—and enjoy the solitude that comes with getting off the beaten path.
Saguaro National Park
I had already made plans to spend a few days in and around Saguaro National Park West, but on my way into Tucson, I decided to take a quick drive through Saguaro National Park East. (The east and west districts of the park are about 35 miles apart, on opposite sides of Interstate 10, and pretty much equidistant from the city.)

After cruising along Cactus Forest Drive for a few minutes, I realized I needed to plan a return trip to the eastern district ASAP. While the hiking and scenery in the western district are incredible, the eastern district has an even larger network of trails, plus backpacking options.

Still, I made the most of my time in Saguaro National Park West. I hiked a portion of the Hugh Norris Trail in the late afternoon, and watching the setting sun illuminate thousands of saguaros was nothing short of magical. If you take the trail all the way to Wasson Peak, it is nearly ten miles roundtrip with approximately 2,400 feet of gain, but even hiking a mile or two will give you incredible views at sunset. If you're looking for a shorter adventure, the Valley View Overlook Trail (1 mile, relatively flat) is a great choice, and for those seeking ADA-accessible options, the paved Desert Discovery Trail is right next to Kinney Road, which has a number of pull-outs.

After a night at Gilbert Ray Campground in the nearby Tucson Mountain Park (see below), I stayed at the Joshua Tree House Tucson, a five-suite inn that's minutes from the best spots in Saguaro National Park West. As far as eateries and grocery stores, there aren't many options on this side of town, but all suites at JTH Tucson have access to a shared full kitchen, and some rooms have their own kitchenettes.
Tucson Mountain Park
At approximately 20,000 acres, Tucson Mountain Park is one of the largest natural resource areas owned and managed by a local government in the U.S., and one of the most stunning county parks I've ever visited. With 62 miles of non-motorized trails for hiking, biking and equestrian use, there are dozens of route options, though the Brown Mountain Trail (5 miles, 650 feet of gain) is probably the most popular. For folks wishing to stay in the car, Kinney Road and the McCain Loop offer amazing vistas of the desert, and there are plenty of roadside pullouts throughout the park.

I spent the night at the sprawling Gilbert Ray Campground, which has 135 campsites, all of which boast spectacular views of the saguaros and the mountains. This is hands down the best place to camp in the Tucson area, and many folks who are exploring the neighboring west unit of Saguaro National Park end up staying here, as well. As far as gas and groceries, your best bet will be to cruise east into Tucson via Gates Pass Road, which also has a few spots worthy of photo ops.
Buenos Aires National Wildlife Refuge
From birding opportunities to impressive views of Baboquivari Peak, Buenos Aires National Wildlife Refuge has something for every nature lover. The water sources were dry when I visited in late October, so there weren't as many avian species as I'd hoped. However, I still spotted quail, deer, coyotes and hawks, and plenty of other desert critters inhabit the area like desert tortoises and bobcats.

I bumped into an older couple who were part of the U.S. Fish and Wildlife Service volunteer program that releases quail onto the Refuge, and aside from a few OHVs that passed by my camp, it was very quiet.

Sections of the roads near the visitor center are paved, but most of the main roads are wide, well-maintained gravel pathways. However, as you venture deeper into the 117,500-acre Refuge, a high-clearance vehicle is recommended, as the roads are rutted and rocky.

The refuge has 83 numbered campsites, and while USFWS has maps available for visitors, the sites are not always easy to find. The network of narrow, dirt roads can get a bit confusing, and as you're searching for one campsite, you might stumble across another that seems worth snagging. This isn't a problem; in fact, it's quite fun. The point is, you generally won't find campsites by plugging numbers into a GPS device, and Google Maps is useless out here.

Like most of the public lands in Southern Arizona, there aren't a lot of services near Buenos Aires NWR, but the town of Three Points, just 40 miles north, has a gas station with a well-stocked general store. You can also stock up in Tucson, a little more than an hour north.
Chiricahua National Monument
Chiricahua National Monument may seem like it's out of the way, but these unique hoodoos are only two hours southeast of Tucson.

The park is just under 12,000 acres, so the trail network isn't as expansive as other locations on this list, but finding parking is never an issue, nor is overcrowding. During my two days spent hiking in the Monument, I only bumped into a few groups on the trails.

The Heart of Rocks Loop (7 miles, 1,500 feet of gain) wanders through a garden of rock spires, and it can be accessed a few different ways. The distance and overall gain are about the same no matter where you start, but the route from Echo Canyon has more up and down, whereas the trail from the visitor center is a steady climb over the course of the first three miles. On that note, I found the Echo Canyon Loop (3.5 miles, 600 feet of gain) to have the best vistas, and it was especially striking at sunset. Massai Point is a great option for folks who don't want to hike, and for a quick jaunt with amazing views, consider the Sugarloaf Mountain Trail (1.8 miles, 500 feet of gain).

If you're looking for a place to stay, Bonita Canyon Campground is located within the monument. There are only 25 sites, so making an online reservation is a safer bet than trying to score a walk-up spot. The campground has flush toilets and potable water, but no showers. Ground fires are not permitted. There is free dispersed camping outside of the monument in the Coronado National Forest, and the closest town with services and lodging is Willcox, which is 35 miles away.
Patagonia Lake State Park
If you're into birding and kayaking, consider adding Patagonia Lake State Park to the top of your list. At first glance, the park looks like another developed campground on the water, but the key is visiting during the week—or snagging one of the park's dozen boat-in campsites and staying for a night or two. These sites are far from the marina and campground, and while you might see some wildlife, you won't be bothered by your neighbors. In fact, you won't even be able to see your neighbors.

Motorized boats are allowed, but there are restrictions (no Jet Skis, for example), so paddling around looking for birds was just as peaceful as I'd hoped it would be. The man-made lake has a wide range of fish, and if you're more interested in staying on land, there is a short nature trail that leads to Sonoita Creek, plus a small beach perfect for kids.

The park has seven cabins, all of which have beds, mini-fridges, microwaves, heating, air conditioning and fire rings; however, there is no plumbing, so guests must use the park's public restrooms. The nearby town of Patagonia has food and fuel to supply your stay. If you venture further north to Sonoita, you'll find a number of vineyards and charming B&Bs in the heart of Southern Arizona's wine country.
Kofa National Wildlife Refuge
It was only recently that I learned about the Kofa Mountains. As soon as I saw a photo of the peaks and layers glowing at sunset, I knew I had to see this landscape in person. While there are a few hiking trails in the Kofa National Wildlife Refuge, this area is mostly used for boondocking and ATVing.

It does get crowded during the winter, but if you're willing to put in a few extra miles (and you're not driving a large RV), it is possible to find dispersed camping off the main roads. It's worth mentioning that cell reception is excellent in many spots in the Refuge, so it's not a bad place to post up and work remotely.

Free, dispersed camping in the refuge is limited to 14 days within a 12-month period, but the Bureau of Land Management (BLM) spots outside of the Refuge do not have a 12-month restriction on 14-day stays. For supplies, nearby Quartzsite has everything from ATV rentals to restaurants, and the town even has over a dozen RV parks.
Organ Pipe Cactus National Monument
If you've traveled through the southwest you've undoubtedly spotted hundreds of saguaros, but have you ever seen an organ pipe cactus? Organ Pipe Cactus National Monument, which sits on the U.S.-Mexico border, is the only place in the country where these plants exist. It's a two-hour drive south from Phoenix—and well worth the trek.

The landscape is steep and rocky yet surprisingly green with vegetation, and the stargazing here is exceptional. The Monument is home to a handful of hikes, like the Desert View Trail (1 mile, mostly flat) and the Victoria Mine Trail (5 miles, 300 feet of gain), but I found the best photo ops to be from the campgrounds and the 21-mile Ajo Mountain Drive.

The first time I visited the Monument, I stayed at the Alamo Canyon Campground, which has four walk-up sites nestled among the mountains. However, I was a bit concerned about availability at the beginning of the high season, so I booked a spot at the larger Twin Peaks Campground on my last trip. While I prefer the views in Alamo Canyon to those at Twin Peaks, it was still a beautiful spot, especially the tent sites at the end of the loop. As far as supplies, the town of Why has a gas station and a travel store (keep your eyes peeled for the catchy "Why Not" sign), but Ajo has better options for food.
Heritage & Culture
Hoodoos, cacti and castles: Choose from a wide range of fascinating adventures in and around Arizona state and U.S. national lands.
Hidden Gems
These abandoned towns offer a glimpse into the state's rich history—and make for the perfect spooky season day trip.