Hidden Gems
5 Secret Ghost Towns in Arizona
These abandoned towns offer a glimpse into the state's rich history—and make for the perfect spooky season day trip.
Chances are you've probably heard people mention Jerome and Bisbee when talking about ghost towns in Arizona. But with their established population and stable tourism flow, they're more "town" than "ghost."
With literally thousands of abandoned mines and surrounding communities throughout Arizona, there are plenty of lesser-known ghost towns to check out. Below is a list of five abandoned towns that are rich in history and offer a lot for the curious explorer.
Best Arizona ghost town near Phoenix: Tip Top
Where to find it: About 50 miles north of Phoenix
"She's a tip-top silver mine," said prospector Jack Moore to his partner Bill Corning in 1875. The pair set out south from the town of Prescott trying to get to Castle Hot Springs when they stumbled upon some rich minerals. Later, the town quickly shot to a population of about 1,200, and the men were earning up to 1,000 ounces of silver per ton of ore.
Between 1876 and 1884, Tip Top was one of the three most active mining towns in Arizona (the other two being Tombstone and Wickenburg). The town boomed. At its peak in the late 1880s, Tip Top had six saloons, three stores, four restaurants, a school and the first brewery in Arizona.
In 1895, less than a decade later, the town fizzled out. A brief revival attempt was made in 1910, but by the onset of World War I the town was abandoned. Today, the ruins at Tip Top stretch nearly two miles along Cottonwood Creek. There are dozens of buildings in various states of ruin, an old headframe and several tunnels still left.

Note: As of April 2019, this site is no longer open to the public. Arizona doesn't lack ghost towns, however. We'll update this list soon with another site we've been saving.
Best Arizona ghost town for camping: Kentucky Camp
Where to find it: 40 miles south of Tucson
Kentucky Camp's story begins in 1874. After finding gold nearby and the population surged to more than 500 miners. Migrants from back east named gulches in the area after their respective homes, giving Kentucky Camp its name.
By the 1880s, most of the gold deposits ran out, and the population thinned almost as quickly as it had grown. In 1904, the Santa Rita Water & Mining Company (SRW&MC) built the current buildings at Kentucky Camp but abandoned the camp in 1910 after struggling to stay afloat following the tragic death of its founder in 1905.
In 1989, the U.S. Forest Service took (USFS) ownership of the land. It's since become a popular place for mountain bikers and runners seeking a quiet trail with wide-open space.
Visitors can camp on the site with the right permits; however, Kentucky Camp also is unique in that you can rent one of two cabins for $75 a night as part of the USFS program, "Rooms with a View."
Best Arizona ghost town for exploring historic buildings: Swansea
Where to find it: 30 miles east of Parker, near the Arizona-California border
Swansea is a well-preserved ghost town in western Arizona under preservation by the Bureau of Land Management (BLM).
Named after the Welsh hometown of founder George Mitchell, Swansea's serious mining operations began in the mid-1880s. By 1909, a post office was established and the town swelled to a population of 750. Just a year later, the first railroad arrived from Bouse, connecting Swansea to the rest of the world. The town had the normal saloons and restaurants but also featured a car dealership, theater and an electric light company.
Because of the dry surroundings, water had to be hauled in via pipeline almost four miles from the Bill Williams River to the north. Unfortunately, Mitchell overpromoted the town, which led to its quick demise. Swansea was on-and-off until the Great Depression when it finally closed.
Today, dozens of buildings and structures remain to be explored, and it continues to be one of the best ghost towns in the state.
Best Arizona ghost town with a cemetery: Agua Caliente
Where to find it: About 120 miles southwest of Phoenix
Unlike typical Arizona ghost towns based around mining, Agua Caliente ("hot water" in Spanish) was built around a natural hot spring and a stagecoach line. The natural hot spring in the area had been used by American Indians and later by travelers along the Butterfield Overland Mail Route in the early 1860s.
Pioneer King S. Woolsey owned the Agua Caliente Ranch. By the year 1897, a 22-room resort was built, complete with a swimming pool fed by the hot springs. Many used the resort for its healing properties, but farming in the area ultimately sucked the springs dry.
Visitors to the site now can see the remains of the hotel, several other stone buildings, and the Agua Caliente Pioneer Cemetery.


Best Arizona ghost town along Route 66: Hackberry
Where to find it: 28 miles northeast of Kingman in northern Arizona
Today, Hackberry is an iconic Route 66 stop for many travelers, but the town originated in 1874 as a silver mining destination.
The initial mining helped to develop the town but the claims quickly played out and the area was reduced to a ghost town. When Route 66 was constructed, the town was revived with several service stations. Bad luck returned when Interstate 40 came along, and the town was once again reduced to almost nothing.
With the re-opening of the Hackberry General Store in 1992 as a Route 66 information center, the town's population slowly rebounded as did the number of Route 66 travelers, but it still retains that "ghost town" charm today.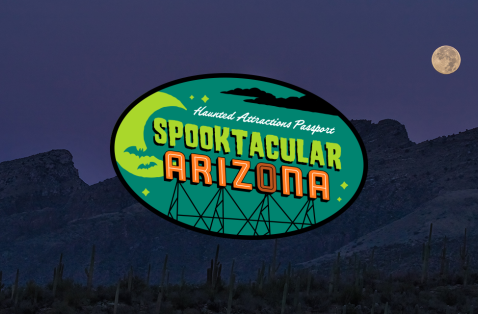 Haunted Arizona
Explore the strange, spooky and supernatural side of Arizona with dozens of haunted attractions.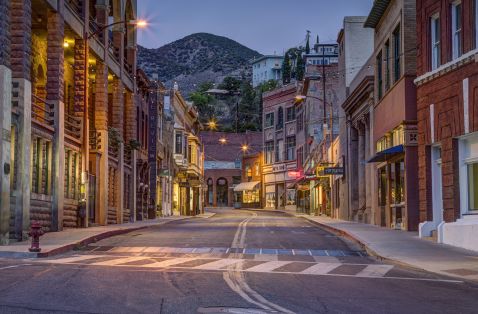 Must-See
Head to the state's storied towns for autumn nights filled with eerie tales and ghostly apparitions. Plan your trip to the most haunted places...