Organ Pipe Cactus National Monument
Discover the only place in the United States where the organ pipe cactus grows wild. Visit Arizona's Organ Pipe Cactus National Monument.
From National Monument to Global Reserve
On April 13, 1937, President Franklin D. Roosevelt established Organ Pipe Cactus National Monument, an area spanning more than 330,000 acres of the Sonoran Desert in southwestern Arizona. Home to over 2,000 different species of plants, 300 species of birds, and 100 species of reptiles and amphibians, it is the only place in the United States where you can see the organ pipe cactus in abundance.

In 2017, Organ Pipe Cactus N.M. joined UNESCO's World Network of Biosphere Reserves, owing to its thriving community of plants and animals, as well as the sheer biodiversity and history as a cultural resource in this area. Scientists, researchers, environmental advocates and others from around the globe frequently travel to the area to study its geography and wildlife, and partner on ways to best preserve this natural landscape.
"What brought me out to this monument was the sheer biodiversity of this landscape. If you look all around us, you will see tons of different plants all over the place. It is one of the greenest deserts in the world. When I come out here and explore the area, I get to discover new things every day."
– Eric Kim, Park Ranger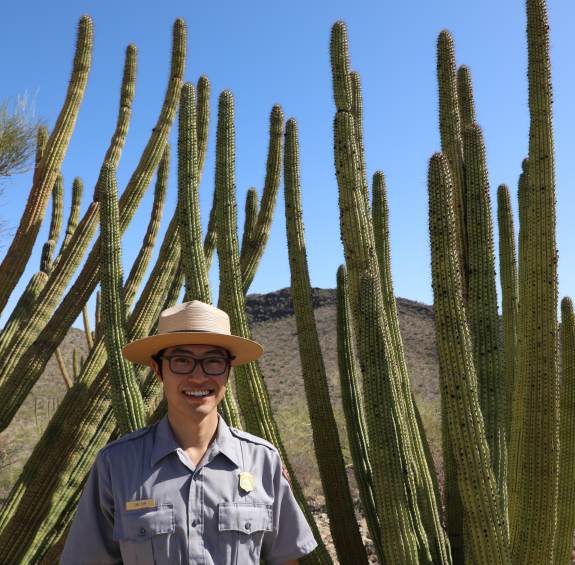 Things to do at Organ Pipe Cactus NM...
This desert wilderness makes an ideal getaway to "get away" from the hustle of life. The area is more remote than other parks in the state, meaning fewer crowds and more serenity. Take a drive down a remote road, hike a backcountry trail, camp beneath a clear desert sky, marvel at centuries-old cacti, or simply soak in the warmth and beauty of the Southwest.

During the winter months, the park hosts free programs such as "Patio Talks" that take place behind the visitor center, evening nature films in the Twin Peaks Campground Amphitheater, and guided night-sky hikes and stargazing sessions with telescopes.
... on foot or ...
Organ Pipe Cactus NM features trails of varying ability that allow visitors to walk amongst the expansive and lush landscapes.

For something nice and easy, the 1.2-mile Desert View Trail takes hikers on a loop through the desert, throughout which are signs with information about the wild plants' traditional uses. The trail takes you up a ridgeline for a view of the Ajo Mountains in the distance.

A more moderate hike is the Victoria Mine Trail, a 4.4-mile round-trip trek to one of the oldest gold and silver prospecting sites in southwest Arizona.

More experienced hikers can try the 3.5-mile Estes Canyon and Bull Pasture loop, a strenuous trail that gains over 860 feet of elevation. Those willing to take on the challenge will be rewarded with expansive mountain views.

Note: Regardless of which trail you take, remember to bring plenty of water with you as there are no fountains or other sources of water. A hat or other form of shade is equally recommended.
... by car or bike.
One of the easiest and best ways to experience Organ Pipe Cactus National Monument's natural splendor is by car. (All roads that are open to the public can also be accessed by bikes.)

The most popular scenic drive is the Ajo Mountain Drive, a 21-mile one-way (mostly gravel) loop that takes approximately 2 hours to complete and can be done in a passenger vehicle. Stop in the Kris Eggle Visitor Center to pick up a free guidebook for the route. The official National Park Service (NPS) app also provides an option to download an audio version of the guide to follow along with on the Ajo Mountain Drive.

The more rugged Puerto Blanco Drive is a 41-mile scenic drive that takes 3-4 hours to complete. If traveling beyond the Pinkley Peak picnic area, it's recommended you have a high-clearance 4x4 vehicle.
Accessibility
The lobby, auditorium, exhibits and bookstore at the Kris Eggle Visitor Center are accessible.
For the visually impaired, there is a relief map of the monument and a touch table with a variety of items, as well as large print brochures, Braille exhibit descriptions, and audio-recorded information.
Behind the visitor center is a 100-yard paved nature trail, suitable for scooters and wheelchairs. The trail gives you an up-close view of the plants native to the Sonoran Desert.
The Twin Peaks Campground has accessible restrooms and drinking water, as well as four sites that have picnic tables designated for wheelchairs and scooters.
Where to stay
Stay at one of the many nearby campgrounds or try backcountry camping to immerse yourself in nature—or opt for an RV or car camping for a little more protection from the outdoors. Twin Peaks Campground is the main campground at the park, and has 208 sites, with 34 tent-only sites, and 174 RV sites. Sites need to be reserved in advance on recreation.gov. Primitive camping is available at the Alamo Canyon Campground, which has 4 campsites for tents only. Permits for backcountry camping and Alamo Canyon are available at the visitor center.

Seeking something a little less rugged? Less than 15 minutes away, in the town of Ajo, the Sonoran Desert Inn is a remodeled former schoolhouse near the historic Ajo Plaza and a popular option.
Hours and pricing
Park road and trails are open 24 hours, daily, year-round.
Kris Eggle Visitor Center: Open daily, 8 a.m. – 5 p.m. (winter) and Friday - Monday, 9 a.m. - 4 p.m. (summer). Closed on Thanksgiving and Christmas Day.
Park Entrance Fees:
Per Vehicle: $25/7-day pass
Individual/Bicycle: $15/7-day pass
Motorcycle: $20/7-day pass
Annual Pass: $80
* Hours and fees are subject to change. Please verify on the website.
For more information
Organ Pipe Cactus National Monument
10 Organ Pipe Drive
Ajo, AZ 85321
(520) 387-6849
More to Discover Near Organ Pipe Cactus National Monument