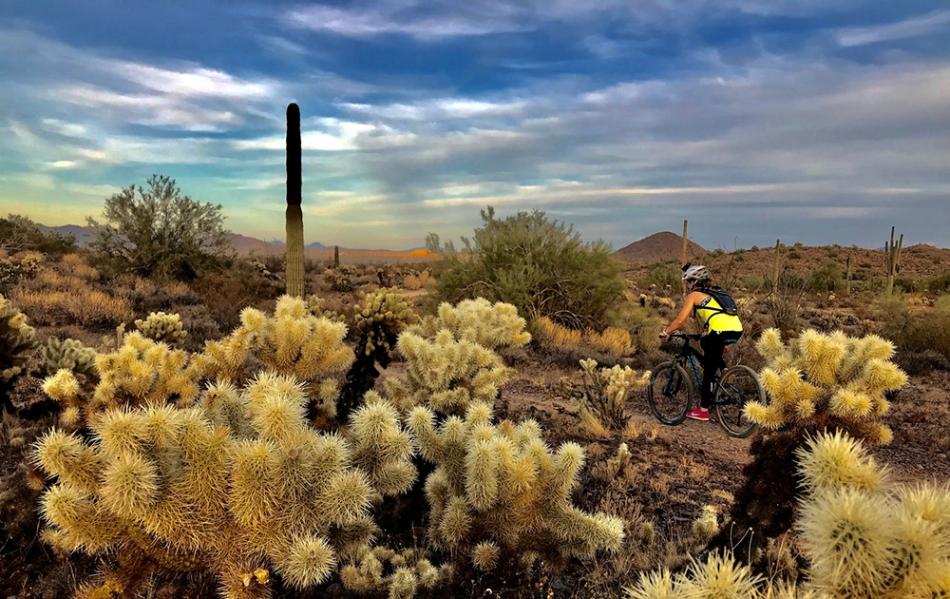 A Tour on Two Wheels
Cycling in Arizona
Travel on two wheels. Whether you're a casual cyclist or an endurance rider, you'll have fun exploring these top places to bike in Arizona.
With 300-plus days of sunshine and thousands of miles of cycle-friendly roads, Arizona is consistently ranked as a top destination for serious cyclists. But you don't have to be hardcore to appreciate the state's scenic routes.

From mountain treks and desert excursions to laid-back city rides, there is something for everyone in Arizona.
Cycling trails with inspiring views
Bell Rock Pathway
Sedona's magnificent red rocks, olive-colored cacti and clear blue skies make for startling color combinations as you ride off into the sunset.
Sedona bike trails are legendary for their slickrock and technical single track, but even novice riders can get dirt in their tread on the nearly four-mile Bell Rock Path (requires a permit), located near the Village of Oak Creek with views of the iconic Courthouse Butte.
Rainbow Rim Trail
On the Grand Canyon's North Rim, mountain bikers can pedal the edge of one of the world's most impressive natural wonders. On the Rainbow Rim Trail, take in the sights of the abyss from above. An ideal way to soak up the views is on a guided bike tour; Western Spirit Cycling offers a five-day ride for introductory to intermediate cyclists. Family-friendly and teenage-level trips on the North and South Rims are also available.
Sunset Crater Loop
In spring and summer, enjoy the 46-mile Sunset Crater Loop near Flagstaff, a challenging route for experienced bikers. Cycle up 3,000 feet of elevation through two famous Arizona destinations, Sunset Crater Volcano National Monument and the Wupatki National Monument, on this long-haul bike ride along the border of the Painted Desert. Caution when biking: The loop is part of a paved scenic route meaning you'll possibly end up sharing your ride with motorists.
Some of the best mountain biking trails in AZ
Peavine Trail
In Prescott, Peavine Trail follows the original Santa Fe Railway and is one of Arizona's few Rail to Trail paths. The six-mile route is rife with cool breezes, warm sunshine and opportunities to spot wildlife. You'll pedal by the golden-hued desert landscape and past glittering Watson Lake on the way to the stacked boulders of the Granite Dells.
SARA Park
For mountain bikers, there are miles and miles of single track in Western Arizona. Lake Havasu City's SARA (Special Activities and Recreation Area) Park has an abundance of adrenaline-worthy trails across the rocky terrain. Choose your trail and admire the stunning scenery along the way from desert trails to mountaintop vistas overlooking the city's namesake lake.
Paved pathways and road cycling
Indian Bend Wash
Scottsdale's network of paved biking trails along the Indian Bend Wash Greenbelt, which cuts through the middle of the city, is perfect for a leisurely afternoon ride. The urban landscape comprises parks, lakes and golf courses, with opportunities for a detour at every turn. Break for lunch or a yummy treat at one of Scottsdale's many foodie destinations along the way.
Sabino Canyon
For a short ride with a beautiful view, it is a steep pedal up (733 feet) Sabino Canyon's car-free road near Tucson. Pass by saguaro-spotted mountains and Arizona greenery on this paved climb through the canyon. Note: Bicycling is prohibited on Wednesdays and Saturdays.
Chuck Huckelberry Loop
Known simply as "The Loop," this system of paved pathways and bike lanes extends over 136 miles (with more planned) connecting areas throughout Tucson, Oro Valley, Marana and South Tucson. Shops, restaurants and (on the weekend) farmers' markets dot the route, enticing cyclists to stop for a break.
Yuma Crossing National Heritage Area
Travel from Yuma's West Wetlands along the Arizona-California border to the East Wetlands and Yuma Territorial Prison State Historic Park. This popular route can be accessed from downtown Yuma and is a popular one among walkers, birdwatchers and cyclists and also history buffs interested in seeing the city's various heritage sites.
Cycling events in Arizona
El Tour de Tucson
The 102-, 57- and 28-mile El Tour de Tucson, Arizona's premier annual road bike ride, loops throughout Tucson and offers routes for people of all ages and skill levels. The nationally recognized November event also has Fun Ride options, including shorter races for kids, for those in search of a more casual spin.
Cyclovia
For a family-friendly experience, bring the entire family to Cyclovia Tucson, a biannual event in spring and fall that closes downtown streets to motorized vehicles so bicycle riders can enjoy them.
White Mountain Tour
If you're looking for a multi-day ride, check out the Tour of the White Mountains – two days of fun and pedaling through the Ponderosa Pines. Held annually in the fall, this event lets you experience some of Arizona's best single track as you circle in and around the mountain town of Pinetop-Lakeside. Not a mountain biker? Join the festivities anyway. This family-friendly event invites spectators to partake in food, games, live music and more.
Hotels that rent bikes to guests in Arizona
Several resorts offer bicycles for guests to rent or borrow, including:
Amara Resort and Spa, Sedona
Arizona Inn, Tucson
Bespoke Inn, Scottsdale
The Graduate, Tempe
Kimpton Hotel Palomar Phoenix
The Motor Lodge, Prescott
Where to rent bikes in Arizona
Outfitters offer bike and gear rentals, as well as guiding packages, including:
Absolute Bikes, Sedona and Flagstaff
Bright Angel Bicycles, Grand Canyon Village
Oro Valley Bicycles, Oro Valley
Tucson Bike Rentals, Tucson
Prescott E-Bike Rentals and Tours, Prescott
Writers Teresa Bitler and Nora Burba Trulsson contributed to this story.