The Best Campsites in Southern Arizona
Southern Arizona is home to stunning landscapes, and its sunshine and dry heat make for ideal car camping weather.
With more Americans hitting the road than ever before, the quest to find solitude and scenery has become extremely competitive, but if you know where to look there are still plenty of hidden gems in the Grand Canyon state. From dispersed car camping to developed campgrounds in parks, here are the most scenic places to sleep under the stars (Note: Most campsites are accessible to RVs and motorhomes, but some require high-clearance 4x4 vehicles.)
While many developed campgrounds and boondocking hotspots are well-equipped to handle tourists, the lesser-known public lands rely on visitors to do their part when it comes to preservation and maintenance. In addition to following local rules and regulations, it's important to verse yourself with Leave No Trace (LNT) principles, which are guidelines that help protect these beautiful, wild spaces. From packing out your trash to minimizing the impact of campfires, if we do our part to take care of our public lands, we will have the privilege of enjoying them for many years to come.
Kofa National Wildlife Refuge
The public lands south of Quartzite in western Arizona are popular among the snowbird RV crowd (you'll literally see hundreds of motor homes next to State Route 95), but venturing deep into the Kofa National Wildlife Refuge gets you closer to the craggy peaks—and helps weed out vehicles that can't make it down the narrow, rocky roads. Palm Canyon Road and King Road are safe options for larger rigs, though high-clearance vehicles are recommended for other roads in the Refuge. As long as you take it slow, most of the lesser-traveled roads are manageable, but drivers should use caution when heading into washes and canyons, as they may encounter deep sand.

Free, dispersed camping in the Refuge is limited to 14 days within a 12-month period, though the Bureau of Land Management (BLM) land outside of the boundary doesn't have a 12-month restriction on 14-day stays. (Note: In April 2020, BLM officials issued a release stating that the area was at capacity, so spots do fill up quickly. This is expected to remain the case in 2021.)

Campfires are allowed in rock rings, but gathering wood is prohibited in areas designated as wilderness, so consider bringing your own firewood. The U.S. Fish & Wildlife Service mandates that all vehicles remain within 100 feet off of the road. There is a smattering of signage highlighting areas that are off-limits to vehicles, many of which are at established campsites.
Twin Peaks Campground (Organ Pipe Cactus National Monument)
While it is large and developed, the strategic layout of Twin Peaks Campground within Organ Pipe Cactus National Monument gives campers both privacy and panoramic views of the desert landscape. The campground has a total of 208 sites, though the tent-only sites at the bottom of the loop (numbers 192 to 208) tend to be the most popular due to their unobstructed views of the mountains. Even so, I still was able to snag a walk-up spot in late October. Many of the sites are right next to large clusters of organ pipe cactus, and the Victoria Mine Trail and Desert View Trail both start just steps from the campground.

There are no electrical hookups, but the campground does have potable water and a dump station. Ground fires are not permitted, and fires must be confined to grills at campsites. Sites cost $20 per night and can be reserved online via recreation.gov.
As part of the Centers for Disease Control & Prevention (CDC) precautions due to Covid-19, several dozen of the 208 sites are currently closed, including the group sites. Showers and all but three bathrooms will also be closed until further notice, so it's best to check for updates on the NPS website prior to visiting.
Buenos Aires National Wildlife Refuge
From views of Baboquivari Peak to desert-dwelling creatures, visitors are treated to all kinds of natural wonders in Buenos Aires National Wildlife Refuge. The Refuge has a total of 83 numbered campsites, all of which are clearly marked; however, finding them is a bit of a treasure hunt, as many are tucked away on offshoots of Arivaca Road. While there is a map with campsite locations, most of the roads are marked only with small numbered posts, so it's not as simple as plugging in GPS coordinates and arriving at a campsite.

Most of the spots near Arivaca Road are fine for RVs and larger rigs, but as you travel deeper into the Refuge you can expect more ruts and sharp rocks—and fewer pullouts. Beyond knowing your vehicle's limits (and your off-road driving skills), it's important to be mindful of the weather, as flash floods can rip through the area and make sections impassable.

Free, dispersed camping in the Refuge is limited to 14 days within a 30-day period. Fires are permitted, but they must be confined to the fire rings at designated campsites, and wood collection within the Refuge is for Refuge fires only. There are quite a few rules for OHV use and firearms, and the U.S. Fish and Wildlife Service has an excellent rundown of local regulations on their website.
Patagonia Lake State Park
A handful of the 107 developed campsites boast prime lakeside views, but it's the 12 boat-in sites that put this park on the map.

Patagonia Lake State Park's boat-in sites are secluded and quiet, and your only neighbors will be a wide range of avian species and the occasional cow. (Some of the park overlaps with land leased by local ranchers. While you might not actually see cows, you will definitely see evidence of them, so do watch where you step.)

I saw osprey diving for fish, countless American coots, plus several hummingbirds and red-naped sapsuckers, so this is a true birding paradise. Cruising around in a kayak at sunset was probably the highlight of my stay, and most boaters are very respectful of the wake zones. It's an easy jaunt across the lake to the marina and parking lot, so if you're staying for a few days and need to resupply, paddling back into civilization is not a hassle.

Kayaks, canoes, rowboats, paddleboats and pontoon boats are available for rent at the boat trailer parking lot, and there are two boat ramps at the lake. It should be noted that personal watercraft (PWCs), Jet Skis, waterbikes, above-water exhausts boats and V-8 jet boats are prohibited, and water-skiing is not allowed on weekends or legal holidays from May 1 until October 1. Campfires must be in approved fire rings only, and wood gathering is not permitted. Tent and electric sites range from $20-30, and boat-sites are $20-25. Campers must also pay park admission, which is $15 during the week and $20 on holidays and weekends.
Gilbert Ray Campground (Tucson Mountain Park)
Between waking up next to towering saguaros and watching the mountains glow at sunrise, Gilbert Ray Campground offers some of the best scenery in the Tucson area. The campground was built far away from any major roads, so the only noise you might hear is a pack of coyotes roaming around at night.

For an urban campground, I found Gilbert Ray to be incredibly peaceful, and it was a wonderful stop after a resupply run in the city. The campground is also near a handful of amazing trails in Tucson Mountain Park and the neighboring western unit of Saguaro National Park. However, if a slow, scenic drive is more your speed, there are nearly a dozen pullouts off Kinney Road with incredible views as well.

The campground has flush toilets, electrical hookups and potable water, and 130 of the 135 sites can accommodate RVs. Wood fires are not allowed, and charcoal fires must be confined to grills. Tent sites run $10 per night and RV sites are $20 per night. Reserve your tent or campsite online via Pima County Natural Resources, Parks and Recreation or booked on a walk-up basis.
Coronado National Forest
If you're looking for dispersed camping near Chiricahua National Monument, there are dozens of spots along Pinery Canyon Road in the Coronado National Forest.

Just before entering the monument, follow the National Forest signage to the right and continue on through a rural residential area. After a few miles of driving down a washboard (but well-maintained) dirt road, you'll start seeing campsites on the right, most of which are large enough to accommodate big rigs and multiple vehicles. However, after about seven miles, the road gets rougher and a high-clearance vehicle is recommended.

Even though the sites generally don't have jaw-dropping views of the surrounding landscape, the shade from the trees makes this a very lovely spot during the warmer months.

Free, dispersed camping in this section of the Coronado National Forest is limited to 14 days. Some of the spots are right next to Pinery Creek, but it's not always flowing, so it's best to bring your own water. Fires are permitted, but always check local fire restrictions, as the area may have burn bans throughout the year. If you'd prefer a developed campground and want something in Chiricahua National Monument, there are 25 campsites at Bonita Canyon Campground that cost $20 per night, and they can be reserved via recreation.gov.
Sustainability
The Arizona Office of Tourism and the Leave No Trace Center for Outdoor Ethics© forged a partnership to promote sustainable tourism practices...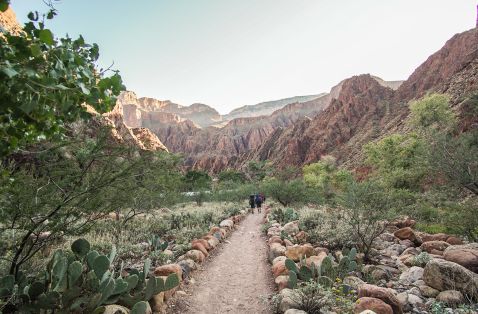 REI and Arizona
Arizona is a destination for travelers. One-of-a-kind excursions and bucket-list experiences beckon from every corner of the Grand Canyon State.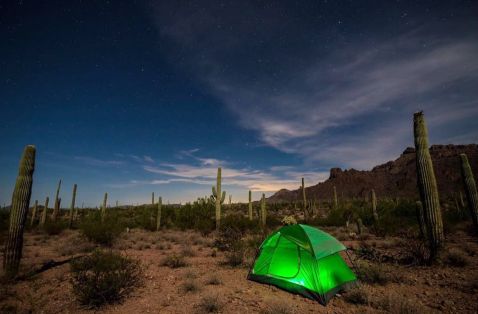 Outdoor Adventures
Part of the appeal of camping is getting away from it all, isn't it? Setting up a temporary home surrounded by sweet solitude. Good news: Where...