Awaken your senses in the sonoran uplands. Ajo's spanish architecture is an excellent introduction to southern arizona's colonial history and a gateway to adventure in nearby organ pipe cactus national monument.
Once-sleepy Ajo has always been a magnet for desert enthusiasts – it's surrounded by 12 million acres of public and tribal land. Now it's fostering a growing arts community.
Anchored by a historic train depot, Ajo's graceful town plaza – surrounded by shops, a post office, restaurants, and punctuated by towering palm trees and a central park – may remind you of Spain. With good reason. Built in 1917, the Spanish Colonial Revival style is a perfect complement to the sunny desert terrain. The heart of Ajo, the plaza hosts frequent festivals that bring together Arizonans, members of the Tohono O'odham Nation, Mexicans, and visitors from around the world. As you meander, be sure and stop into the two lovely houses of worship built in the mid-1920s, the Catholic Church and the Federated Church.
Once a copper mining town – you can view the Cornelia Open Pit Mine from an overlook outside of town – Ajo is now an emerging arts community, attracting creatives from Tucson, Phoenix, and other Southwestern cities. The beautifully renovated Sonoran Desert Conference Center – part conference center and hotel, part artist community – furthers this creative vibe.
Just 15 miles south, along the border with Sonora, Mexico, Organ Pipe Cactus National Monument reveals its wonders. An unspoiled preserve, this cactus forest has been honored by UNESCO as an International Biosphere Reserve for its biodiversity. Serene and under-visited, it's the best place to see wild stands of these unusual cacti that feature multiple columns growing out from a central base. Cabeza Prieta National Wildlife Refuge is another nearby place to bird, camp, hike, and view wildlife. Whatever your interests, Ajo is alive with activity.
More to Discover Near Ajo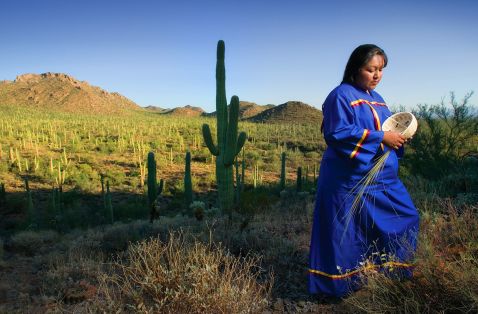 Visit the Tohono O'odham Nation, featuring outdoor recreation and casinos, and learn about their culture in the lands they call home near Tucson...
Discover the only place in the United States where the organ pipe cactus grows wild. Visit Arizona's Organ Pipe Cactus National Monument.
Cities
Visit Arizona's second-largest city, a UNESCO City of Gastronomy and a year-round outdoor playground. You can be secluded or social in Tucson....