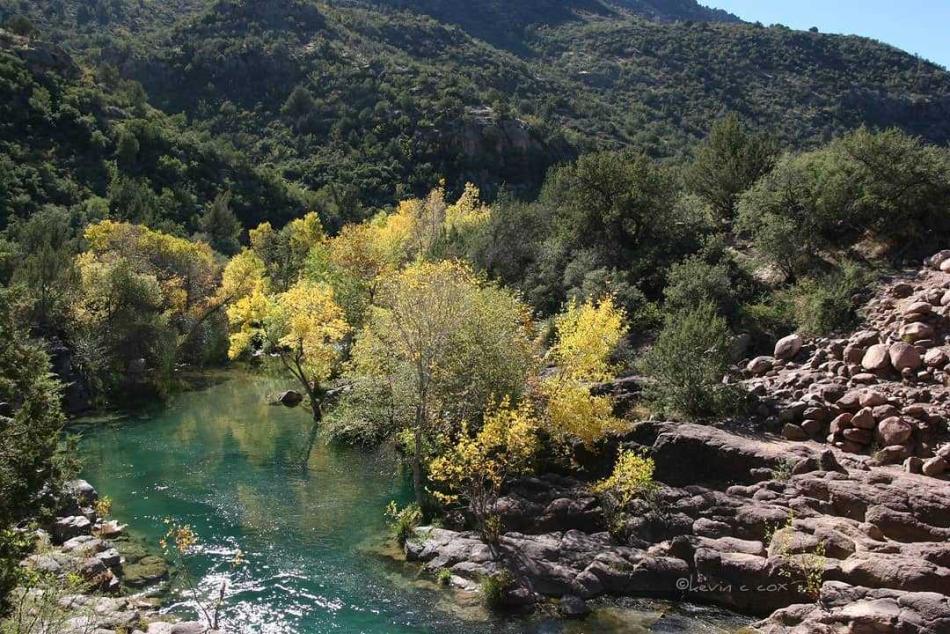 A Guide to Visiting Fossil Creek The "Right Way"
Visiting Fossil Creek — where you'll find one of only two Wild and Scenic Rivers in Arizona — takes some advance planning. Here's what you need to know to explore this hidden gem safely and responsibly.
Once home to the Apache and Yavapai tribes, the Fossil Creek area between Camp Verde and Payson today offers a pristine recreation area in a remote central Arizona canyon. Fossil Creek is a tributary to the Verde River, an officially designated Wild and Scenic River. The mineral-rich springs that feed Fossil Creek form travertine deposits on natural debris that comes to rest on the water, creating fossil-like features on rock surfaces that add to the intrigue of this spectacular oasis.
Getting to Fossil Creek
A rugged drive or a difficult hike is required to access Fossil Creek.

From Camp Verde: From I-17, take exit 287 (Highway 260) and travel east of Camp Verde for 10 miles to Forest Road 708. High clearance vehicles are strongly recommended on the 14-mile dirt road that leads to eight access points along the creek.

From Strawberry: From the same I-17 exit in Camp Verde, drive east to the mountain town of Strawberry in less than one hour. From Strawberry, Highway 87 intersects with Fossil Creek Road, which is paved for four miles and turns to dirt for the final mile to the Bob Bear Trail.
The Basics
When to Go
Fossil Creek is a day-use area open year-round. Permits are required April 1 through October 1. During the spring/summer season, entry gates open at 8 a.m. and close at 4 p.m., but visitors can exit the gate until 8 p.m. During the fall/winter season (October 2–March 31), parking permits are not required, and entry gates are open 24 hours a day weather permitting. The Camp Verde entrance is highly recommended in the summer since the hike to the creek is much shorter. When temperatures heat up, the Bob Bear Trail from Strawberry should only be done by experienced hikers.
How to Get Permits
Permits during the summer months, especially to the Waterfall Trail parking lot, sell out weeks in advance. Parking passes cost $6 per vehicle and must be obtained at recreation.gov. The first of each month, permits are released for the following month. On June 1, for example, all slots for July become available. Permits must be printed in advance and brought to the site.
What You'll Need
Hiking shoes. Do not wear open-toe shoes or sandals. Sturdy footwear lowers the chances of a fall on the loose-rock trails.
Water and food. Summer temps exceed 100 and the hike out is steep and strenuous. Bring a backpack to carry water and snacks. Save more than half of the water for the hike out.
Dry clothes. After a day in the water, dry clothes make the hike out of the canyon more pleasant.
Sunscreen and a wide-brimmed hat. The only shade visitors encounter during the day comes at the riparian area along the creek. Come prepared for a hike that is exposed to the elements.
Do Not Bring
Pets. The trails are either too populated (Waterfall Trail) or too rough (Bob Bear Trail) for dogs to navigate safely.
Recreational vehicles. Access roads and the trails into the canyon are restricted to mountain bikes and all types of motorized recreation vehicles.
A Day at the Creek
From all access points along FR 708, short hikes lead to a quenching day of water activity. The payoff is immediate: clear water, towering sycamore trees, swimming holes and amazing rock formations that create waterfalls, caves and grottos. Plan to spend a few hours exploring the riparian habitat and soaking in the natural beauty of this surprising oasis in the middle of Arizona's rugged backcountry.

The four-mile hike on Bob Bear Trail starts at an elevation of 5,700 feet and drops 1,500 feet to the headwaters of Fossil Creek. The hike into the canyon is spectacular but extremely technical with steep inclines and uneven footing. The trek passes through fields of juniper scrub, manzanita groves and patches of prickly pear and agave. At the creek, eat and relax in the shade before powering up the four-mile, steep hike out of the canyon.

Where to Stay
After a full day of outdoor adventure, plan to stay overnight. Choose from national brand hotels right off I-17 in Camp Verde. Camping is prohibited anywhere within the Fossil Creek permit area. Clear Creek Campground is the closest area campsite, but visitors find many camping options throughout Coconino and Tonto national forests. Make reservations well in advance, particularly during the summer months.
---
Leave No Trace
Fossil Creek fosters an abundance of wildlife and creates a greenway ribbon in the middle of an arid area. Appreciate AZ and follow the Leave No Trace principles to make sure future visitors can enjoy the same pristine outdoor experience.