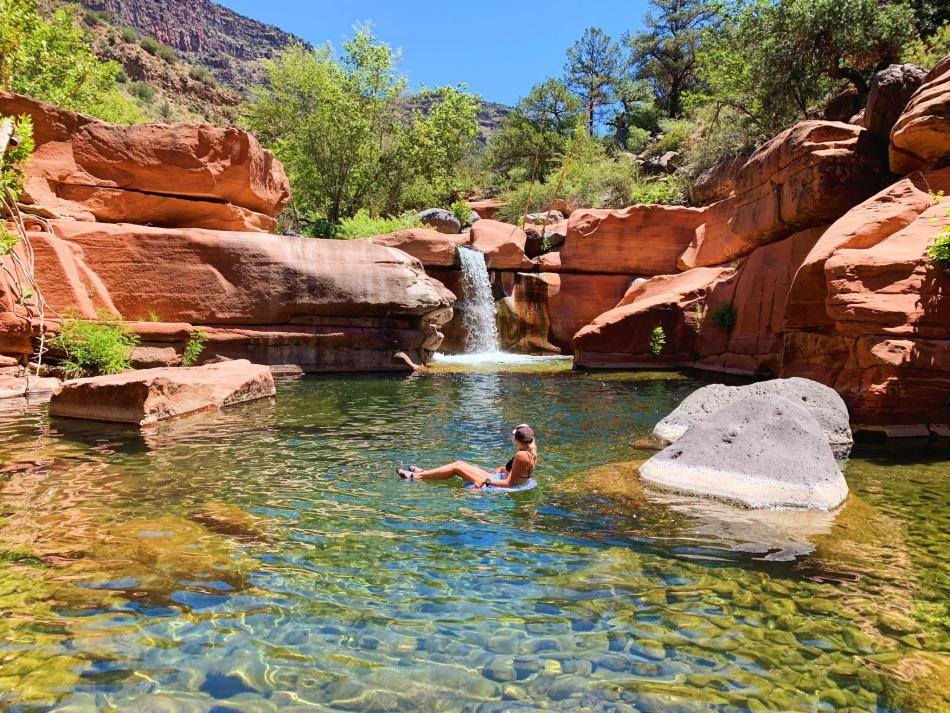 Secret Arizona Swimming Holes Worth the Hike
The Arizona landscape is dotted with recreation areas where you can drive to the water's edge, but these secret swimming holes require a bit more hoofing. That's what makes them worth it.
Swimming hole near Camp Verde: West Clear Creek

During the challenging, remote and breathtaking 8.8-mile round-trip journey along West Clear Creek Trail in the Coconino National Forest, you'll be tempted to take a dip early in the hike by the sounds of the creek that echo through this lush riparian habitat.
Stay the course and admire the greenery; you'll soon arrive at the rocky shores of the legendary Bull Pen swimming hole. The pool's depths vary from three to 10 feet, and water play ranges from the exhilarating to the relaxing—a brave leap from a 20-foot cliff, tamer dives from lower outcroppings or a leisurely float through the calm waters.
Swimming hole near Tucson: Bridal Wreath Falls
The Douglas Spring Trail is a well-marked hike that stretches less than three miles in either direction, starting out flat, then climbing at a moderately steep slope. The path to the hidden falls is lined with diverse flora (mesquite trees, creosote bushes, saguaro and prickly pear cactuses) and fauna (javelina, deer, coyotes).
Take your time to enjoy the vistas before arriving at the tumbling waters of Bridal Wreath Falls. Depending on the time of year, the flow can range from a roaring 20-foot-plummet to a mere trickle.
Swimming hole near Payson: Horton Creek
The eight-mile Horton Creek Trail winds under the Mogollon Rim and through towering Ponderosa pines and seasonal wildflowers. There's plenty of shade, and the temperatures at this high-elevation spot make it a cooler-than-average hike.
If you arrive at Horton Spring after snow runoff or a monsoon storm, you'll be greeted with the sight of a roaring waterfall crashing over moss-covered boulders. While the spring-fed water tends to be chilly, and the pool itself isn't deep enough for diving, it's still an ideal place to rejuvenate aching legs.
Swimming hole near Sedona: Wet Beaver Creek
Bell Trail follows Wet Beaver Creek to one of the most sought-after swimming holes in the region: The Crack. About 3.5 miles into the hike, you'll stumble upon this picture-perfect desert oasis—a clear, cold, deep pool wedged in a slot canyon. Rounded and smooth sandstone formations surround the waters and shady trees jut out of the rocks.
Whether you're cliff jumping off the Tongue of the Beaver, wading in the creek or just lazing in the sun, The Crack is what secret swimming holes are all about.
---
If you go
Most of these swimming holes are dependent on rainfall or snowmelt. Always check conditions before setting forth on your hike.
Bridal Wreath Falls
Directions to trailhead: Travel I-10 to Tucson, take exit 257 and head east on Speedway Boulevard, which dead-ends after 17.5 miles at the Douglas Spring Trailhead.
(520) 733-5153
Horton Creek
Directions to trailhead: Travel 17 miles east of Payson on State Hwy. 260. Just east of Mile Marker 269 at Kohl's Ranch, turn left (north) on Forest Road 289 for one mile to reach the trailhead.
(928) 474-7900

West Clear Creek
Directions to trailhead: Drive south from Flagstaff on I-17 to AZ Highway Exit 179. Leave the freeway here and drive 2 miles east on Forest Road 618 to the campground. FR 618 is graveled and suitable for sedans in most weather.
(928) 203-2900