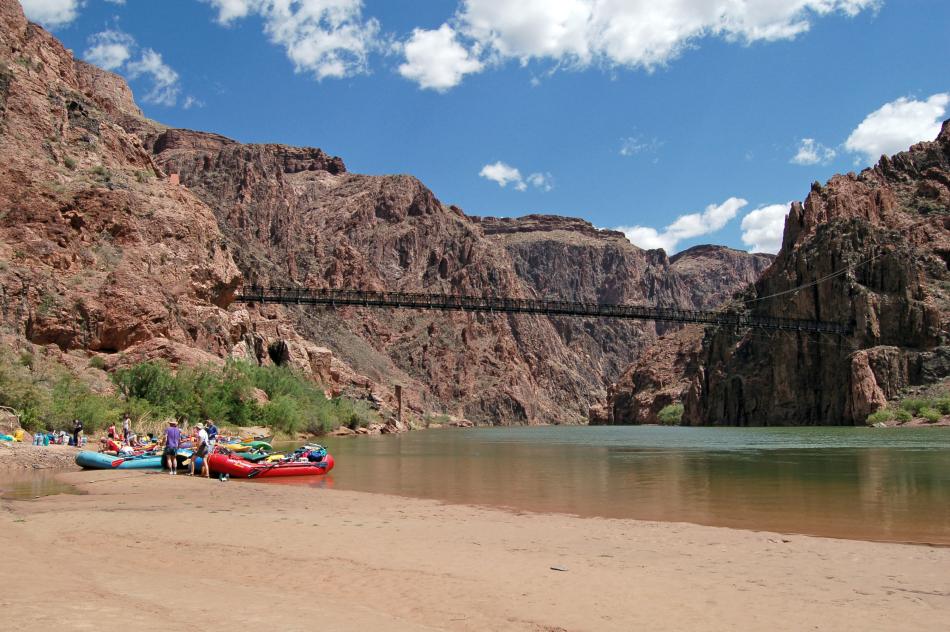 Outdoor Adventures
Shore Thing: Arizona's Best Beaches
Known for its iconic deserts, Arizona surprises with sandy beaches perfect for lounging or launching a water adventure.
As George Strait intimated, there is, alas, no oceanfront property in Arizona. But there are plenty of beaches. They border rivers, lakes and canyon-edged swimming holes. With cool bodies of water comes plenty of hot-weather recreation. Along Arizona's beaches, you'll enjoy camping, picnicking, fishing, swimming, sunning and—most importantly—relaxing.
Best for swimming
Arizona's Pebble Beach, 20 miles northeast of Mesa, is a popular spot to start or finish a leisurely tubing trip down the Salt River. Because no motorized boats are allowed, it's also an ideal place to swim.
Getting to Havasu Falls on Havasupai land requires a reservation and a moderate to difficult hike into Havasu Canyon. But what a payoff. The beach rings a crystal-blue pool fed by 100-foot waterfalls. The "beach" is more of a sloped rock surface, but there's plenty of room to stretch out and soak up the sun.
Best for camping
Credit: An Pham
Even if you don't snag one of the 12 campsites that sit right on the beach at Lake Havasu State Park, the other 35 sites sprawl throughout the picturesque area and grant shoreline access. Known for its expanse of white-sand beaches, the park also has boat ramps and hiking trails, including the shore-hugging Mojave Sunset Trail.
Mountain views welcome you to River Island State Park near Parker. Here, eight of the 37 campsites line the shores of the Colorado River and offer access to the sandy beach, boat launch and a trailhead that connects you to miles of hiking paths and backcountry wilderness.
Best for outdoor fun
The best way to get to Grand Canyon National Park's numerous beaches depends on your chosen adventure. For hikers, there's Boat Beach near Phantom Ranch, which is a refreshing treat after the 7.5-mile hike on the South Kaibab Trail or the 10-mile hike on Bright Angel Trail. For paddlers, there's the isolated but gorgeous Football Beach and Owl Beach, both of which are only accessible via a river trip or guided rafting tour.
Situated inside Yuma's 110-acre West Wetlands Park on the southern portion of the Colorado River, Centennial Beach takes "fun in the sun" to a new level. Not only can you swim and picnic, but you can also stretch your legs on hiking trails, play disc golf, visit a hummingbird and butterfly garden and see an owl habitat.
Best for dogs
At Lake Havasu, sports enthusiasts love the beach at Rotary Community Park, with its sand volleyball and bocce ball courts. Also at Havasu, laid-back beachgoers enjoy London Bridge Beach for unspoiled views of that historic English span, a dog park and ramadas for picnicking.
The beachy strip at Cattail Cove State Park leads to a boat ramp and protected swimming area along Lake Havasu. Enjoy fishing for striped bass or bluegill, playing with your pup at the dog beach or swimming in tucked-away coves. You can also reserve a campsite; the park has 61 spots.
Best for nature
The beach leading to the swim area at Patagonia Lake State Park in Patagonia is soft, sandy and great for wildlife viewing. Spot white-tailed deer in the surrounding hills or great blue herons soaring above. If you opt for an on-the-water excursion, the nearby Lakeside Market and Marina rents boats.
There are many sandy ways to reach the bucolic and quiet 32-acre Roper Lake in Safford. Bring your kayak and canoe, as well as your fishing gear, as this is a favorite spot for boaters and anglers. The swim beach stretches along the day use "island" that juts into the lake.
If You Go
---
Top photo of Boat Beach by Grand Canyon National Park under the Creative Commons license 2.0.