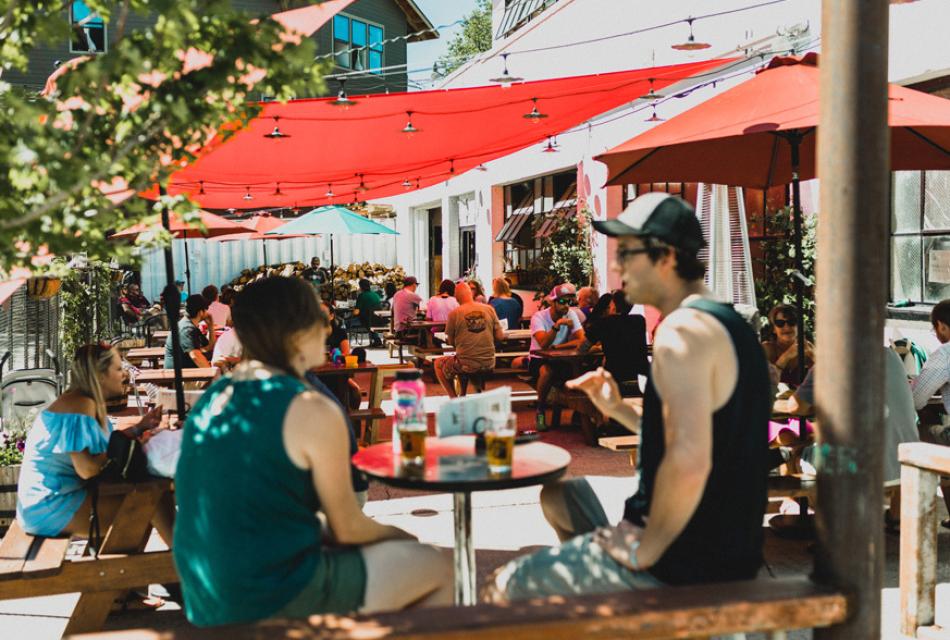 Eat & Drink
Tour This: Flagstaff Brewery Trail
The popular Flagstaff Brewery Trail introduces beer drinkers to northern Arizona's craft brew scene, taking you from crisp ales to local lagers.
The Flagstaff Brewery Trail (formerly the Flagstaff-Grand Canyon Ale Trail) makes a bold claim by stating northern Arizona is the craft beer hub of the Southwest.

While beer aficionados in Phoenix and Tucson may balk at such a statement, it's one that northern Arizona can back up. Here, the enthusiasm surrounding hometown brews is as palpable—and palatable—as the scent of pine trees in the air.
And the Flagstaff Brewery Trail Passport is your golden ticket to fully experiencing it.
Pick up this self-guided tour of local craft breweries at the Flagstaff Visitor Center or print out a copy at home. Complete the tour by visiting all nine breweries and in whatever length of time you want and whenever you want. Turn in your completed form at one of two Flagstaff visitor centers and receive a free commemorative pint glass.
Stop 1: Dark Sky Brewing Company
This brewery pays homage to Flagstaff's designation as the first International Dark Sky community in both its name and starry-themed decor. Order some Pizzicleta wood-fired pizza for the table and enjoy with your choice of craft brew with names such as Rye'd Open Spaces (IPA), Endless Nights (stout), and Woodland Cathedral (barleywine).
Stops 2 and 3: Beaver Street Brewery and Lumberyard Brewing Company
Beaver Street Brewery and its sister brewery, Lumberyard Brewing Company, are staples in the Northern Arizona brew scene. Opened in 1994, Beaver Street Brewery was the only brewpub in historic downtown Flagstaff for years. As such, the beers are time-tested and beloved. Beaver Street has a classic feel with its checkerboard floors, big wooden bar and lots of odes to the nearby train tracks. The Railhead Red Ale is a reliable, caramel-malted and full-bodied beer, also a Great American Beer Festival Gold Medal Winner.
Stops 4 and 5: Mother Road Brewing Company
You can thank John Steinbeck—who proclaimed Route 66 the "Mother Road" in his literary classic The Grapes of Wrath—for this brewery's name. Opened near a stretch of the route in 2004, the popular Mother Road Brewing Company has expanded to two locations a little more than a mile apart: the original Pike location in downtown Flagstaff and the Butler location in a more residential area. Mother Road's legions of fans come from near and far for a taste. Best to book a room nearby after a pint of midnight-colored Lost Highway Double Black IPA, a robust beer at a whopping 8% ABV that's a blend of espresso, chocolate and orange.
Stop 6: Grand Canyon Brewing Company + Distillery
The beers at the Williams, Arizona-based Grand Canyon Brewing Company are inspired by outdoor adventures at nearby landmarks, including the Horseshoe Bend brew, which includes grapefruit and tropical flavors with an undercurrent of caramel. The brewery even organizes rafting trips through the Grand Canyon on the Colorado River—and there's a beer that captures the spirit of a refreshing, roaring rapid (Grand Canyon Expeditions Wheat Ale), which is perfectly fine to enjoy on dry land.
Stop 7: Historic Brewing Co.'s Barrel + Bottle House
You'll find more than a dozen housemade beers at Historic Brewing Barrel + Bottle House's Flagstaff location, and reading about the brews is almost as fun as tasting them. Creative names include Deer Lord, Piehole Porter (a customer favorite) and Joe Rye'd, with kegs rotating often. Plus, for the vine-inclined, there's wine from sister-company Grand Canyon Wine Co. Grab a flight of six beers or wines, served on a book (the vibe at Historic is a bit hipster), or try every single tap for $40.
Stop 8: Flagstaff Brewing Company
At this downtown Flagstaff staple, brewing applies to both beer and beans as the location serves both as a pub and coffee shop all day, every day. So, whether you prefer to say you stopped at Flagstaff Coffee Company or Flagstaff Brewing Company, you won't leave thirsty. And if you prefer still more options, ask to see the "whiskey list." FBC, as it's known, serves one of the most extensive collections of single malts in the country, including some no longer in production.
Stop 9: Wanderlust Brewing
What better way to conclude your Flagstaff craft beer journey than with a stop at this small brewery inspired by the love of travel and exploration? Using traditional methods, with "a particular soft spot for Saisons and Farmhouse-style ales," owner Nathan Friedman makes each brew his own with unique twists such as substituting puffed jasmine rice for wheat in the Jasmine Terrace Rice Saison or adding organic fruit puree to his sours. The taproom is dog-and-child friendly. Food isn't served here, but guests are welcome to bring their own or buy from the food trucks frequently parked outside.