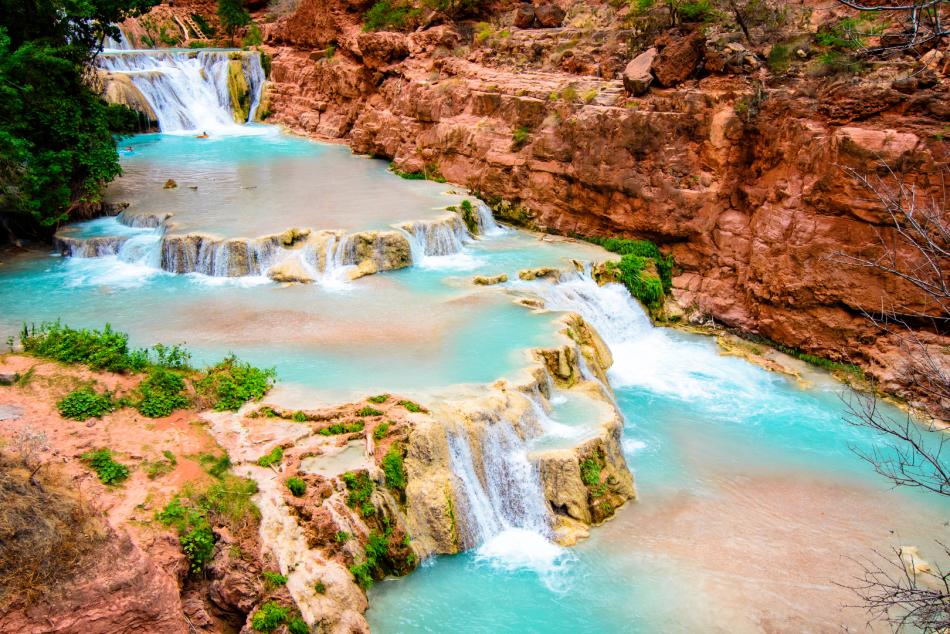 Must Do
A Guide to Visiting Havasu Falls the 'Right Way'
Topping the bucket list of bucket lists, Havasu Falls in the Grand Canyon is one of the most sought after destinations in the world. But getting there can be tricky. Here's everything you need to know.
Due to the ongoing impact of the COVID-19 pandemic, HAVASUPAI WILL REMAIN CLOSED for the remainder of the season.

Reservation holders with Campground reservations through 2022, which have not already been rebooked, are being rescheduled for the same date in 2023. This applies to Campground, Lodge, and Pack Mule reservations. At this time, no further reservations will be taken for the 2023 tourist season.

If you have questions, please email info@havasupaireservations.com.

The Havasupai Reservation and Supai Village remain on lockdown and are CLOSED TO ALL TOURISTS. Please do not travel to the Havasupai Reservation or Supai Village. All tourists are prohibited from entering.
The magic of Havasu Falls may be hard to define—is it the turquoise pools or its remote location?—but it's undeniable that people come from all over to witness their beauty. Getting there, though, is not as easy as booking a ticket

To visit Havasu Falls "the right way" requires planning and plenty of physical preparation. Here's our guide to make your trip to the falls a memorable one.
But first, the basics
When to go
The official season runs from February - November. The earlier months mean colder waters but possibly fewer crowds. During the summer, from June to August, the trail is subject to close due to flooding and extreme heat (above 115°F / 46°C).
What you'll need
• A permit
• A prior reservation to either the campground or the Lodge
• Good hiking shoes and a pair of water shoes or rubber sandals
• See "What to bring" below for more specific items
Obtaining a permit and making reservations for Havasu Falls
Havasu Falls sits on the Havasupai Indian Reservation—which is not part of Grand Canyon National Park—so you'll need to buy a permit from the Havasupai Tribe to access the area. That is if you're among the lucky few able to score a reservation when the season's dates go live on February 1 at 8 a.m. (MST).

Tip: If you're planning on going with a group, have one member purchase all of your permits (up to four per account). This will help ensure you all get the same dates.
Visiting Havasu Falls is not a day-trip
All visits require at least a one-night reservation, depending on whether you choose to stay at the campground or Havasupai Lodge, aka "the Lodge" in Supai Village. Your price will include your stay, your permit, and any additional taxes and fees.
Where to stay

The campground
The campground is an area spanning a mile on both sides of Havasu Creek between Havasu Falls and nearby Mooney Falls. There are no assigned sites; meaning, once you arrive, you're welcome to set up camp wherever you like within the designated area.

To make a campground reservation, visit HavasupaiReservations.com before February and create an account. (You cannot obtain permits or make reservations for the campground via phone.) You'll thank us later when the site goes live and you're not messing with logins, especially since reservations can sell out within minutes. Having an account lets you check the cancellation/transfer page for dates that reopen later in the year.

If you plan on camping, keep in mind all campground reservations are for three nights and four days—no more, no less. As of 2019, the price per person/per night for the campground was:

$100 Monday - Thursday
$125 Friday - Sunday
Havasupai Lodge
Not a camper? You can instead make a reservation at the Lodge, located two miles from the falls, starting June 1. (Note: These are no-frills accommodations.)

Unlike making a reservation for the campground, which is online-only, the Lodge only accepts reservations by phone. Call (928) 448-2111 to book a room for dates between February 1 - November 30. If you call and no one answers, try again (and again) until you reach someone, and don't be afraid to let it ring (and ring).

Lodge rates run $440 per night for a four-person room, plus a $110 entrance and environmental fee per person. These fees also include your permits and taxes.

All payments are due at the time of booking, and only one credit card is allowed per group. Payments are non-refundable and permit reservations are non-transferable.
What to bring
Congratulations! You got a reservation, permit and booked your travel to Havasu Falls.

Havasu Falls is remote, so expect a hike with some shade. Bring sunscreen, a hat, a first-aid kit, snacks, and plenty of water. There is no water available on the trail, and it's recommended each person bring at least a gallon for themselves. Trekking poles are optional, although many hikers find these helpful for the steep switchbacks.

For your stay at the bottom of the canyon, bring a bathing suit, water shoes, towel and camera. Pack a tent, sleeping bag, sleeping pad, inflatable pillow and portable backpacking stove if you are camping. Bring food even if you are staying at the Lodge.
The hike itself
The trek to Havasu Falls is—to state it simply—difficult. Depending on your fitness level, the hike can be extremely strenuous, beginning (and ending) with switchbacks that change in elevation by 1,800 feet in the first two miles. The difficulty is compounded by heat in the summer.

You'll start from the Hualapai Hilltop, marching down the Havasu Falls Trail into the bottom of the Grand Canyon. The next six miles to Supai is relatively flat. From there, it is an additional two miles to the campground.

On the way to the campground, you'll pass three waterfalls: Fifty Foot, Lower Navajo and Havasu Falls. Plan to spend at least four hours hiking down to the campground, drink plenty of water, and rest in the shade when you can.
What to expect when you arrive
Once you reach Supai Village after your hike down into the canyon, you will be required to present your reservation at the Tourist Check-In Office. The person whose name is on the reservation must be present and have a photo ID handy.

Be prepared to show your campground reservation—it will have been emailed to you, so print a copy and bring it with you—and make sure you know the license plate number of the vehicle parked at the trailhead.

The Havasupai Lodge is located in Supai Village, so if you're staying here, drop off your bags in your room and relax—you made it! To continue on to Havasu Falls and the campground, you have another two miles of hiking to go.
What to do during your stay
In addition to soaking up the wonder that is Havasu Falls, you should make time to explore the area's other waterfalls. You'll see three of them on your hike from Supai Village to the campground. Two more waterfalls sit just north of the campground on Havasu Falls Trail.

Once settled in at camp, most people day-hike to the other falls. Just a half-mile from the campground, the Havasu Falls Trail requires scrambling down mist-covered canyon walls while holding onto a chain to get to the pools of Mooney Falls and continue to Beaver Falls. Adventurous hikers can go all the way to the Colorado River.
---
Important notes
All luggage and vehicles are subject to search for prohibited items when entering the Havasupai Reservation. These items include alcohol, drugs, drones and weapons. Violators are subject to fines and even imprisonment.

There's no Wi-Fi or cell phone service at the campground and only limited service in Supai Village.

There is no emergency assistance in the canyon. If you are injured, it could take hours to get treatment in or transportation out of the canyon, and you'll be on the hook for the cost of any rescue efforts.

Leave no trace: Havasu Falls and the Havasupai Reservation are special places, wilderness areas whose breathtaking beauty and natural habitats for local wildlife are worth preserving. Please adhere to the Leave No Trace principles as much as you possibly can so future visitors may continue to enjoy.