Due to the ongoing impact of the COVID-19 pandemic, HAVASUPAI WILL REMAIN CLOSED for the remainder of the season.

Reservation holders with Campground reservations through 2022, which have not already been rebooked, are being rescheduled for the same date in 2023. This applies to Campground, Lodge, and Pack Mule reservations. At this time, no further reservations will be taken for the 2023 tourist season.

If you have questions, please email info@havasupaireservations.com.

The Havasupai Reservation and Supai Village remain on lockdown and are CLOSED TO ALL TOURISTS. Please do not travel to the Havasupai Reservation or Supai Village. All tourists are prohibited from entering.
Havasupai Tribe
The Havasupai people live in Havasu Canyon. Visit the Havasupai Museum of Culture and enjoy the waterfalls of Havasu Canyon.
The Havasupai Tribe has called the Grand Canyon and north-central Arizona home for over 1,000 years. The name "Havasupai" means "People of the Blue-Green Water," and you'll understand why when you visit. Sparkling cool water just begs to be enjoyed, just as it has for centuries.
History & Nature
The Havasupai people practiced summertime irrigated farming in the canyons and winter hunting in the plateaus as their culture grew and thrived over time. Today, the Havasupai Tribe Reservation is located at the end of Indian Route 18 off Historic Route 66, and was established in 1880 and was greatly enlarged in 1975. It contains 188,077 acres of canyon land and broken plateaus along the western edits of the Grand Canyon's south rim. Current residents live in Supai Village, in the 3,000-foot-deep Havasu Canyon. The tribe is noted for its location, traditional cultural life, and beautiful arts and crafts.
Things to Do
The Havasupai Museum of Culture educates visitors on the history, culture, art, and traditions of the Havasupai. Time your visit right and you might even experience a dance, feast, art fair, or video festival.
Visit Havasu Canyon and enjoy the beauty of Havasu Falls and Mooney Falls—blue-green waterfalls that draw visitors from around the world. Located just beyond the Havasupai village, you'll see and hear the water as you hike down to the campgrounds.
Where to Stay
Camping reservations are a must, as this beautiful area is very popular. If you prefer to sleep indoors, Havasupai Lodge is Supai's only hotel. It includes first-class accommodations with a nearby café.
Annual Events
Havasupai Peach Festival
Location: Havasupai Canyon
Date: August

Grandmother Canyon Gathering
Location: Havasupai Canyon
Date: Fall

Getting to Supai and Havasu Canyon
The best way to reach Havasupai is from the famous Route 66, six miles east of Peach Springs, onto Indian Route 18, a 64-mile long road to Havasupai Hilltop. From the Hilltop parking lot there is an eight-mile trail down to Supai Village.
You can only reach the Village of Supai by foot, horse, mule or helicopter.
Parking is located at the Havasupai Hilltop where you then descend into the Canyon.
The cost for horse or mule transportation is $78.75 one way, or $157.50 round trip. You must make reservations three months in advance and pay a 50% deposit to Havasupai Tourist Enterprise. Call before arrival to confirm the reservation at (928) 448-2121.
For More Information
Tribal Government
PO Box 10
Supai, AZ 86435
(928) 448-2121
Wonder
Vast, magnificent and inarguably beautiful, the Grand Canyon is easily Arizona's most distinguishable landmark — a natural wonder you must see...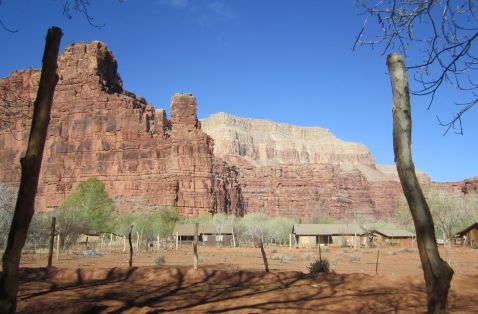 Cities
A remote gateway to the blue-green waters of Havasupai, Supai is a small village that signals to hikers: "You're almost there!"
Cities
With a setting that inspired the town of Radiator Springs in the Pixar Film Cars, and activities like cave exploring, whitewater rafting, and...