Havasupai Tribe
Head to the South Rim of the Grand Canyon to explore the remote homelands of the "People of the Blue-Green Water."

The Havasupai people have lived in the Grand Canyon and North-Central Arizona for more than 1,000 years. Their remote homelands today offer a journey back in time, where natural rhythms set the pace for the day and the mail is still transported by mules. Please be respectful of tribal regulations, privacy and customs while experiencing this remote wonderland of rock canyons and waterfalls.
Getting There
Six miles east of Peach Springs on Route 66, head north on Indian Route 18 for 64 miles to reach Havasupai Hilltop. From there, the village of Supai requires an 8-mile trek into the canyon accessible only by foot, horse, mule or helicopter. Visitors descend some 3,000 feet to reach the village, then walk another 2 miles to reach the falls and campgrounds. Plan at least four hours to reach the campground, a spectacular home base for multiple days of Havasupai Canyon hiking.
Bucket-List Hikes
Most visitors opt for three-night permits to get the most out of this special Havasupai Canyon experience. The blue-green waterfalls of Havasu Falls and Mooney Falls attract visitors from around the world. Visitors pass Havasu Falls on the way to the campground and reach Mooney Falls just beyond the campground. Visitors can add a 3-mile hike to reach Beaver Falls and another 6-mile hike to reach the Colorado River. There is a general store and café in Supai, but visitors are expected to pack in and pack out all supplies needed for their trips.
Reservations Required
This is not a casual day trip or an out-and-back hike that can be completed in one day. A trip to visit the Havasupai Canyon takes preparation and commitment. To be granted access to Havasu Falls, visitors must get a permit through a lottery process that takes place once a year in February. For accommodations, all visitors must have reservations for the campground or Havasupai Lodge, the only hotel in Supai. Learn more about the permit process and regulations to make the most of a trip to the natural wonders located on Havasupai lands.
Annual Events
Havasupai Peach Festival
Location: Havasupai Canyon
Date: August

Grandmother Canyon Gathering
Location: Havasupai Canyon
Date: Fall

Getting to Supai and Havasu Canyon
The best way to reach Havasupai is from the famous Route 66, six miles east of Peach Springs, onto Indian Route 18, a 64-mile long road to Havasupai Hilltop. From the Hilltop parking lot there is an eight-mile trail down to Supai Village.
You can only reach the Village of Supai by foot, horse, mule or helicopter.
Parking is located at the Havasupai Hilltop where you then descend into the Canyon.
The cost for horse or mule transportation is $78.75 one way, or $157.50 round trip. You must make reservations three months in advance and pay a 50% deposit to Havasupai Tourist Enterprise. Call before arrival to confirm the reservation at (928) 448-2121.
For More Information
Tribal Government
PO Box 10
Supai, AZ 86435
(928) 448-2121
Wonder
Vast, magnificent and inarguably beautiful, the Grand Canyon is easily Arizona's most distinguishable landmark— a natural wonder you must see to...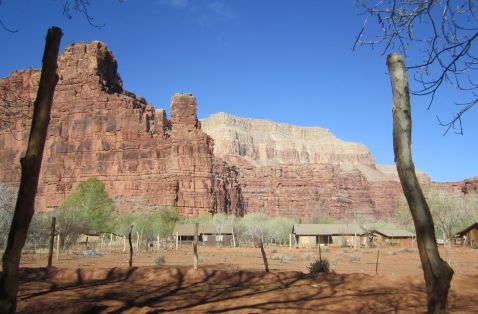 Cities
A remote gateway to the blue-green waters of Havasupai, Supai is a small village that signals to hikers: "You're almost there!"
Cities
With a setting that inspired the town of Radiator Springs in the Pixar Film Cars, and activities like cave exploring, whitewater rafting, and...