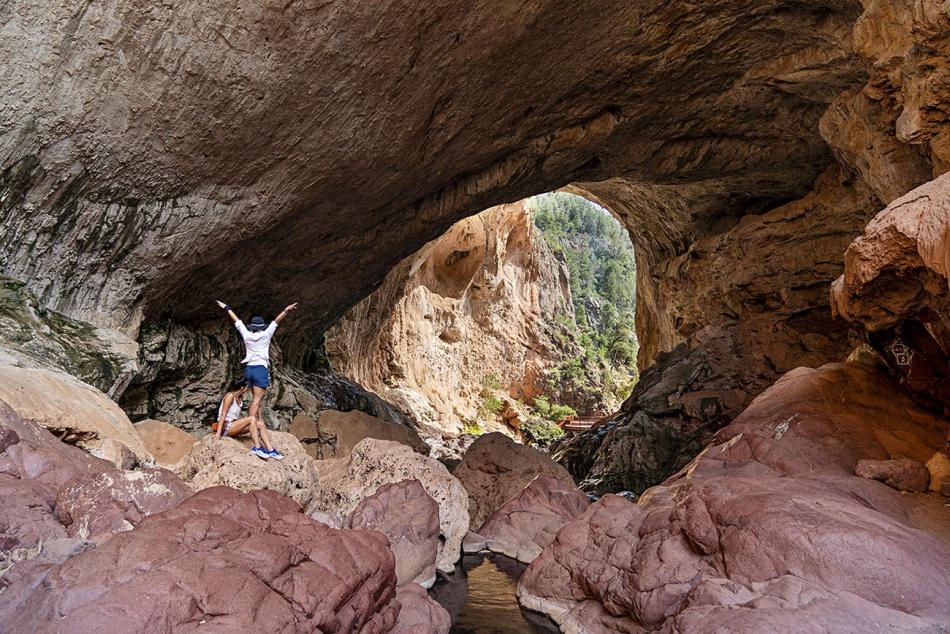 What to Do in Arizona if You Have 3, 5 or 7 Days
Whether you have the weekend or a full week to vacation in Arizona, we have the perfect itinerary for you. These multi-day Arizona road trips have just enough flexibility for you to make each trip your own.
These multi-day Arizona road trips do it all. They take you off the beaten path and they lead you to surprising attractions. We give suggestions for more things than you could ever possibly see and do, but that helps keep itineraries loose and schedules flexible. After all, isn't spontaneity what makes road trips so magical?
This weekend jaunt launches from Phoenix and heads northwest to Wickenburg, then west to Salome before dipping south to Yuma and Gila Bend. Get ready for Old West museums, historic mine tours, abandoned ghost towns and ancient petroglyphs.
Day 1: Phoenix to Wickenburg to Salome
Distance: 119 miles
As you depart the big-city bustle of Phoenix heading toward Wickenburg, the road opens up to expanses of blue sky and endless desert. Before you reach Wickenburg, stretch your legs at the Hassayampa River Preserve, a lush, impossibly green riparian preserve known for its dense mesquite bosques and birdwatching. Once in Wickenburg, explore Old West art and the area's Western heritage at the Desert Caballeros Western Museum.

Or tour Vulture City, now mostly a ghost town but once the most productive gold mine in Arizona's history, operating from 1863 to 1942. Eat a late lunch of sammies at The Local Press Sandwich Bar or an early dinner of Mexican fare at El Ranchero. Continue on to Salome for the night, stopping to catch the sunset or spot a bald eagle at Alamo Lake State Park.

Where to Stay: The Westward Motel, 66915 Avenue C, Salome, (208) 290-1111
Day 2: Salome to Yuma to Gila Bend
Distance: 235 miles
There's a lot to see today, so rise early and make your way to Quartzsite. More than just a gas-and-food stop on I-10, Quartzsite has three must-dos: the Quartzsite Museum displays an original 1866 adobe stage station and showcases the region's pioneer history, while the stone cabins of Joseph Coné offer a peek into the artist's life. Lastly, no Quartzsite visit is complete without a quick stop to pay respects to "Hi Jolly," or Hadji Ali, and his U.S. Camel Corps at the Quartzsite Cemetery.

On the way to Yuma, a quick detour yields a visit to Castle Dome Mine Museum, a recreated 1870s mining town. In Yuma, set aside a few hours to tour the Yuma Territorial Prison State Historic Park, where some of Arizona's most famous baddies were held—and possibly still wander, if you believe the ghost tales. Let the kids play at Gateway Park or take a walk through Yuma Wetlands Wildlife Area, a 1,400-acre restoration project along the Colorado River. Hungry? Time your visit with one of Yuma's Field to Feast Tours (an ideal way to experience the "Lettuce Capital" of the world); grab a beer and burger at Yuma's only craft brewery, Prison Hill Brewing Company; or continue the drive to Dateland for date shakes.

Heading to Gila Bend, hike portions of the Juan Bautista de Anza National Historic Trail—the 1,200-mile route from Nogales, Arizona, to San Francisco, California, dates back to 1775.

Where to Stay: Best Western Space Age Lodge, 401 E. Pima St., Gila Bend, (928) 683-2273
Day 3: Gila Bend to Phoenix
Distance: 107 miles
Grab breakfast at the hotel's mid-century diner, the Space Age Restaurant, then backtrack west from Gila Bend to check out the abandoned ghost town of Agua Caliente. It used to be an exclusive hot-springs spa in the 1890s; several decaying stone buildings still stand today. From here, return east a few miles to see 800 petroglyphs etched into basalt boulders at Painted Rock Petroglyph Site. A short detour north offers a glimpse of the historic Gillespie Dam Bridge which arcs over the Gila River. The 1927 steel truss bridge was once the longest in Arizona.

Before you hit Phoenix, stop for a hike along the trails at the beautiful Sonoran Desert National Monument. Three mountain ranges—the Maricopa, Sand Tank and Table Top—spread throughout the monument and parts of the Juan Bautista de Anza National Historic Trail cross through as well.
From Phoenix, this trip ventures east to the Superstition Mountains and Globe, where it winds south to the hot springs of Safford and the wine country of Willcox and Sonoita. Then it curves north to Tucson, where the Old Pueblo's rich history and culture await. The route returns to Phoenix via a picturesque "back way."
Day 1: Phoenix to Safford
Distance: 165 miles
Lost Dutchman State Park sits at the eastern edge of Phoenix and is worth a visit to take in the breathtaking vistas of the Superstition Mountains. The park is named after Jacob Waltz, a German who was believed to have hidden caches of gold in the mountains in the 1870s.

Next stop: Boyce Thompson Arboretum, Arizona's oldest and largest botanical garden. During the spring, this is the place to see desert wildflowers. More outdoor exploration comes by way of the Legends of Superior Trails, a 12-mile network of hiking, biking and equestrian trails that snake through Arnett Canyon; pass by the abandoned town of Pinal; connect with the Arizona National Scenic Trail; and, end in Queen Creek Canyon.

Keep going toward the twin towns of Globe-Miami that are home to the Besh-Ba-Gowah Archaeological Park, an ancient village occupied by the Salado people nearly 800 years ago. In addition to the ruins, the park also houses a museum with an impressive display of artifacts and pottery.

Where to Stay: Cottage Bed and Breakfast, 1104 S. Central Ave., Safford, (928) 428-5118
Day 2: Safford to Willcox
Distance: 46 miles
Start the day off right with fresh-air fun at Roper Lake State Park. A brisk hike along the park's five miles of trails should be followed by a soothing dip in the hot springs. (Attention anglers: Drop a line in the lake to catch largemouth bass.) Post-park, take a scenic drive to the top of nearby Mount Graham, where Mount Graham International Observatory perches. A tour of the observatory includes lunch and shows off several telescopes. You won't want to miss the Large Binocular Telescope—it's the largest in the world, standing just short of 11,000 feet.

As you continue to Willcox, pop into the Rex Allen Museum, an upbeat look at the singing cowboy, screen legend and local boy Rex Allen. Spend the rest of the afternoon sipping Arizona wines at tasting rooms in downtown Willcox. (Willcox is one of two AVAs, or American Viticultural Areas, in Arizona and where most of the state's wine grapes are grown.) For dinner, go for fine cuts of beef at Double S Steakhouse or award-winning salsa at Isabel's South of the Border.

Where to Stay: Arizona Sunset Inn, 340 S. Haskell Ave., Willcox, (520) 766-3400

Day 3: Willcox to Sonoita
Distance: 77 miles
Arizona's other AVA—and its first—is Sonoita, southwest of Willcox. Three mountain ranges surround this wine-growing region and opportunities to sample the grape range from lively tasting rooms in the towns of Sonoita and Elgin to remote wineries tucked away in the countryside.

But before you embark on a day of wine tasting, first go to Kartchner Caverns State Park. Discovered in 1974, and hidden from the public for nearly a decade more, this living limestone cave has Arizona's tallest natural column and the world's longest stalactite. You could easily spend a full day here, with its accessible underground tours, aboveground hiking trails and family-friendly activities. If you choose to linger, book one of the park's cabins for the night.

Just north of Sonoita is Empire Ranch, a 140-year-strong working cattle ranch owned at various times by prominent ranching families, major corporations and the government. Learn about its history on a self-guided walking tour. Conclude the day with the culinary talents of chef/owner Adam Puckle at The Café in Sonoita; the pasta is to die for.

Where to Stay: Next Door @ Dos Cabezas, 3246 Hwy. 82, Sonoita, (520) 455-5141
Day 4: Sonoita to Tucson
Distance: 49 miles

With so much to see, do, hike, bike, eat and shop in Tucson, you'll want to plan your time thoughtfully. Luckily, the drive north from Sonoita is short, so you can maximize your fun. Here are a few highlights to weave into the itinerary.
Where to Stay: The Downtown Clifton, 485 S. Stone Ave., Tucson, (520) 623-3163; Hotel McCoy, 720 W. Silverlake Road, Tucson, (844) 782-9622; The Tuxon, 960 S. Freeway Road, Tucson, (520) 372-2853
Day 5: Tucson to Phoenix
Distance: 167 miles
Although I-10 provides the fastest route for the Tucson-to-Phoenix commute, we're sending you north on Highways 77 and 79, known as the "backway" to Phoenix.

As you ascend into the Santa Catalina Mountains, prepare for views galore. First stop: Biosphere 2 in Oracle. Tour this glass-enclosed research facility, built as an artificial ecological system, the largest closed system of its kind.

Just down the road, walk the sculpture park at Triangle L Ranch, then continue east to Oracle State Park. This 4,000-acre wildlife refuge has many easy to moderate trails that the whole family can enjoy, plus kid-friendly interactive activities. And because the park has an International Dark Sky Designation, it lines up a robust programming of stargazing, should you choose to stick around after the sun goes down.

As you travel deeper into the foothills, you'll come across Arizona Zipline Adventures (ziplining, plus a restaurant boasting yummy burgers) and Peppersauce Canyon (hiking, camping, picnicking; leaf-peeping in the fall). As you near Phoenix, divert from the path to explore Downtown Mesa and Tempe.
This grand adventure checks off some major bucket-list items. To name a few: The world's largest natural travertine bridge, Route 66, Petrified Forest National Park, authentic trading posts, vintage motels and the observatory that discovered Pluto. The trip starts from Phoenix, travels northeast to Holbrook, follows Route 66 west to Flagstaff, Seligman and Kingman, then meanders south on the Joshua Tree Parkway Scenic Drive to Wickenburg and back to Phoenix.
Day 1: Phoenix to Payson to Holbrook
Distance: 186 miles
The trip north on Highway 87 from Phoenix to Payson is one of the prettiest in the state. As you leave the saguaros behind, you'll enter the pine-covered region known as Rim Country. The forest and lakes of this part of the state recline in the shadow of the Mogollon Rim, a 200-mile limestone and granite escarpment that slices Arizona in half.

In Payson, browse the antique malls, order a slice of homemade pie from the Beeline Café and then roam the Rim Country Museum and Zane Grey Cabin. (Western novelist Zane Grey lived in a cabin near the Rim and the area inspired the settings of many of his books.) Just north of Payson, pay a visit to Tonto Natural Bridge State Park. Moss and lichen blanket the rock walls leading down to the largest natural travertine bridge in the world—hike the trail to see the 183-foot formation span Pine Creek.

In Holbrook, there's a small but mighty museum in the courthouse run by the Navajo County Historical Society; it gives an insightful look into the lives of local settlers. Two possible detours for today: From Tonto Natural Bridge State Park, go north to Pine to visit Pine Creek Canyon Lavender Farm, and from Holbrook, drive west to Winslow's Rock Art Ranch to see one of the best-preserved collections of petroglyphs in the world.

Where to Stay: Wigwam Motel, 811 W. Hopi Drive, Holbrook, (928) 524-3048
Day 2: Holbrook to Petrified Forest National Park
Distance: 50 miles

Today's trip is an out-and-back from Holbrook to the Petrified Forest National Park. The northern half of the park contains the Painted Desert, a colorful world of badlands and mesas stratified by layers of iron-pigmented shale, siltstone and mudstone. The southern half of the park encompasses the Petrified Forest with its petroglyphs, archaeological sites, petrified wood and 200-million-year-old fossils. The best way to see it all is on a driving tour through the park; even though the route is only 28 miles, it'll take you about an hour to complete it. Stop for hikes and photos, especially at Tawa and Kachina Points. Fun fact: Petrified Forest National Park is the only national park to protect a portion of Route 66.

As you return to your hotel in Holbrook, bypass town and drive 20 minutes east to Jack Rabbit Trading Post, a souvenir and curio shop on Route 66 with a giant fiberglass rabbit outside.

Day 3: Holbrook to Flagstaff
Distance: 90 miles
Interstate 40 traces the path of historic Route 66, although there's not much left of the original route. That doesn't mean there's nothing to see on this westerly drive to Flagstaff.

Meteor Crater preserves the impact site of a meteor that slammed into Earth some 50,000 years ago. A paved trail circles the crater's rim and lets you get a good look into the abyss. Near the crater on I-40, you'll come across the remains of a Route 66 tourist trap, Two Guns. The crumbling structures include a roadside zoo where the owner used to cage mountain lions and rattlesnakes.

Just east of Flagstaff, Walnut Canyon National Monument protects 25 cliff-dwelling rooms built by the Sinagua from 1100 to 1250 AD. Once you land in Flagstaff, you'll find a delightful downtown ripe for exploration. Toast a craft beer at Mother Road Brewing Company, indulge in brick-oven pizza at Pizzicletta and browse books at Bright Side Bookshop. You can also discover the heritage of Arizona's indigenous communities at the Museum of Northern Arizona, and at Arizona Snowbowl, hit the powdery slopes in winter or see fall colors on a lift ride in autumn.

Flagstaff is an International Dark Sky Place, so don't miss a nighttime visit to Lowell Observatory, where Pluto was discovered. Finally, the Lava River Caves about 20 northwest of Flagstaff constitute a worthy detour.

Where to Stay: Hotel Monte Vista, 100 N. San Francisco St., Flagstaff, (928) 779-6971; The Inn at 410, 410 N. Leroux St., Flagstaff, (928) 774-0088; Little America Hotel, 2515 E. Butler Ave., Flagstaff, (928) 779-7900
Day 4: Flagstaff to Williams to Seligman
Distance: 76 miles
Depart Flagstaff early to make sure you have enough time for Bearizona Wildlife Park. This up-close-and-personal wildlife experience lets you drive your vehicle through a 160-acre park where you'll (safely!) encounter black bears, burros, wolves, bison and bighorn sheep. The park also invites you to join the animal meet and greets and birds of prey shows. Another option for a few hours of fun is Big Toy Playground where you can operate excavators, drive tractors and power loaders, all during instructor-led sessions.

Once you arrive in Williams, take in the charm of this town, once a hub for ranchers and railroad workers. Eat lunch at the kitschy-but-fun Cruiser's Route 66 Café and then get back on the road. From Ash Fork, leave I-40 behind to drive a pristine section of the original Route 66. It'll take you all the way to Seligman. Celebrate the drive with ice cream at Delgadillo's Snow Cap Drive-In (open seasonally).

Where to Stay: Aztec Motel, 22200 W. Historic Route 66, Seligman, (928) 422-3055; Canyon Lodge, 22340 W. Historic Route 66, Seligman, (928) 422-3255
Day 5: Seligman to Kingman
Distance: 73 miles

The Mother Road continues to Peach Springs, a place that is perhaps best known for being the inspiration behind Radiator Springs of Pixar's "Cars" fame. It's also home to Grand Canyon Caverns, the largest dry caverns in the United States. Opt for one of four cave tours, which take you 200 feet underground and range from 25 minutes to three hours in duration.

Route 66 continues west to Keepers of the Wild Nature Park, a wildlife sanctuary with guided safari and big cat feeding tours.

The former mining town of Hackberry stands mostly empty except for Hackberry General Store, a retro photo-op complete with old gas pumps and vintage signs. In Kingman, get your bearings—and a healthy dose of history—at the Powerhouse Visitor Center. The historic structure, built-in 1907, used to be the power and light company that supplied power to build the Hoover Dam. Today it acts as headquarters for the visitor center and the Arizona Route 66 Museum. Don't leave without getting a pass for hiking at Camp Beale Springs. If you arrive in Kingman in time for lunch, head to Desert Diamond Distillery for a meal and whiskey tastings. For dinner, try Vito's Pizza & Italian Ristorante or Mr. D'z Route 66 Diner.

Where to Stay: Hotel Brunswick Suites, 315 E. Andy Devine Ave., Kingman, (928) 377-5461
Day 6: Kingman to Wickenburg
Distance: 129 miles

Fuel up on gas and snacks in Kingman as you won't find many places to stop along the Joshua Tree Parkway Scenic Drive. Don't believe us? The one place you'll stumble upon is literally named Nothing, Arizona. No matter—the fewer stores and gas stations there are, the greater your sightline of thousands of Joshua trees. As the road twists through "forests" of these odd, alien-like yuccas, you'll also see rock hoodoos and gnarly saguaros. When you get to Wickenburg, check out Robson's Ranch & Mining Camp, one of the original mining claims in Arizona.

Where to Stay: Kay El Bar Guest Ranch, 2655 S. Kay el Bar Road, Wickenburg, (928) 684-7593; Rancho De Los Caballeros, 1551 S. Vulture Mine Road, Wickenburg, (928) 684-5484
Day 7: Wickenburg to Phoenix
Distance: 73 miles
Today you can trade the road for the water and the car for a boat at Lake Pleasant Regional Park. Located halfway between Wickenburg and Phoenix, the 10,000-acre lake is a popular spot for locals year-round. You're welcome to relax on the beaches or swim in the cool waters, but there are also organized events such as the Full Moon and Sunset Kayaking Tours. Kayaks—illuminated by glow sticks—depart from Pleasant Harbor Marina and paddle around the lake for 40 minutes before stopping for s'mores on the beach. The park also offers guided bird walks, mountain biking lessons, guided nature walks and stargazing programs.