Get your kicks on route 66 in Seligman, Arizona, and enjoy a pit stop filled with nostalgic treasures such as classic cars and retro neon signs.
You've heard about Route 66 in songs and caught glimpses of it in the movies. Head to Northern Arizona to see this bit of Americana for yourself.

Originally born as a railroad town encampment named Prescott Junction, Seligman was officially named in 1886 after Jesse Seligman, a railroad financier. Located in beautiful Northern Arizona between Flagstaff and Kingman, Seligman is now internationally known as an iconic Route 66 town.

Seligman successfully made the transition from railroad town to Route 66 town, however when Seligman was bypassed by Interstate-40 in 1978, it suffered a devastating economic blow. Eventually Seligman would use this setback as a catalyst to make a name for itself. In 1987, Seligman gained its name "Birthplace of Historic Route 66" due to the efforts of Seligman residents, most notably Angel Delgadillo, the Seligman barber who convinced the State of Arizona to dedicate Route 66 a historic highway. This grassroots effort to bring Route 66 back not only revitalized Seligman but it also caused world-wide interest in Route 66 and the old-fashioned Americana that it represents.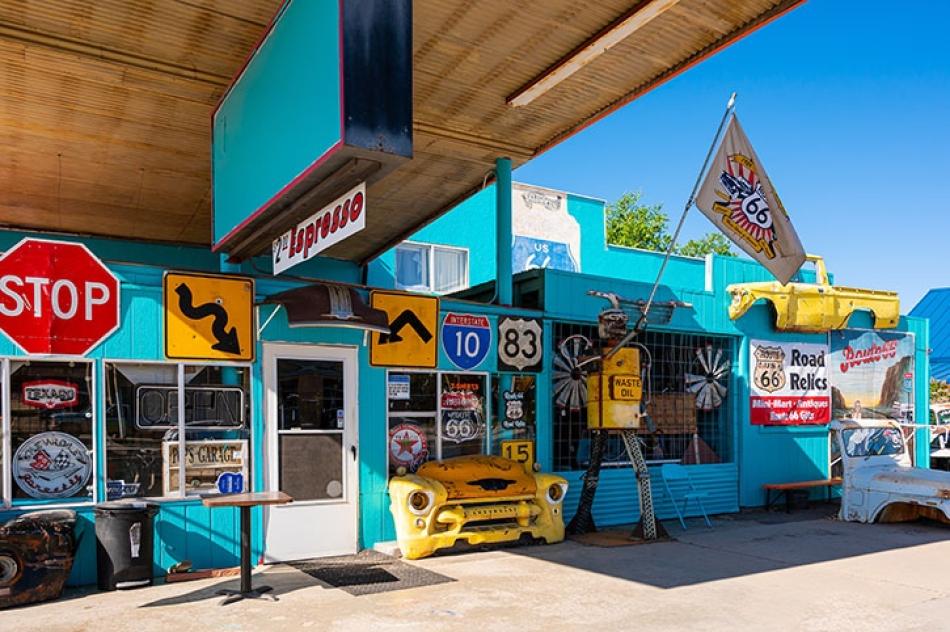 If this story reminds you of the adorable town called Radiator Springs depicted in Pixar's animated feature Cars, there is a reason for that! Seligman served as the inspiration for the storyline and topography of the little Route 66 town that had to fight for its survival after being by-passed by the interstate.
Now travelers from all over the world come to visit Seligman to see the Route 66 town that fought for the rebirth of the nostalgic road. Seligman sits at the beginning of the scenic drive that is the longest remaining stretch of Route 66 in the United States. Other nearby scenic locations include Supai, the Grand Canyon, and the Prescott, Kaibab, and Coconino national forests.
More to Discover Near Seligman