Grand Canyon West
At the western edge of the Grand Canyon—near Las Vegas and Lake Havasu—Grand Canyon West offers incredible experiences on Hualapai Tribal land.
Skywalk
The most impressive attraction at Grand Canyon West, the horseshoe-shaped glass Skywalk curves out 70 feet over the edge of the canyon, so visitors feel as though they're floating on air above one of the world's Seven Natural Wonders. This engineering feat is incredibly supportive: The SkyWalk can hold 70 fully loaded 747 passenger jets—so go on, do a couple of jumping jacks if you're so bold. Or, simply look below to the canyon floor; 4,000 feet beneath you.
Helicopter tours & zipline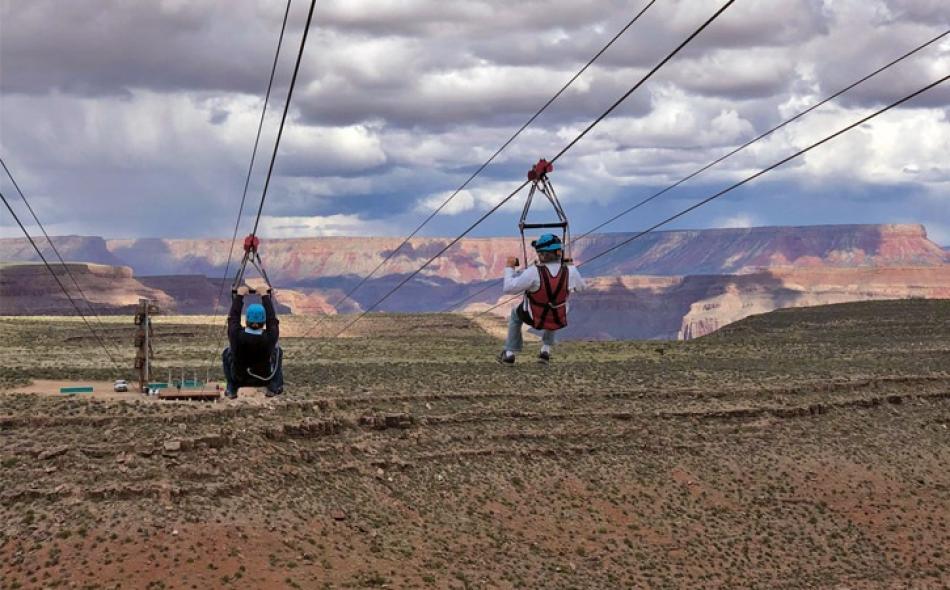 Soar above the Grand Canyon on a zipline or in a helicopter. Muster your courage and zip across 3,200 feet of zipline at speeds of up to 40 miles per hour. The zip line has two runs and four lines per run, rushing visitors above a side canyon that's 500 feet deep. The helicopter tour quickly takes visitors to the bottom of the canyon, descending through layers of rock in ochre and butterscotch. At the Grand Canyon's base, visitors take a pontoon boat ride on the Colorado River, then rapidly ascend 3,5000 feet back to the west rim.
Rafting the Colorado River
Grand Canyon West offers one- and two-day whitewater rafting adventures on the Colorado River. Departing from Peach Springs, a bus brings visitors to the departure point. From there, a certified guide leads the 40-mile journey, with rapids appearing in the first 12 miles of the trip. In calmer waters, learn about the Hualapai tribe's history and see historical sites along the river including the shelters and homes the Hualapai built along the walls of the Grand Canyon, as well as surrounding flora and fauna.
Stay the night
Why limit the fun? There's certainly enough to do at Grand Canyon West to make a multi-day trip out of it. The Cabins at Grand Canyon West and RV parking options are near the Skywalk and the perfect option for people who want to get a head start on activities the next morning. In Peach Springs, the Hualapai Lodge is the best—and closest—accommodation for visitors who plan on rafting the Colorado River rapids with Hualapai River Runners, as well as for fans of Route 66.
More to Discover Near Grand Canyon West