Black or green. Hot or cold. Sugar, honey, lemon, milk or plain. No matter how you take yours, Arizona has a tea experience for everyone. Sit back, relax and enjoy an exquisite brew at one of these five teahouses.
English Rose Tea Room, Carefree
From a cardboard cutout of Queen Elizabeth to a trunk full of vintage hats so you're properly attired (if you're so inclined), the English Rose Tea Room in Carefree couldn't be more British.
Choose from the Fireside Tea with crumpets and preserves, Cream Tea with homemade scones or the "Just Dessert" Tea with scones, mini cakes and petit fours. Go all out with the Duchess of Bedford's Formal Afternoon Tea, named for the woman who started the tradition of afternoon tea. Along with your pick from the 30-plus available loose-leaf teas, you'll enjoy delicate finger sandwiches, scones with Devon cream and preserves, and petit fours for dessert.
The Spicery in Our 1895 Home, Glendale
Located in the historic Catlin Court neighborhood of downtown Glendale, The Spicery in Our 1895 Home feels like a step back in time. Framed artwork hangs on papered walls, the wooden floors creak and tables draped in lace are surrounded by antiques.
Reservations are required for the afternoon tea, which begins with shortbread and a buttermilk scone, continues with bite-sized sandwiches and concludes with fresh fruit and irresistible sweets. Following tea, spend some time antique shopping in downtown Glendale.
Japanese Friendship Garden, Phoenix

Credit: yujismilebituke/Adobe
Once a month, October through June, the Japanese Friendship Garden in Phoenix hosts public tea ceremonies in its Musoan teahouse. Reservations are required, and because the authentic ceremony requires complete silence during certain times, participants must be at least 11 years old.
During the ceremony, hosts instruct on how to move and act within the teahouse, how to properly prepare the tea and how to drink out of the cup. Reserve time to wander the gardens after you've finished your tea, and relax in the meditative surroundings.
Seven Cups Tea House, Tucson
Tucson boasts one of the nation's best teahouses, Seven Cups Tea House. Opened in 2004, it sources its more than 70 traditional loose-leaf Chinese teas directly from growers and tea masters in China. You can purchase teas to sip at home, or you can sample two to three different teas at the store during its free tastings on Fridays at 3 p.m.
Seven Cups also offers tea ceremonies and education classes as well as a sit-down tea service. Order your favorite tea (for one or two people) and savory snacks, such as steamed barbecue pork buns and tea eggs. Follow that with sweet delicacies like pistachio-cardamom shortbread cookies and red bean mooncake.
Tipsy Tea Party at The Camby, Phoenix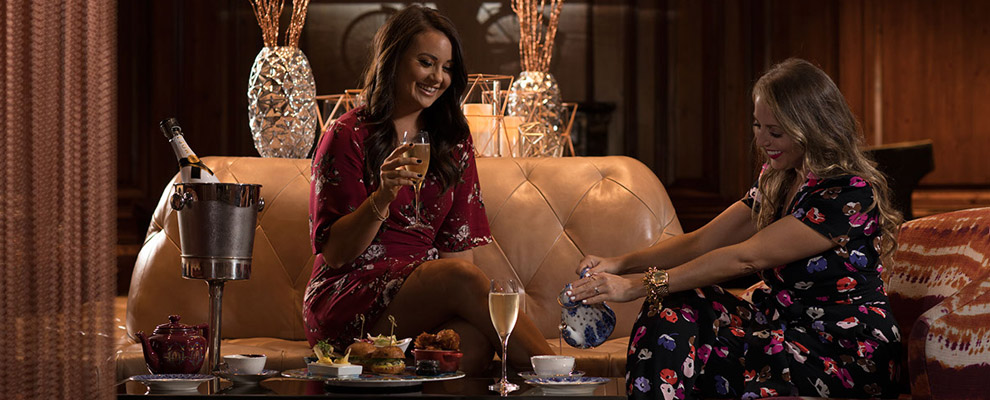 Courtesy of The Camby
Traditional afternoon tea a little too formal? Make a reservation for the Tipsy Tea Party at The Camby in Phoenix. Held in the hotel's speakeasy-like bar, The Bees Knees, on Friday and Saturday afternoons, the party features tea-infused cocktails – mixed with either a spirit or sparkling wine – and mocktails in addition to the typical, non-spirited pot of tea.
Along with the creative libations, nibble on modern appetizers like bruschetta and fried cherry green tomatoes instead of traditional tea sandwiches. The dessert course – pistachio cream pie, chocolate pot de crème and other decadent treats – is presented on a bed of colorful sprinkles in a cookie tin.