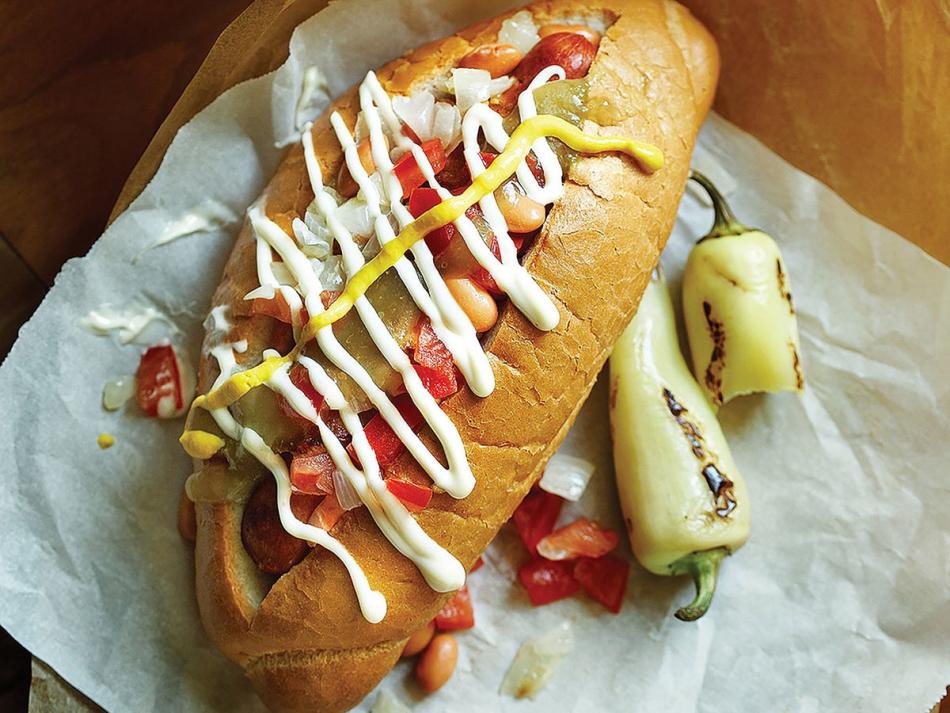 Eat & Drink
9 Foods You Must Eat In Arizona
The Grand Canyon State's culinary scene features indigenous ingredients and cultural influences. Savor fry bread, Sonoran hot dogs and prickly pear margaritas during your trip.

Whether it's a dish whose origin story is rooted in Arizona soil or an indigenous ingredient not found anywhere else in the country, these 9 foods represent the diversity of the state's people and history.

Consider this your foodie to-do list.
1. Fry bread
Where to find it: Hopi Cultural Center, Second Mesa; Fry Bread House, Phoenix; and Hope's Frybread, Mesa

Fry bread dates to 1864 when the Navajo were forced to make the "Long Walk," a 300-mile deportation from Arizona to a reservation in New Mexico. With limited supplies, the Navajo combined flour, water, salt and baking powder to make dough and then fried it in lard. Today, the dish has since been adapted by other tribes, and the fluffy bread is usually topped with beans, meat, cheese, lettuce, tomatoes and sour cream, or it's used as the shell for taco fixings.

Stop at the Hopi Cultural Center for a taste as you explore the Hopi Arts Trail; pop into the Fry Bread House in Phoenix for the Tohono O'odham's tribe take on the dish or Hope's Frybread in Mesa for a Navajo rendition.
2. Chimichanga
Where to find it: El Charro Café, Tucson
Also known as a "chimi," the chimichanga is a deep-fried large burrito served with scoops of sour cream and guacamole. Legend has it that in the early 1920s, in Tucson, El Charro Café founder Monica Flin invented the chimichanga—or "thingamajig"—when a burro fell into the deep fryer she was using. Hint: Ask for your chimi to be served "enchilada style" to have it smothered with red enchilada sauce and cheese.
3. Route 66 beer
Where to find it: Mother Road Brewing, Flagstaff

Toast a brew dedicated to the legendary Route 66 in Flagstaff. Mother Road Brewing cites the route's "adventurousness and innovative spirit," as inspiration for their lineup of road-trip-themed beers. Their label for Tower Station, a hoppy IPA, depicts a convertible speeding past the much-photographed Tower Station and U-Drop Inn on Route 66 in Shamrock, Texas, while the Limited Visibility hazy IPA sports a colorful drawing of the Blue Swallow Motel, another Route 66 landmark in New Mexico. And the brewery's Flagstaff taproom is, of course, located right on the Mother Road.
4. Mesquite flour

Where to find it: AZ Baking Company, Tucson

Made from the dried, ground pods of mesquite trees this American Indian dietary staple has a sweet, slightly nutty flavor. It's often considered a superfood thanks to its high protein and calcium-rich makeup. Arizona chefs like to experiment with it, frequently adding the flour to bread, pizza dough, pancakes, muffins and other baked goods. For a sweet experiment with mesquite flour, try a mesquite chocolate chip cookie mix from AZ Baking Company. Made with mesquite, low-gluten white Sonoran wheat and vegan chocolate chips, their cookie mixes are a sustainable and sweet treat. Packages can be purchased throughout Tucson at shops such as Exo Roast, Tucson Tamale, Tohono Chul and the Southern Arizona Heritage and Visitor Center.

5. Medjool dates
Where to find it: Martha's Gardens, Yuma
Most out-of-towners know little about Yuma except that it's prominently featured in a 2007 remake of a Western film starring Christian Bale and Russell Crowe. Turns out the western Arizona berg is also America's lettuce capital, producing 90% of the winter greens in this country, and it's a growers' haven for Medjool date groves—nearly 15 million pounds to be exact. That's how many dates are grown, harvested and shipped worldwide from Yuma's date palms. Try the tasty, naturally sweet fruit in everything from shakes to ice cream at Martha's Gardens Date Farm, a family-run operation that also hosts farm tours from November to April.
6. Sonoran hot dog
Where to find it: El Guero Canelo and BK Carne Asada & Hot Dogs, both in Tucson

The Sonoran hot dog is to the Southwest what deep-dish pizza is to Chicago: an iconic food that both tourists and locals gravitate to. Believed to have originated in the 1940s, this street food from Sonora, Mexico, puts a south-of-the-border touch on its American counterpart. Instead of a traditional bun, a split-top roll called a bolillo cradles the hot dog, which is blanketed in bacon and piled with pinto beans, jalapeños, onions, tomatoes, mayonnaise and other condiments. Sample an authentic Sonoran hot dog at El Guero Canelo or BK's, two local favorites that grew from roadside stands into restaurant chains with multiple locations. El Guero Canelo earned a James Beard 2018 America's Classics award for its exceptional rendition.
7. Cheese crisp

Where to find it: Casa Reynoso, Tempe

Think of the cheese crisp as an open-faced quesadilla. It all starts with a flour tortilla stretched out on a pizza pan, brushed with butter and then toasted in the oven for a few minutes. Once it's lightly crisped and starting to curl at the edges, the tortilla gets layered with cheese (and sometimes green chiles), then goes back into the oven to melt the cheese. It's cut into slices—again, like a pizza—and served. Using recipes originated by their family's nana (grandmother), the Reynoso family has been serving variations of cheese crips (and other delicious Mexican food) since the late 1930s—first in Globe-Miami, and now in Tempe.
8. Prickly pear margarita
Where to find it: Javelina Cantina, Sedona

The Sonoran Desert covers central and southern Arizona (as well as northern Mexico) and its rich ecosystem includes dozens of varieties of cactus. Among these is the prickly pear, or nopal. The flat pads of this spiny plant bloom an edible fruit, which is foraged and then made into prickly pear jams, jellies and syrups. The latter is mixed with tequila for a bright, flavorful twist on the traditional margarita. There are plenty of places to find this quintessentially Arizona drink. We recommend trying one frozen or on the rocks at Sedona's Javelina Cantina, and pair it with an order of housemade chips and cool guacamole.
9. Pie
Where to find it: Rock Springs Cafe, Black Canyon City

OK, OK… Pretty much every American town from coast to coast serves up a good slice of pie (the sugary kind, not pizza). So, while the pie at Rock Springs Café isn't an only-in-Arizona dish, it earns a place on the list for being, well, perfect. Founded in the early 1900s as a pop-up general store for travelers between Phoenix and Prescott, the original Rock Springs Hotel was visited by the likes of Wyatt Earp and Jean Harlow. It later transitioned to a restaurant and bakery where a huge selection of cream and fruit pies (including fan favorite, the Jack Daniel's pecan pie) are sold by the slice from glass cases. This is the kind of pie your grandma set to cool on the windowsill, with thick shortening crust, lattice tops and rich, goopy fillings. It's not an Arizona road trip without stopping for a slice.