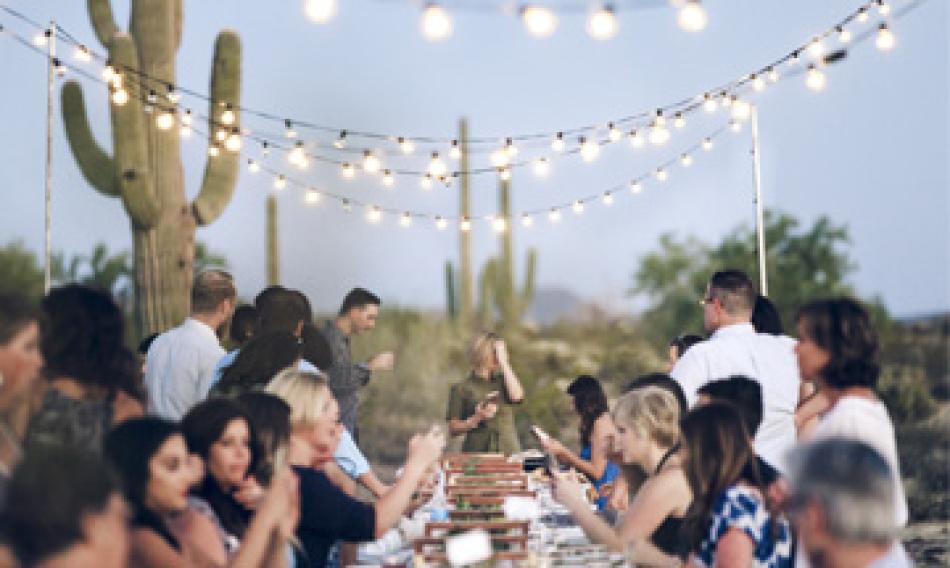 Eat & Drink
Table-to-Desert Dining
Cloth & Flame's tear-down-the-walls approach to food exploration celebrates—and benefits—wild places.
This is the story of how one Arizona company hacked the trend of farm-to-table dining.
On a warm Saturday evening in north Phoenix, a group of stylishly dressed people forms a line outside of an un-air-conditioned, 1970s-era school bus. They've been told the recently purchased bus is about to make its first run in years, so there's no telling how it'll do on the open road. The bus is big. It's robin's egg blue. The seats are vinyl.
This is no luxury ride. And yet people can't wait to board. There isn't any elbowing or line-cutting, but the excitement in the air is palpable, evidenced by the easy banter and laughter among the crowd.
It's been said that it's not the destination that's important, it's the journey. In this case, getting 100 adults to squeeze on to a school bus for a 20-minute ride across town has little to do with the journey and everything to do with the destination: an expanse of untouched desert just northwest of the city, where a long, wooden community table elegantly set for a four-course dinner awaits.
Welcome to Cloth & Flame. The brainchild of Phoenix-based couple Matt Cooley and Olivia Laux, Cloth & Flame bills itself as an immersive wilderness dining experience. What does that mean exactly? "We bring people to an open wilderness space to enjoy the comforts of a chef-prepared meal," Laux says. "You get the luxuries you're used to when dining in a restaurant, paired with the beauty of an outdoor place."
For Cooley and Laux, adventurous exploration—food-related or otherwise—is kind of their thing. They founded Float Balloon Tours in 2014, taking people on hot-air balloon rides over greater Phoenix and, upon landing, treating everyone to a full brunch or dinner. It was this aspect of the ballooning excursion that got Cooley and Laux thinking.
"It was shocking how much people raved about the food and not the balloon ride," Laux says. "Then balloon guests started requesting to have friends join them after the ride for the meal. We were transporting people to the landing site for the brunch or dinner more than taking them up in the balloons."
In 2016, Cooley and Laux launched Cloth & Flame as a side project to Float Balloon Tours, offering private culinary events at first, then expanding to open-to-the-public dinners in the desert.
Credit: Kate Nelle Photography
Sometimes Cooley and Laux partner with local chefs or restaurants eager to showcase their culinary skills in the wild. Other times they employ the skills of their in-house chef. In either case, Cloth & Flame maintains a few staples: Dinners are multi-course, and drinks are included in the price of a ticket; the setting changes with each event; and, perhaps most importantly, 10 percent of the proceeds are donated to nonprofit organizations throughout Arizona and around the country that are dedicated to land preservation.
Laux explains: "We pay the property owner a venue fee for hosting an event on their land; it could be privately owned land or a state park. Then, additionally, we donate 10 percent to a nonprofit that's affiliated with the land, or geographically close, usually a conservation group."
Arizona-based organizations to which Cloth & Flame has donated include Arizona State Parks, the Sonoran Institute, and the Superstition Area Land Trust.
The concept has caught the attention of media outlets, with the likes of PHOENIX magazine, Phoenix New Times and Sunset taking notice. This, combined with an overwhelmingly positive response through social media and word-of-mouth, has led to Cloth & Flame becoming a nearly full-time venture for Cooley and Laux.
How it works:
Guests purchase a ticket ($135) online and then receive information on where and at what time to meet on the designated dinner date. Upon arrival, guests are shuttled (in the aforementioned school bus or in air-conditioned vans) to the destination, where they're greeted with an appetizer and an aperitif.
As the sun sets, diners snap photos, find seats at the community table, and chat with the chef as he (or she) preps dinner in the makeshift outdoor kitchen. Past locations include the foothills of the Superstition Mountains, Slide Rock State Park and the desert near Lake Pleasant.
Much like the farm-to-table trend, which aims to keep things local by showcasing produce and ingredients from nearby farms, Cloth & Flame's table-to-desert approach is all about education and awareness.
"We want to show people that untouched wilderness areas exist," says Laux. "People are more likely to get behind the idea of saving land if they get to experience it firsthand. Not that people become activists just because we take them out there, but if the topic comes up after attending one of our dinners, people might be more inclined to care and support preservation initiatives."
Plus, the food is good. Nay, great. A recent dinner by Chef Aurore Yasinsky started with a wild mushroom tart, then moved on to a savory Bosc pear and blue cheese salad with candied Brussels sprouts, duck confit paired with endive in a citrus reduction, followed by slow-roasted pork belly with herbs and fennel. A creamy butterscotch pot de crème concluded the evening.
Credit: Kate Nelle Photography
As often happens with breaking bread and toasting wine, a group of strangers quickly becomes a group of friends. Dinners are served community-style, so guests sit close, share plates and pour one another's wine. String lights twinkle above the table, and above those lights, stars gleam in a dark desert sky.
Sure, the beverages help to keep conversations loose and friendly, but the magic that Cooley and Laux have conjured, that secret ingredient they've discovered, is that once you get people to the right destination, that's when the real journey begins.