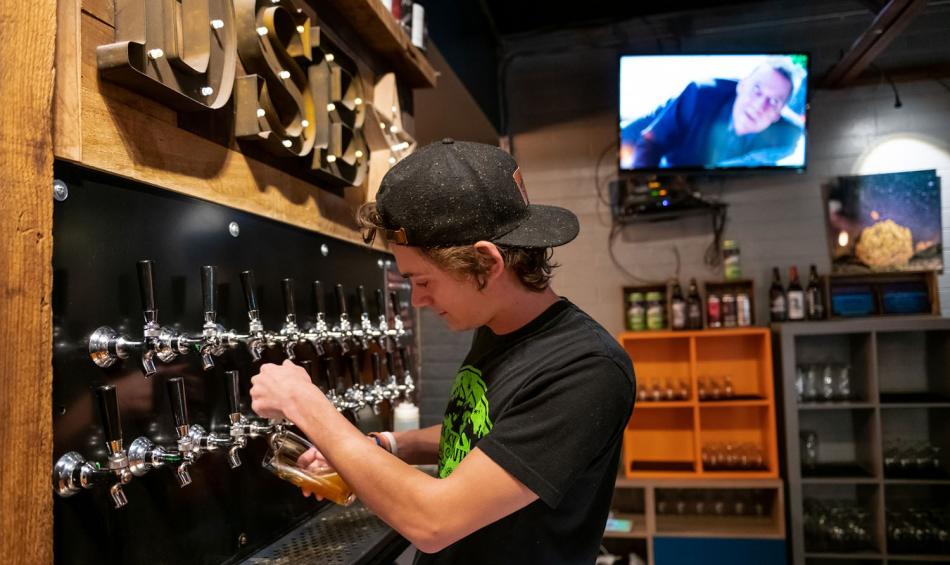 Eat & Drink
Arizona's Best Breweries, Cideries and Distilleries
When it comes to craft brews and spirits, what makes something the "best" is debatable. So instead, we're listing Arizona's most notable and where you can find them.
There are all sorts of arguments to be made for what constitutes "the best" brewery, cidery, or distillery: hazy versus hoppy IPAs, dry versus sweet, bourbon versus whiskey.

So we're taking a different approach and highlighting 13 of Arizona's "most notable" places—including the state's oldest brewery, most remote, and Phoenix's first licensed distillery since Prohibition.
Flagstaff and Northern Arizona
Dark Sky Brewing
In 2001, Flagstaff was designated the world's first International Dark Sky Place; and in 2014, Dark Sky Brewing opened, taking inspiration for its name from the city's renowned night skies. The interior of the bar, with wood-paneled walls and light bulbs shaped like stars, gives the brewery a certain authenticity—squint a little and imagine yourself out camping in the woods.
Lumberyard Brewing
As you sip on one of Lumberyard's brews—the Flagstaff IPA is a solid choice—look around. The brewery is located in the historic Flagstaff Lumber Company building, dating from 1890 and the last remaining structure from Flagstaff's lumber era, which spanned from 1887 to 1993.
Phoenix-area and central Arizona
Arizona Distilling Company
From the days of Prohibition to 2013 (yes, 2013!), not one drop of booze was distilled in the city of Phoenix—not legally anyway. That is, until Arizona Distilling Company came along, producing the city's first: Copper City Bourbon. Since then, they've expanded to include Desert Durum Wheat Whiskey, Mission Vodka and Commerce Gin, which uses cardamom, coriander, cumin, cinnamon, and citrus in a shoutout to Arizona's five Cs.
Barnstar Brewing
Located on a ranch overlooking the Granite and Tonto mountains outside Skull Valley (about two hours north of Phoenix), Barnstar is almost certainly Arizona's most remote brewery. Every Saturday and Sunday from noon to 5 p.m., the brewery throws open its doors and invites intrepid beer-lovers to make the journey along a primitive dirt road. Once you arrive, however, the friendly hospitality, rugged scenery, homemade food and excellent craft beer make the trek worthwhile.
Cider Corps
Brothers Josh and Jason Duren opened Arizona's first cidery in downtown Mesa on Veteran's Day in 2017. Cider Corps makes smooth and balanced ciders in a range of styles. Each cider's name is a nod to Jason's military service in the U.S. Marines (Sgt, USMC, Ret.): Private Palmer, Mango Foxtrot, Blueberry Angels, Cranberry Camouflage, Operation Pumpkin Pie. The pair also launched the Southwest Cider Fest and recently expanded their facilities to Gilbert.
Greenwood Brewing
In 2020, Arizona's first female-owned brewing company opened in downtown Phoenix. Owner Megan Greenwood is not only passionate about good beer but also about creating a space for inclusivity and empowerment. As she puts it: "I believe women need to encourage each other and share with each other in order to create change in their lives, and craft beer can be a vehicle for a culture shift." Note: There are plenty of brews to chose from but the menu is BYOF (Bring Your Own Food).
Superstition Meadery
As the first meadery in Arizona, Superstition Meadery's mission is "to reintroduce the world's oldest fermented beverage to mankind." Since 2012, they've been doing just that, producing more than 300 meads and hard ciders. The tasting room in Prescott offers flights of meads, as well as tapas for snacking. The tasting room in downtown Phoenix also offers flights of meads and ciders, plus a full food menu.
Tucson and Southern Arizona
Barrio Brewing
The oldest brewery in Arizona, Barrio Brewing has been quenching the thirst of its Tucson clientele for 30 years. In 2020, Barrio became the first 100% employee-owned brewery in the state. And if you happen to be there when the nearby train passes through, you'll enjoy $1 off your pint.
Borderlands Brewing
As head brewer of Tucson's Borderlands, Ayla Kapahi shares a similar view about supporting women in brewing as Megan Greenwood (see above). Kapahi recently collaborated with female brewers in Mexico and Arizona to create Las Hermanas—Arizona's and Sonora's first all-female brewed beer.
Elgin Winery & Distillery
The soil around Elgin resembles that of Burgundy, France, so it's no surprise the area is ripe for wine-making. But it may be a surprise to know that the rum produced at the Elgin Winery and Distillery earned the awards of Best Rum in the World at the San Francisco World Spirits Competition, as well as Best of Class Extra-Aged Rum and Best in Show.
Tombstone Brewing Company
Life is quieter now in the town too tough to die, which means you can enjoy a nice cold brew in peace. Sip on a pint of Not So Farro Way or Helles Dorado from Tombstone Brewery, situated just around the corner from the O.K. Corral. If you can't visit the brewery's Old West location, you'll find a modern version of Tombstone Brewing Company at its taproom in Phoenix.
Western Arizona
Mudshark Brewing
In Lake Havasu City, Mudshark is among a handful of breweries in the country where you can indulge in solar-brewed craft beers. In 2011, the brewery installed solar panels to reduce its carbon footprint and slash its electric bills by nearly 80%. Today, most of the daily brewing operations are powered entirely by solar energy. This might be why Mudshark was crowned as America's Favorite Solar Craft Brewery as part of Solar United Neighbors' 2018 Brews from the Sun Competition.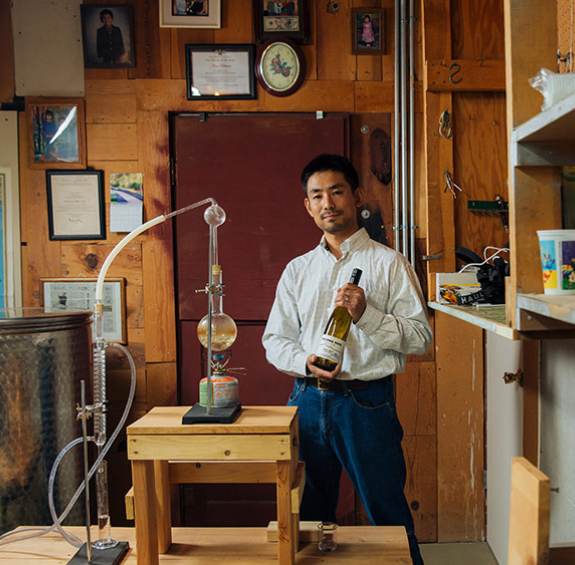 Honorable Mentions
In Holbrook—three hours northeast of Phoenix, near Petrified Forest National Park—Atsuo Sakurai produces Arizona Sake. Within four years of starting his business, his junmai ginjo sake earned recognition as "World's Best Sake Made Outside Japan" at Tokyo's Sake Competition in 2018.

With a flagship location in downtown Chandler, a taproom in Phoenix and another at the airport, SanTan Brewery's beers are easy to find—and easy to enjoy. Certainly not the oldest brewery in the state (they opened in 2007), SanTan is, however, an Arizona favorite thanks to its first-class, consistent quality.

In Tucson, Whiskey Del Bac crafts award-winning, single-malt, Scotch-style whiskey, taking inspiration from the local environment by malting the barley over mesquite-wood fire. Esquire magazine even named them one of the best whiskey distilleries in America.