Outdoor Adventures
Arizona's Secret Campsites
Part of the appeal of camping is getting away from it all, isn't it? Setting up a temporary home surrounded by sweet solitude. Good news: Where prospectors once sought gold in "them thar hills," today's Arizona adventurers find treasures of their own at these hidden-gem campgrounds.
In a state that ranges from sunny lowland deserts to snow-clad mountain peaks, there's hardly a day of the year that isn't perfect camping weather somewhere in Arizona. Whether you opt to park your RV or pitch your tent in a state park, a national monument or a national forest, you'll find plenty of campgrounds waiting to be discovered all across the state, even if some require a little hunting to find.
Escape the crowds in central Arizona
Clear Creek Campground
In the heart of Arizona's fabled red-rock country, not far from Sedona but far enough from the often-full campsites of Oak Creek Canyon, you'll find Clear Creek Campground. While this may not be the most "secret" of getaways—its cottonwood-shaded creekside location is a favorite of in-the-know campers—it offers plenty of peace and quiet, plus a fine summertime swimming hole and ample fishing spots.
KP Cienega Campground
When temperatures in the state begin to climb, campgrounds in the White Mountains (about 4 hours northeast of Phoenix) offer welcome respite. If you're willing to venture into the mountains past the popular resort towns of Greer and Pinetop-Lakeside, then you'll get a chance to camp among the rolling meadows of KP Cienega Campground. The five sites sit at nearly 9,000 feet, which means this is one of the highest—and coolest—campgrounds in Arizona. Your only neighbors? The herds of gentle deer and other wildlife that call this area home.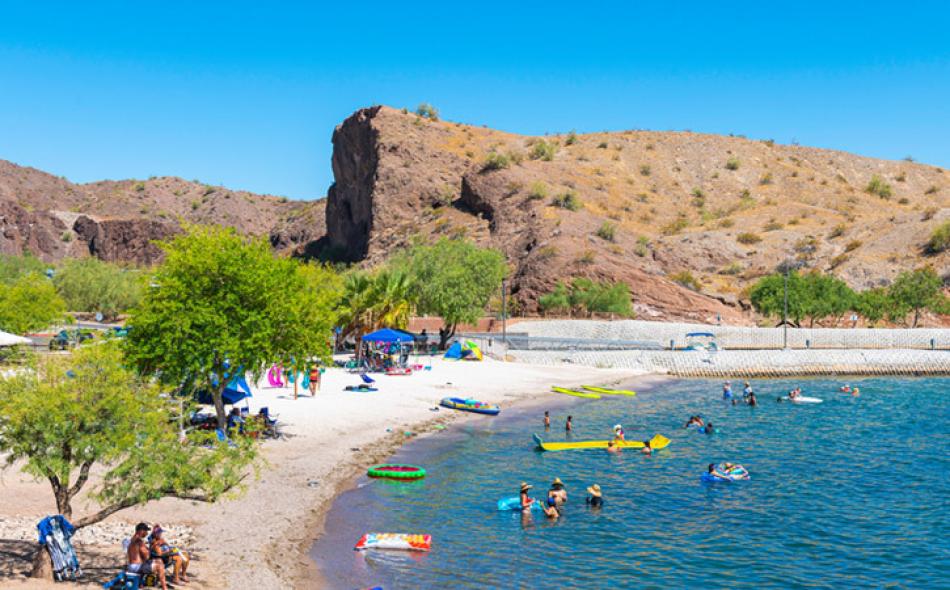 Camp near the beach or among the cactus
Cattail Cove State Park
While the lower Colorado River region frequently posts the highest temperatures in the nation come summer, campgrounds along the river in Lake Havasu City help keep things cool year-round. Cattail Cove State Park is one such place. Bring your own boat, or rent a kayak from the ranger station, to access one of the park's secluded boat-in campsites. You'll enjoy the sandy beaches of the Lower Colorado without the crowds of the more popular campgrounds nearby.
Alamo Canyon Campground
In the southern part of the state, deep in the rugged Ajo Mountains and at the end of a three-mile dirt road, sprawl the four campsites in this little-visited gem of a campground within Organ Pipe Cactus National Monument. You won't find thick forests of shady trees, just miles and miles of Sonoran Desert beauty: saguaros, organ pipe cactus and ocotillos. It's likely you'll have the place to yourself, all the better for soaking up the star-studded night sky before you fall asleep to the sounds of silence.
Head for the hills in northern Arizona
Blue Ridge Campground
With only 10 sites and a remote location nestled along the banks of the Blue Ridge Reservoir, this first-come, first-served campground offers a quiet haven from the hustle and bustle. Not to mention a picturesque setting worthy of postcard status. A forest of pine, oak and aspen trees shrouds the campground, which is situated 40 miles southwest of Winslow off Highway 87 and sits tucked among canyon-carved uplands rife with hiking and biking trails.
Grand Canyon camping alternatives
Colorado River
The Grand Canyon may be the granddaddy of Arizona camping, but the national park's main campgrounds often require reservations six months in advance—that's how popular they are. For Grand Canyon camping sans crowds, head to the Colorado River between Glen Canyon Dam and Lees Ferry. Here, deep in a sheer-walled canyon, the river's currents run so slow as if to seem still, making for ideal rafting or paddleboarding. Along the river are five primitive, boat-in campsites. As you drift downstream, look for signs marking each site, then paddle over, drag your boat ashore and set up camp. No fees or permits are necessary.
Tuweep Campground
For stalwart adventurers with a sturdy high-clearance vehicle (required), Tuweep Campground at Toroweap provides another Grand Canyon option. This isolated cliff-edge camping experience is rustic, remote and filled with striking, dramatic views in every direction. The catch is you need to apply for a backcountry permit prior to arriving, and you have to navigate a tricky 60-mile dirt road infamous for causing flat tires.
Off-the-Beaten Path
Camping and Outdoor Adventures