Surprising Places to Camp Your RV in Arizona
Whether you're piling into a spacious RV with all of the bells and whistles or a hip camper van with a moon roof, overnighting on four wheels is a one-of-a-kind experience. Especially in Arizona.
In light of possible restrictions or reduced hours as a result of COVID-19, we recommend contacting each of these sites prior to arrival to confirm any changes in service.
Favorite spots and secret maps for Boho Camper Vans customers
"The diversity of Arizona makes camper van travel a year-round activity," says David Sodemann, owner of Boho Camper Vans. "You can spend winters in the warmer climates and summers in the cooler areas. There's no shortage of places to go with Arizona's mountains, deserts, lakes and canyons."

Sodemann's Tempe-based company builds custom camper vans for travelers to rent or buy. The fleet features stylish vans with names like Bowie ("seized by stardust") and Pearl ("the desert jewel"). Before you hit the road, Boho Camper Vans arms with you trip ideas and a map for under-the-radar spots to camp in Arizona.

"Secret spots should never be shared," Sodemann says, "otherwise they're no longer a secret! But some of our favorite lesser-known spots for camper van camping include Lockett Meadow in Flagstaff, the bluffs at Roosevelt Lake, and Rim Road 300 at the Mogollon Rim."
Rest at museums, farms or wineries with Harvest Hosts
Nationwide company Harvest Hosts offers a clever twist on boondocking: one-night stays at more than a dozen surprising Arizona RV spots like wineries, breweries, farms and museums. Because these sites are so unique and so exclusive, you'll often find you're the only camper, or at most, one of a small few. Super secret indeed.

One rule: Your rig needs to be self-contained since most of the hosts do not offer hookups. There's an annual Harvest Host membership fee of $79 (or $129 for the golf plan); in lieu of paying an overnight fee, RVers are asked to make a reciprocal $20 purchase, such as a meal, a bottle of wine or a souvenir from the gift shop. Make sure to call ahead for a reservation.
Harvest Hosts: STAY AND PLAY ... at the farm, golf course or saloon


Mike's Route 66 Outpost
Kingman (3 hours north of Phoenix)
This Wild West saloon sits smack-dab on Route 66. Complete with kitschy décor and dollar bills tacked to the walls, the bar boasts a reputation for slinging great food and beer. It's the kind of place where Harley riders sit side by side with mountain bikers, so if you're looking to make new friends during your RV stay, this is the place.
Thunder Mountain Alpaca Ranch
Hereford (11/2 hours south of Tucson)
The star attraction here is the small herd of fluffy alpacas, but the location is special, too: on the southeast side of the Huachuca Mountains, overlooking the San Pedro River Valley. After touring the farm, RVers can browse the Backyard Barnyard Boutique, which features hats, gloves and other items made from their alpacas' luxurious wool.
Oakcreek Country Club
Sedona
Designed by golf architecture legends Robert Trent Jones Sr. and Jr., this golf club weaves a traditional parkland-style layout through the epic scenery of Sedona's red rocks. A fair test for golfers of all skill levels, Oakcreek ranks among the best golf courses in the state. Before heading to the RV for the night, drop into the Redstone Grill and Bar to grab a bite to eat.
From the Farm
Yuma
Open from mid-October through mid-May, this spot has a quirky mix of offerings you won't find anywhere else. The Grill's go-to's are date shakes and farm-fresh tacos, while the Tea Room serves delicate finger sandwiches and handmade pastries. At the Emporium, peruse vintage goods and antiques, then stock up the RV with locally sourced honey, hand-preserved jellies and jams and teas that are grown and dried on-site.
Harvest Hosts: Sip and Stay


Pillsbury Wine Company
Willcox (about an hour east of Tucson)
A trip to Pillsbury is all about tasting their regionally and nationally renowned reds, whites and rosés. After indulging your inner oenophile, catch the sunset and set up under the stars within Pillsbury's 100-acre vineyard in southern Arizona.
Copper Hop Ranch Farm & Microbrewery
Elgin (1 hour southeast of Tucson)
This microbrewery not only grows 14 varieties of hops but also produces outstanding farm beers and ciders of their own. If you're stopping here during hunting season, they'll hook you up with beer to go before you head to your site.
Desert Diamond Distillery
Kingman (3 hours north of Phoenix)
Award-winning rum, whiskey and vodka make Arizona's oldest craft distillery a must-visit. History buffs will enjoy lunch in the historic Pullman train car before bellying up to the sampling bar, which was reclaimed from a restaurant in Las Vegas that was a frequent haunt of the Rat Pack.
Mother Road Brewing Co.
Flagstaff
Mother Road's craft beers can be found on tap throughout the state, but nothing tops quaffing a cold one at the mothership, especially after a day exploring the Coconino National Forest or Grand Canyon. Note that there's only one RV spot here—suitable for a smaller van or RV under 29 feet—so make sure to book ahead.
RV and Camper Van Etiquette
No matter where your wanderlust takes you, there are a few rules of the road (ha) to keep in mind if you plan to travel off-grid, according to Boho Camper Van owner David Sodemann.
Don't ignore "no overnight parking" signs.
Keep music volume to a minimum. Loud music can ruin the camping experience for your neighbors.
Bring a shovel and bury your waste if you plan to camp at a place without restrooms.
Respect the land and adhere to the seven Leave No Trace principles.
More ideas for where to RV camp in Arizona
Meet the online resource Campendium. This site helps RVers search and in some cases even take a virtual visit to RV camp spots throughout the country, including hundreds in Arizona.
Search the database of more than 21,000 RV parks, sites and campgrounds (including state parks, national parks and Bureau of Land Management lands) by location, price, amenities, recreation options and even Wi-Fi availability. You can also read reviews from previous visitors.
Trip Ideas
Sleep Under the Stars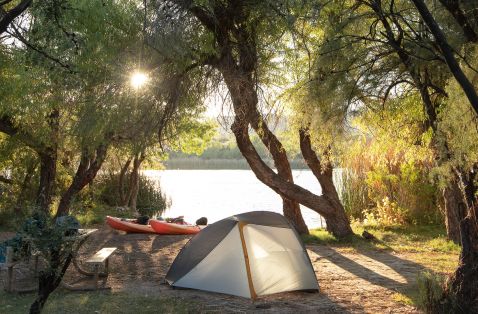 Outdoor Adventures
Where prospectors once sought gold in "them thar hills," today's adventurers find treasures of their own at Arizona's hidden-gem campgrounds.