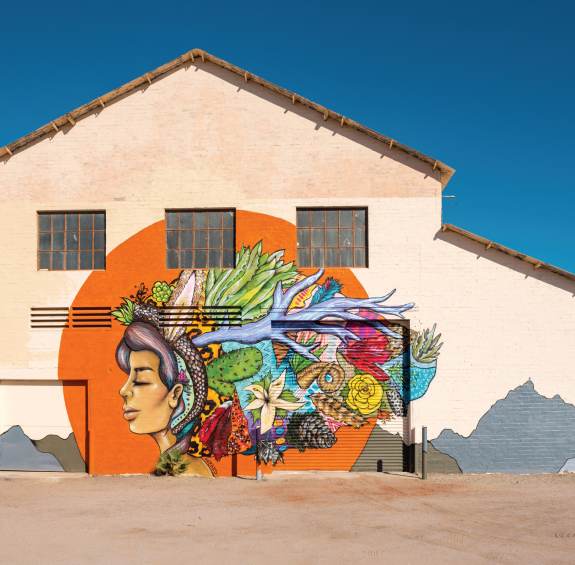 Arizona's Cities and Urban Scene
Cities
Arizona's cities and towns offer a treasure trove of distinctive experiences worth discovering. Many visitors find it easiest to start their trip in one of Arizona's larger urban areas before branching out to nearby cities.
Phoenix
Arizona's major city and the fifth most populated city in the United States, Phoenix is vast. It includes the posh resorts and green golf courses of Scottsdale, Tempe's lively college-town vibes, arts-friendly Mesa and pro-sports hub Glendale, several American Indian tribal lands, and the suburban cities of Chandler and Gilbert.
Located in central Arizona within the Sonoran Desert, Phoenix (the Valley of the Sun) serves as the perfect hub for many a Grand Canyon State trip. The convenience of flights to and from Phoenix Sky Harbor International Airport also make it an attractive starting point.

Tucson
Nicknamed the Old Pueblo, the city of Tucson in southern Arizona is renowned for its Spanish-style architecture, Mexican culture and a culinary scene that earned it the title of UNESCO's first City of Gastronomy.
Tucson wows with its desert landscape—especially the iconic saguaro cactus—and the mountains visible from virtually anywhere in the city. Go hiking in the morning and then head downtown to shop, eat and play at the city's many local boutiques, restaurants and nightclubs.
Experience Arizona's past less than two hours south in the towns of artsy Bisbee and Tombstone, home of the O.K. Corral. On the way, stop by the communities of Sonoita-Elgin or Willcox for wine-tasting with horizon-spanning views of the area's grasslands.
Flagstaff
Grab your skis and hiking boots for a trip to this heavily forested mountain city with small-town charm. Flagstaff in northern Arizona is an outdoor playground with plenty of trails and parks—and for the craft beer enthusiasts, the Flagstaff Ale Trail provides a perfect alternative.
When you're in these wooded lands, it's great to be green. Ski through powdery snow; hike up, up, up to Arizona's highest peak or down, down, down to the base of the Grand Canyon located a short drive away through Williams; ride on The Mother Road till you stand on a corner in Winslow, Arizona, and simply take it easy.
Drive two hours northwest to the Verde Valley and the towns of Sedona, Jerome and Cottonwood, where you can shred the red rocks on a mountain bike or leisurely sip your way through the area's award-winning wineries and tasting rooms.

Or head east into the forests of the White Mountains and enjoy a variety of outdoor activities like fishing, hunting, hiking or boating. In the winter, rent a log cabin by the lake and watch the snowfall beside a crackling fireplace. (Yes! It snows in Arizona!)