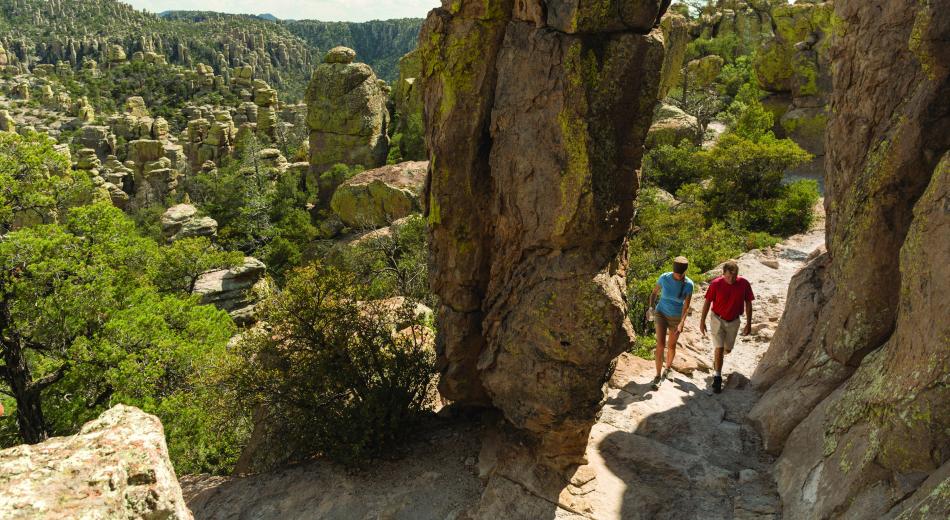 Arizona is big country, filled with ambitious extremes. Consider the Sonoran Desert's vast, saguaro-dotted beauty. Or the soaring alpine slopes lacing the San Francisco Peaks. Or the Grand Canyon, with its sublime, multi-hued gravitas. Taken together, these contrasts are nearly overwhelming. That's why we recommend enjoying such beauty step-by-step on lovely trails that bring our stunning state into up-close view. The real Arizona lies in the silent vista, the shaded fern glen, the exuberant waterfalls. Here are a few suggestions to get you exploring
Grand Canyon Hiking Trails
Easy: Rim Trail
True to its name, this path hugs the canyon rim. But its views are vast. Start from Grand Canyon Village, and amble as far as you like - the full length is about 13 miles - leaving ample time to double back. You'll be treated to a series of breathtaking stops, from the glassed-in observation area at Yavapai Point to color-drenched sunsets from Hopi Point
Moderate: Havasu Falls
This 11-mile hike on Havasupai Indian tribal land leads past a succession of emerald waterfalls, each greater than the last, culminating in a 200-foot cascade from red rock cliffs. Even the trail, tucked among tendrils of the Grand Canyon, is a jewel of scenic switchbacks. Trekking toward the bottom of Hualapai Canyon, you'll pass rock walls interwoven with pink, swirling striations. Then sit back and relish the water tumbling over effervescent Havasu Falls.
Challenging: North Kaibab Trail to Roaring Springs
Covering nearly 10 miles round-trip, this trail journeys right down into the North Rim of the canyon. Of course, the joy is also the challenge: while going down is a breeze, coming back up is a workout. But this hike is worth the sweat. Starting among Douglas firs, it leads you to Coconino Overlook and a great vista of tree-whiskered, red-rock walls in Roaring Springs Canyon
Arizona's Mountain Hiking Trails
Easy: Kachina Trail
With your first step onto this trail near Flagstaff, set against Arizona's highest mountain range - the San Francisco Peaks, you're immediately swallowed into the lush forests of Northern Arizona. Pines tower overhead; ferns dappled with wildflowers brush your legs. This is a segment of the ambitious, statewide Arizona Trail. But easygoing is its style, from aspen-ringed meadows to enormous views of the San Francisco Peaks with Humphrey's Peak soaring 12,600 feet above the surrounding forest
Moderate: Echo Canyon Trail
Southeastern Arizona's Chiricahua National Monument is a 12,000-acre pageant of geologic drama, with huge stones haunting the hillsides like a vast Greek chorus. Apaches dubbed this place "Land of Standing up Rocks," and that's still the best description around. Stop for maps and trail info at the visitor center, and take a shuttle to the trailhead. On a 7.3-mile one-way trek through the Heart of Rocks, you'll pass the perfectly named Punch & Judy and Kissing Rocks formations
Challenging: Old Baldy Trail
This 5-mile hike up to 9,500-foot Mount Wrightson in the Coronado National Forest south of Tucson immediately begins with a steep trek uphill at the start of the trailhead. After following switchbacks through heavy forest and scrambling over boulders and rocks during the last stretch, you'll be rewarded on clear days with views of Cerro San José peak in Mexico
Arizona's Desert Hiking Trails
Easy: Sabino Canyon
This spot in northeast Tucson is tremendously popular for three great reasons: towering cliffs, stunning saguaros and a perennial stream. Take a shuttle to the top of the canyon, then leisurely stroll back down to the visitor center. You'll trace the frolicking creek past shimmering pools, enormous boulders and wildlife that ranges from Gambel's quail and Gila monsters to eastern collared lizards
Moderate: Badger Springs Trail
Rambling among the high grasslands of Agua Fria National Monument north of Phoenix, you'll pass through a desert-riparian wonderland. Ancient petroglyphs dating from 1250 AD adorn the trail along Badger Springs Wash to the Agua Fria River. In rainy times, this river flows. In drier seasons, when water isn't visible, the Agua Fria still nourishes a gallery of cottonwoods, sycamores and willows
Challenging: West Clear Creek Trail
This trail in the Coconino National Forest about 40 miles south of Flagstaff includes four crossings of West Clear Creek depending on the time of year. From the trailhead, you quickly descend 1,800 feet into a tranquil forest of walnut, sycamore and cottonwood trees lining the banks of the creek. For those slight ambulations, the payoff is the 15,000-acre West Clear Creek Wilderness, marked by bold cliffs, tranquil gardens and such wildlife as badgers, bears and abundant birds
Travel Tips
Traversing Arizona's diverse landscape requires common sense preparation. Pack plenty of water, protective clothing and sunscreen; watch the weather; bring a cellphone; and research the best seasons to visit specific areas. It's also a good idea to let someone know where you are going and when you expect to return.
If you liked this story
Try these