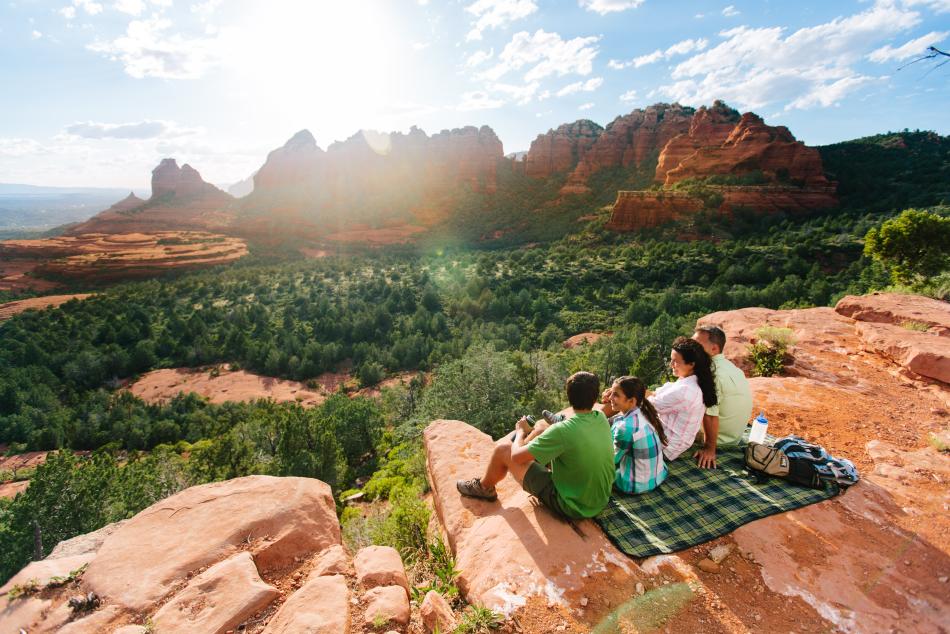 There are tourists and there are travelers.
There's nothing wrong with being a tourist. The first time or two you visit a place it's only natural to want to see the famous sights and do all the things that made it such a desirable destination. There, after a few visits, you want to dig a little deeper.
That's what makes Sedona such a beloved destination - appealing to both wide-eyed tourists and seasoned travelers. The jaw-dropping beauty, a landscape of towering red-rock formations - it never gets old. It's as thrilling for residents as it is for newbies.
Combine the scenic splendor with the endless options of attractions and activities, and you begin to understand Sedona's appeal. No matter how many times you visit, there's always more to explore. Those varied facets bring people back over and over again, seeking new experiences, uncovering fresh worlds. Sedona turns tourists into travelers.
That's where a few insider tips can come in handy to help navigate the many possibilities
Hidden Hikes
Chances are you've already hiked some of Sedona's most famous trails. The scenery has a way of pulling people outdoors. But with more than 300 miles of trails fanning out through the wonderland of stone and forest, there are always more waiting to be explored. Maybe it's time to check out a few of the local favorites.
Located off Schnebly Hill Road, Cow Pies Trail cuts through a forest of Arizona cypress and junipers until it reaches a series of massive sandstone platforms that resemble…well, you know. The big difference is these are actually fun to step on. Ringed by crimson cliffs on all sides, sweeping wilderness vistas pull you across the stony ground.
Secret Canyon Trail first rambles through a verdant woodscape then dips into a stream bottom as coral-and-cream cliffs close around you. Watch for a small arch about three miles in.
Much of the Sketch Trail is an exposed path clinging to the eastern rim of Carroll Canyon with nothing on one side but air and views. Footing is firm, but if exposure and drop-offs make you nervous, you better skip this hike.
Brins Mesa Trail clambers straight up a rocky slope with sprawling panoramas keeping you company every step of the way. You're never sure if you're huffing and puffing due to the moderate climb or the breathtaking views.
Fay Canyon Trail makes a gentle foray into a richly forested canyon where a shy arch hugs a cliff face. A short but steep scramble puts you at the bottom of the span.
Soothing Day Spas
Nothing soothes after a day of hiking like a spa treatment. You might think that's an experience enjoyed only by those staying at luxury resorts with in-house spas. Not so. Sedona features comprehensive day spas and even a massage school where knowledgeable students do the work.
Sedona has long been recognized as a place with healing power. Allow yourself to be pampered for an afternoon. Try hot stone therapy, a chakra boost or an outdoor deep-tissue massage on the banks of silver-tongued Oak Creek. Many spas use indigenous materials like red-rock clay and local plants. Others offer a couples massage so you can share the indulgence with someone you love.
Views Galore
After your spa visit, you'll still have time to witness one of Sedona's most cherished events - the sunset. When the sun drops low in the western sky, most visitors head for the high perch of Airport Mesa. While this is a great sunset viewing spot, there are other options for those seeking a quieter experience.
The upper section of Girdner Trail, located at the end of Cultural Park Place, provides a good panorama of the nightly sky fire. The same goes for the picnic tables at the trailhead. Or make the short hike up the backside of Sugarloaf in West Sedona. Barely a nub of a hill and surrounded by more imposing cliffs, Sugarloaf hardly seems worth the effort but the views are fantastic. A hike up Baby Bell Trail will provide a sunset with majestic Cathedral Rock in the vista. Now that's a show you don't want to miss
Native Culture
If you've spent time in Sedona's numerous galleries ogling the range of man-made art, you might want to head into the backcountry to study the oldest artistic examples around. The prehistoric Sinagua tribe lived here centuries ago. They built elaborate cliff dwellings in large villages and created panels of rock art. Set against soaring cliffs are the ruins of two of these hamlets, Palatki and Honanki.
Palatki, which means "red house" in the Hopi language, consists of two pueblos built under south-facing overhangs. There's also a trail leading back to alcoves sheltering a remarkable display of pictographs, or painted symbols, adorning the rocks. Nearby Honanki, or "bear house," represents one of the largest population centers in the Verde Valley.
Burgeoning Wineries
Another surprise on the outskirts of town is a more recent addition. Boutique wineries huddle on hillsides above Oak Creek and make for inviting stops. Rich volcanic soil, ideal elevation and a warm dry climate have made Sedona and the Verde Valley one of the premier wine-producing regions in the state.
Tour the picturesque vineyards and enjoy flights of syrah, grenache, zinfandel, merlot, sauvignon blanc and many more in the tasting rooms. And if you want to indulge a little without worrying about driving, tours are available. Now bottoms up!
If this isn't enough to pique your interest, you can find additional insider's knowledge at SedonaSecret7.com, which houses 49 off-the-beaten-path hiking and biking trails along with information on spiritual locations, vistas and stargazing spots, the city's various arts districts and incredible picnic areas.
Brought to you by the Sedona Chamber of Commerce & Tourism Bureau, (800) 288-7336, visitsedona.com.