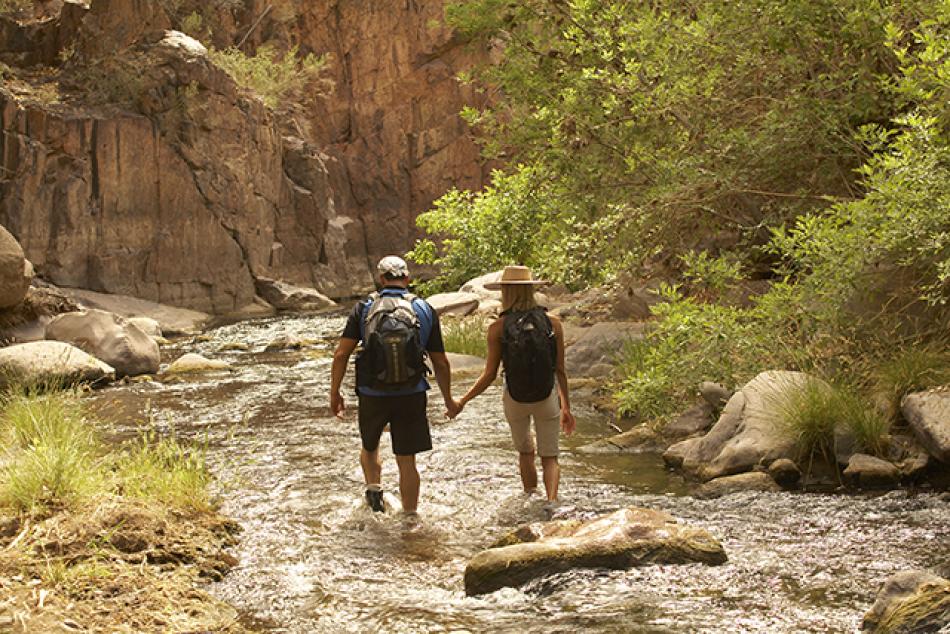 If Not There, Where? 4 Alternates for Popular AZ Sites
Arizona brims with enviable bucket-list spots. But sometimes these iconic destinations are a tad too beloved. Between acquiring limited-time-only permits and signing up for waitlist reservations, you might be unable to visit for months. Don't fret. There are options.
If you find yourself locked out of one of Arizona's fabled landmarks, try these worthy places instead.
If you can't get a permit to Havasupai…
…then try Aravaipa Canyon
Havasupai, the remote yet ubiquitously photographed spot famous for its aquamarine waters and spectacular waterfalls, often sells out its Grand Canyon campground reservations for the entire year within minutes of the opening-day sale. For a more attainable excursion, head to Aravaipa Canyon, a wilderness area halfway between Phoenix and Tucson.
Truly an escape into the wild, Aravaipa Canyon is an isolated wonderland bursting with untouched natural beauty. Gaze up at towering cliffs, traverse a creek in the shade of cottonwoods and spot bighorn sheep, coatimundi and a variety of bird life. The Bureau of Land Management issues 50 permits per day for the wilderness, and you can check the availability of the permits online.
Another way to visit Aravaipa is to join outfitter REI Co-op Experiences on one of several three-day, two-night guided backpacking trips that it offers annually. The guides do the legwork for you, including prepping meals and getting permits for the canyon. All you have to do is focus on enjoying a rare wilderness adventure.
If you can't get into The Wave…
…then try Coal Mine Canyon
To witness firsthand the colorful undulating sandstone of The Wave at Vermilion Cliffs National Monument means trying your luck in an online lottery or showing up in person at the nearby visitor's center to snag one of a few walk-in permits. Meanwhile, Coal Mine Canyon — an area of awe-inspiring sandstone with windswept layers of white, yellow and orange formations — is a rarely visited treasure on the edge of Painted Desert.

Located halfway between the Navajo Nation (north) and the Hopi Reservation (south), Coal Mine Canyon requires a permit, which is available from the Navajo Parks & Recreation Office in Cameron, or online.
From Tuba City, drive southeast for 16 miles until you reach a fork on the left after mile marker 337 on SR-264. A vehicle with four-wheel drive is nice, but not required. There is no signage, but you can't miss the windmill; pass in front of it onto the road on the right. The observation point, with a picnic table, is where you'll park.
Gaze north and to the sudden canyon below — narrow and about four miles wide — to see colorful striped rock in crimson, ochre, and more beloved Southwestern hues.
The Bureau of Land Management, which manages the area, strongly urges visitors to use a guide authorized with special recreation permits through BLM to transport you there and back safely in a four-wheel-drive vehicle. This leaves you free to explore the smooth swirls of banded rocks set against a photo-worthy Arizona blue sky.
If you can't get into Phantom Ranch…
…then try Grand Canyon Lodge North Rim
Even with a new online lottery reservation system, you have to try 15 months in advance to get overnight accommodations at Phantom Ranch, the rustic, hiker-favored lodging that sits at the bottom of the Grand Canyon. You'll have better luck at Grand Canyon Lodge North Rim, located in a quieter, less-visited part of the national park.
The woodsy, circa-1930s lodge is a National Historic Landmark and is open seasonally from May to October. It offers several accommodation styles that range from motel rooms to cabins; plus you'll enjoy a full dining room, deli and bar. From the lodge, it's easy to jump on North Rim hiking and biking trails or to sign up for a trail ride. Best move? Put your feet up and enjoy the breathtaking canyon views.
If you can't reserve a Navajo guide for Canyon de Chelly…
…then try the Antelope House Overlook
— and for good reason. With its mineral-stained canyon walls, lush riparian vegetation and spectacular Spider Rock spire, the place boasts natural wonders rarely seen anywhere else. But you need a Navajo guide to accompany you to the canyon floor, where many Navajo families still live.


However, you can go it alone if you follow the North Rim Drive in the National Monument to Antelope House Overlook. Here, you can see the ruins of Antelope House, as well as other smaller sites, deep in Black Rock Canyon. From the parking area, it's about a half-mile walk to the overlook, which is the first of two along the path. The second overlook gives you an expansive view of a fork in the canyon where Del Muerto and Black Rock canyons meet. Note the towering sandstone island in the middle, which once served as a Navajo fortress.