Road Trips & Tours
Amazing Arizona People and Places Road Trip
Join us on a trip to meet the amazing people behind some of Arizona's most amazing experiences.
We love sharing all the amazing places to visit and experiences awaiting across our state. In 2021, for National Travel & Tourism Week, we sent AOT Director Debbie Johnson and (former) Deputy Director Becky Blaine out on their own Arizona road trip to talk with a few of the people who make Arizona an unrivaled vacation destination.

We followed their trip and turned it into an itinerary for anyone to enjoy.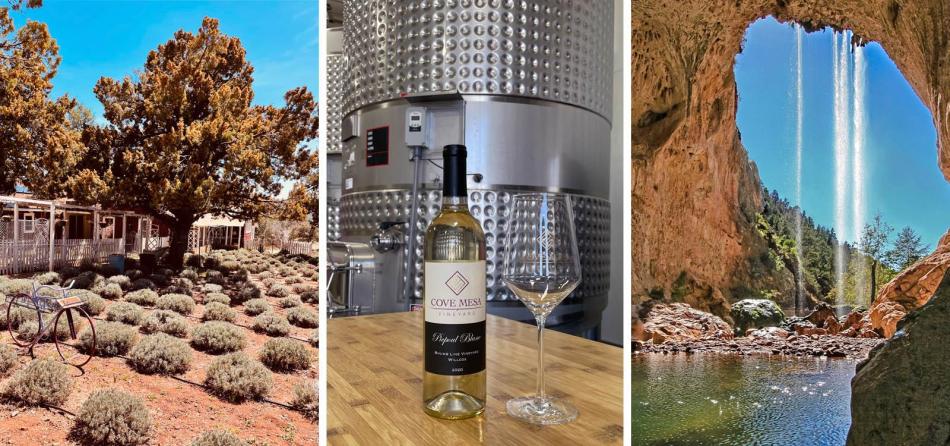 North-Central Arizona
Going there: Phoenix to Pine-Strawberry
Head north from Phoenix toward the Mogollon Rim and the cooler temperatures of the Pine-Strawberry area, located at 5,400 feet.
Things to Do: Provence. Royal Velvet. Grosso. While these sound like they could be these names of fine Arizona wines or other artisan wares, they actually describe the three types of lavender grown at Pine Creek Canyon Lavender Farm. Owner Terry Gorton and her team craft these exquisite plants into a host of artisan products including lavender lotions, soaps, healing salves, hair and beard oil blends. And for those looking for extra indulgence, lavender pound cake, lavender-lemon scones, lavender focaccia breads, lavender shortbread, gluten-free crisp lavender cookies and a host of other items are available for purchase at the farm store. For the culinarily-inclined, there's even an on-site cooking school where visitors can learn how to infuse lavender into all types of dishes. There's always something new to discover.
Meet Terry Gorton, Owner of Pine Creek Canyon Lavender Farm:
Things to Do: Less than 8 miles from the lavender farm is Tonto Natural Bridge State Park. This scenic spot, which just opened a new observation deck, not only offers unbeatable hiking and photo ops of the world's largest natural travertine bridge and Pine Creek below, but also very friendly and knowledgeable Arizona park rangers such as Katie Ferguson, who shared why this state park is such a special place.

Places to Stay: In addition to the farmhouse-style inn itself and surrounding cabins nestled in the mountains, The Strawberry Inn recently added 12 new "tiny cottage" rental options, perfect for just two or for the family. Plus, in addition to its rigorous cleaning procedures, the Inn's rooms are "unhosted" meaning contactless check-in via an access code.
Places to Eat: Pine's Old County Inn doesn't offer rooms to rent, but it is home to wood-fired pizzas and great cocktails, made from scratch with locally sourced ingredients. Plus, THAT Brewery & Pub provides an amazing lineup of beers and food inspired by the natural beauty of the surrounding area. Be sure to try THAT's flagship beer, the Arizona Trail Ale!
Heading back: Strawberry to Camp Verde to Cottonwood to Phoenix
Places to Eat: As you prepare to head back towards the Valley, start your morning at Pine Creek Fudge & Espresso for a great cup of coffee. Plus, this place offers delicious treats including custom and spiced-up traditional fudge flavors, breakfast sandwiches, yummy cinnamon rolls and even ice cream.
Things to Do: About an hour west from the Pine/Strawberry area is Montezuma Castle National Monument in Camp Verde, which offers one of the best-preserved five-story Native American dwellings carved into an ancient limestone cliff. A museum and a picturesque sycamore grove at the cliff base make this a great stop. Complete with a picnic along the shore of Beaver Creek.
Things to Do: Before heading back to the Valley, we recommend a quick 30-minute side trip to visit the Verde Valley Wine Trail. The Cove Mesa Vineyard and Tasting Room, the newest in the Cottonwood area, prides itself on creating small production wines using grapes from the best of Arizona's vineyards.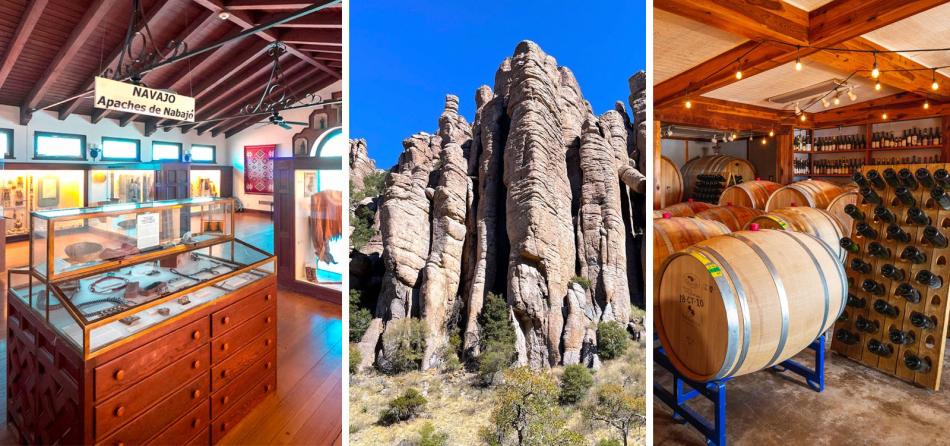 Southern Arizona
Going there: Phoenix to Sonoita-Elgin
Head south from the Valley toward the picturesque rolling, grass-covered hills of Sonoita-Elgin, one of the state's most iconic wine-producing regions.
Things to Do: Visit the Dos Cabezas WineWorks tasting room in Sonoita, where Todd & Kelly Bostock and a small family of WineWorkers turn high-quality fruit from Southern Arizona into an amazing array of award-winning wines. Sampling the wine is just the start of this great experience.
Places to Eat: Pronghorn Pizza is located on the patio of the Dos Cabezas tasting room, serving wood-fired pizzas for every taste with locally sourced ingredients. The pizza trailer keeps things interesting with an evolving menu of pizzas, so it's best to check back often!
Places to Stay: The Casa or Casita NextDoor are, as you may have guessed, literally next door to the Dos Cabezas tasting room and offer visitors the opportunity to stay overnight.
Meet Todd & Kelly Bostock, Owners of Dos Cabezas WineWorks:
Staying Awhile: Sonoita/Elgin to Benson to Willcox
While heading east along Highway 82 toward Benson, be sure to check out some of the other tasting rooms on the way including AZ Hops & Vines, Rune Wines or the newly opened Los Milics Winery and Vineyards, to sample a wide variety of Arizona wines on the Sonoita-Elgin Wine Trail.
Things to Do: While living limestone caves and the world's longest stalactite formation are certainly reason enough to visit Kartchner Caverns State Park, this park also offers great above-ground fun too, including 62 campsites, ADA-accessible restrooms, camping cabins and space for RVs.
Things to Do: Nestled in spectacular Texas Canyon, the Amerind Museum and Kelly Holt, Director of Philanthropy, invite visitors to explore its 1,600-acre campus, located in the ancestral homeland of the Chiricahua Apache. It's renowned for showcasing the archeological history and culture of indigenous people of Arizona and Northern Mexico.
Meet Kelly Holt, Directory of Philanthropy at the Amerind Museum:
Things to Do: Keep following the eastbound I-10 to Willcox, where over 74% of Arizona's wine grapes are grown. Its historic downtown wine-tasting rooms include Keeling-Schaefer, Carlson Creek, Golden Rule, the newly opened Birds and Barrels Vineyards tasting room are just a few in the Cochise County area.
Places to Stay: In the mountain foothills of Willcox, the Rhumb Line Vineyard offers visitors a chance to see where some of the fruit that makes its way into Arizona wines is grown. Although not a wine producer itself, Rhumb Line's Spanish, Italian and Rhône varietals are featured as a part of Arizona producers' wines. Amid this postcard-perfect setting are The Huts at RLV, a perfect glamping spot. Designed with 16 feet of glass at the end, each hut offers an amazing spot for relaxing, sipping the wines you've purchased, and enjoying the surrounding vineyard and mountain views.
Things to Do: From your location at Rhumb Line Vineyard you are in the heart of Arizona's wine-growing region - be sure to check out Bodega Pierce, Pillsbury Wine Company and Zarpara Vineyards.
Heading back: Willcox to Phoenix
Things to Do: Wake up early to challenge part of the 17 miles of trails on the nearly 12,000 acres that comprise Chiricahua National Monument for an energizing morning hike. The history embedded in the unique rock formations inhabiting "The Land of the Standing Rocks" always amazes.
Places to Eat: As you head back to Tucson or Phoenix, stop off at Apple Annie's, which offers 3 separate locations of farm-related fun and treats. Hungry travelers can get the famous all-you-can-eat pancake breakfast and pick a wide variety of seasonal fruit at Apple Annie's Orchard. Regardless of what you decide, Apple Annie's Country Store is always worth a stop before heading home to pick up some fresh-made fudge, apple bread and of course an award-winning apple pie.
Trips & Tips
More Itineraries to Try