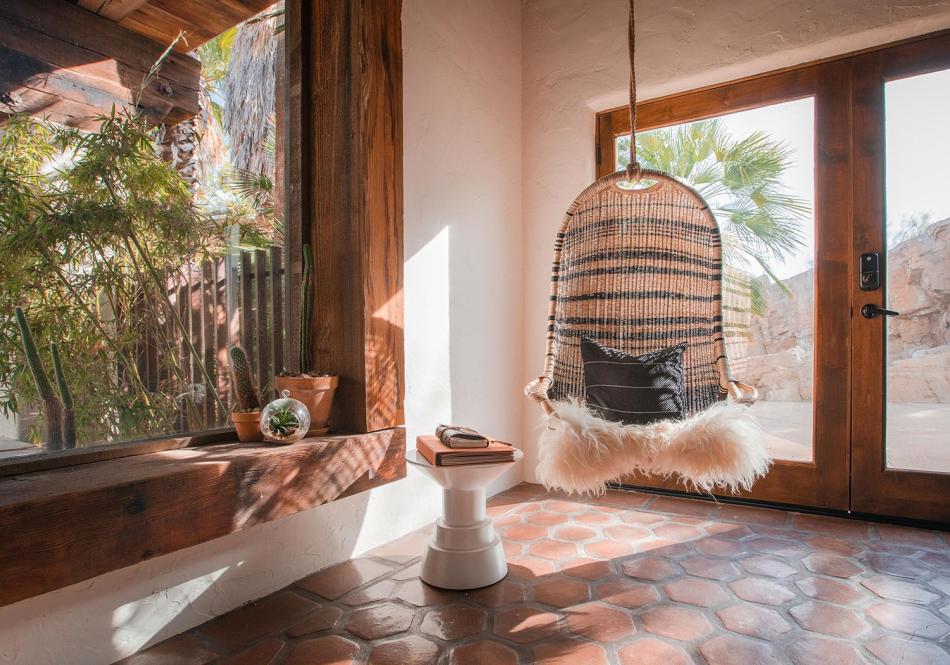 8 of Our Favorite and Top-Rated Arizona AirBnBs
The way we travel continues to evolve, but something that will never change is our desire to stay in truly unique places. These Arizona vacation rentals span the state and set themselves apart with interesting origin stories, eye-catching design and the opportunity to connect with Arizona's natural beauty.
Note: The costs and average ratings listed below were accurate at the time of posting. We always recommend you check with the property for the latest cost and availability.

Vintage trailer tucked in the pines
Ten miles from downtown Flagstaff, the restored 1965 Airstream trailer, Airstream Dreaming, is certainly spacious and comfortable on the inside, but you'll likely spend most of your time outdoors. Parked on a half-acre plot, the 25-foot trailer takes advantage of its countryside environs with a picnic table where you can have breakfast al fresco or watch as the sun sets behind the San Francisco Peaks.
Cost: starting at $80/night
Average rating: 4.96
A celestial stay
A stay at Arcosanti—Italian-American architect Paolo Soleri's minimalist urban design experiment in Mayer (an hour north of Phoenix)—is a must. Built 1970, the complex offers a true escape, and accommodations reflect Soleri's vision. The Sky Suite takes advantage of the views and light. The smaller Greenhouse Guest Rooms feature individual art and handmade furniture, as well as views of the Agua Fria River riparian area and the Valletta Canyon.
Cost: $190/night
Average rating: 4.75
Dome life in the city
Aptly named Dome Sweet Dome, this desert dome house offers a secluded stay in the heart of Phoenix, just a few minutes' walk from the Phoenix Mountains Preserve and a short drive from restaurants and shops. Once featured in Life magazine, the house is flooded with natural light thanks to expansive windows and high ceilings. Outside, snuggle by the chiminea, dine on the covered patio or follow a path to a nearby hiking trail.
Cost: $125/night
Average rating: 4.96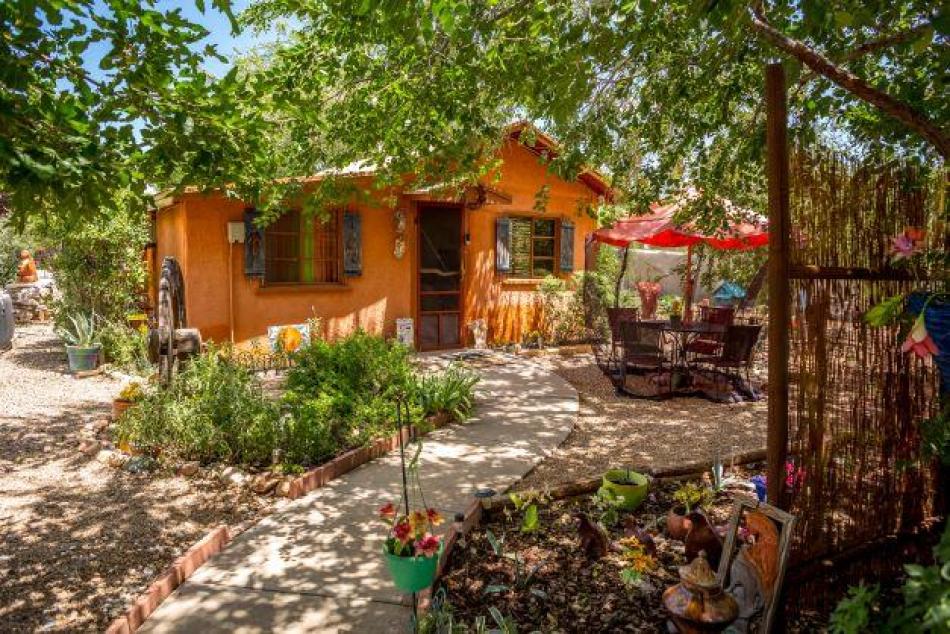 An oasis in the desert
Like some others on this list, the Hidden Oasis BnB is practically a destination in its own right. Located on a hilltop in Dragoon, about 45 minutes east of Tucson, this small bed and breakfast is made up of four casitas and the main house, where breakfast and other meals are served (the owners specialize in Cajun, Caribbean, Italian, Indian & American-style cuisines). What makes the setting special are the numerous gardens, two ponds, mini golf area, and other features, such as the historic 1890 chapel, Capilla de Paz, and proximity to Amerind Museum (less than two miles away).
Cost: starting at $109/night
Average rating: 4.86
Historic home with farmland for days
Rustic charm is plentiful at Historic Dairy, a Cottonwood landmark just 25 minutes west of Sedona. Once home to the Verde Dairy Cottage, this house was part of a dairy farm that delivered milk to all of the Verde Valley. Today, the nearly 100-year-old building retains elements of the original but with a farm-chic design. Think vaulted ceilings, a loft with custom wood railings and butcher-block counters in the kitchen. The yard grants you access to the river, and during warmer months, the surrounding fields host grazing cows.
Cost: $172/night
Average rating: 4.96
Quonset huts surrounded by vineyards
Nestled in the mountain foothills of Willcox, the Rhumb Line Vineyard is known for its Spanish, Italian and Rhône varietals and the rows of fresh lavender planted in the fields. Amid this postcard-perfect setting are The Huts at RLV, two Quonset huts—a studio and a suite—where guests can stay overnight. Designed with 16 feet of glass at the end, each offers a beautiful view of the surrounding vineyard and mountains.
Cost: starting at $139/night
Average rating: 5.0
Roomy inn among the saguaros
Joshua Tree House, a five-suite inn near Tucson's Saguaro National Park, is an Instagram profile come to life. Owned and run by designers Sara and Rich Combs, the inn sits on 38 acres of desert flora and fauna. In addition to the sleeping quarters (which you can book individually), guests enjoy shared spaces like a chef's kitchen, pool and rooftop lounge. The lovingly restored building boasts original details—exposed wood beams, terracotta fireplaces—and gets its name from its sister property near Joshua Tree National Park.
Cost: starting at $275 (high season) and $216 (low season)
Average rating: 4.96
Mountain cabin with miles of views
It takes a little effort (and a high-profile vehicle) to get to this remote getaway, but the stunning view from 6,500 feet above sea level is worth it. Off the beaten path and away from the neighbors, The Majestic Mountain Retreat in Prescott was featured on CNBC's "Cash Pad" and is perfect for outdoorsy types (it's close to hiking, mountain biking and fishing) or those seeking a little solitude. The best part: Floor-to-ceiling windows that open up to epic sightlines.
Cost: $195/night
Average rating: 4.96
Beyond the Norm
Even More Places to Stay