Historic Hotels of Arizona
From the heart of city centers to remote outposts, Arizona's historic hotels mix colorful origin stories with creature comforts.
At the start of the 20th century, the railroad, open road and air travel brought a new kind of visitor to Arizona. The well-known and well-heeled wanted worldly comforts while still experiencing the "wild west." These days, you can still surround yourself with history during a stay at one of these restored hotels.
Connor Hotel
160 Main St
Jerome, AZ 86331

The Connor Hotel in Jerome—built in 1898 and rebuilt a year later following a fire—provided a European-style stopover for train passengers at the height of the town's copper boom. Its 12 surviving rooms above a block of retail businesses are decorated in Victorian-style furniture and wallpaper.
Hotel Weatherford
23 N Leroux St
Flagstaff, AZ 86001

Hotel Weatherford, aka The Weatherford Hotel, in downtown Flagstaff harks back to slower times with its wraparound balcony, rooftop spire and rooms without the distractions of televisions and phones. The 1900 hotel has 11 charmingly decorated rooms, three of which share a bathroom. Refuel or relax in the property's three restaurants with bars.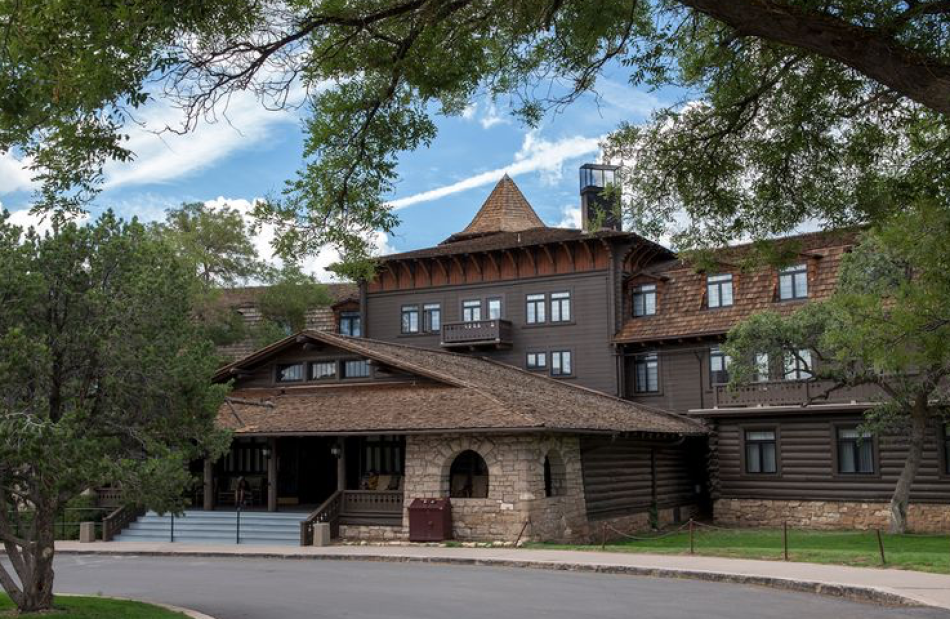 El Tovar
9 Village Loop Drive
Grand Canyon Village, AZ 86023

To appeal to elite travelers to the Grand Canyon, El Tovar was built in 1905 to look like a Swiss chalet or Norwegian villa. It existed before the Grand Canyon National Park was established, built as a Harvey House to serve visitors coming by train. Today, the hotel, with its 78 distinctive rooms and its rustic, mural-clad dining room, is considered the crown jewel of Historic National Park Lodges.
Copper Queen Hotel
11 Howell Ave
Bisbee, AZ 85603

Phelps-Dodge Mining Company built the Copper Queen Hotel in hilly Bisbee in 1902 to host dignitaries and investors in classical Italianate surroundings. In the middle of the historic downtown, it still has its Italian mosaic tile in the lobby and imported wallpapers in its 53 rooms.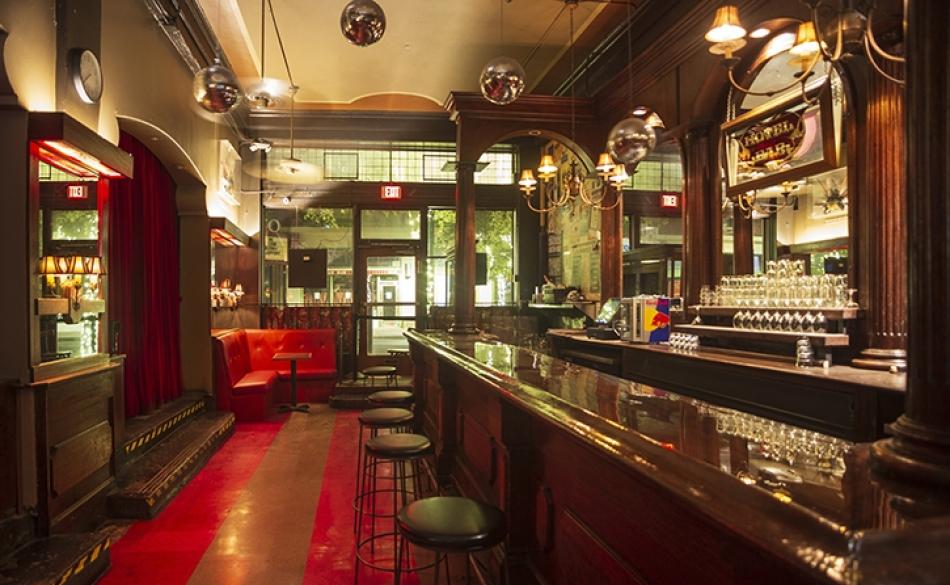 Hotel Congress
311 E Congress St
Tucson, AZ 85701

Built across from the train depot, Tucson's Hotel Congress opened in 1919 to provide top-notch accommodations to railroad passengers. A fire in 1934 destroyed the third floor but also flushed out members of the John Dillinger gang. The most wanted bank robber was captured days later. The hotel's 40 rooms in vibrant downtown have iron-framed beds, vintage radios and 1930s-style phones connected to a switchboard.
Hassayampa Inn
122 E Gurley St
Prescott, AZ 86301

Art Deco and the Roaring 20s provide the motif for the Hassayampa Inn in Prescott. Opened in 1927, it was financed by residents who wanted to attract travelers along a new highway called Route 66. Its 67 rooms have modern conveniences and decor, while public areas feature stained-glass doors, hand-painted ceiling beams, wall murals and the original Otis elevator.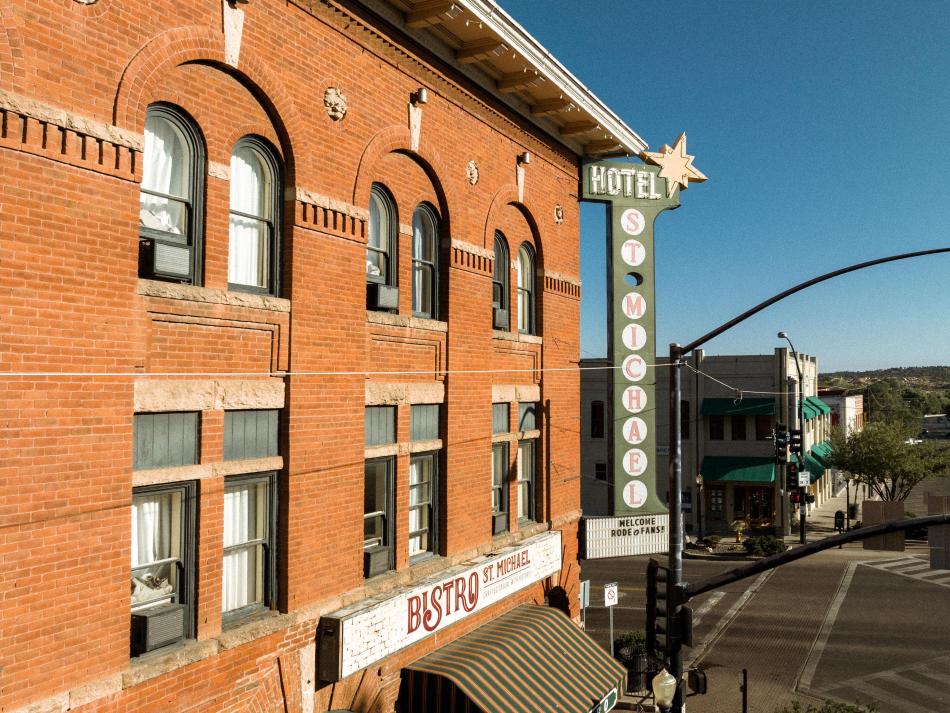 Hotel St. Michael
205 W Gurley St
Prescott, AZ 86301

The Hotel St. Michael is an ideal downtown Prescott location, just steps away from lively atmospheres, boutique shops and historical museums. Many of the rooms have a view of the beautifully landscaped Courthouse plaza. Diverse in character, the Hotel St. Michael holds a special place in history as the cornerstone of Prescott's famous street, Whiskey Row.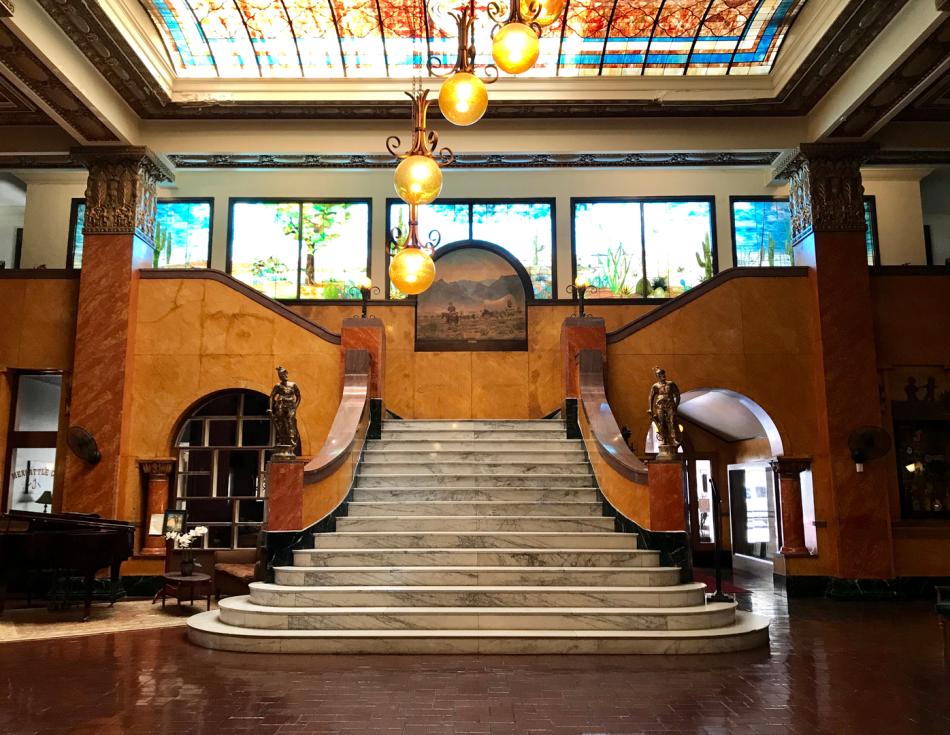 Gadsden Hotel
1046 G Ave
Douglas, AZ 85607

Relax in a well-appointed room with modern decor at the Gadsden Hotel in Douglas. Be wowed by the lobby's Tiffany stained glass windows, Italian marble columns and the grand marble staircase that was part of the 1907 building and survived a 1929 fire. The 54-room establishment hosted cattlemen, ranchers, miners and businessmen pouring into Douglas to establish footholds in the growing city.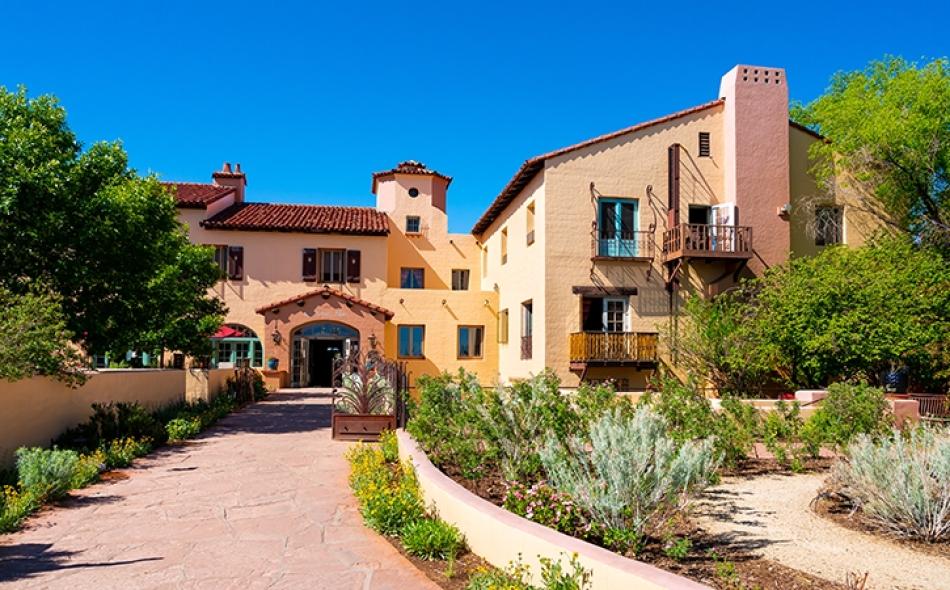 La Posada Hotel
303 E 2nd St
Winslow, AZ 86047

La Posada Hotel & Gardens was one of the last Harvey House properties built for railroad travelers stopping off in Winslow. Built in 1930, it closed as a hotel in 1957. It got new life in an old skin in 1994. Some of the 54 rooms, each named after a famous visitor, still have original bathroom mosaic tiles and claw-foot tubs. Others have whirlpool baths. They're surrounded by original garden spaces, as well as spaces for art exhibits and historical photos.
Hotel San Carlos
202 N Central Ave
Phoenix, AZ 85004

Phoenix was a booming young metropolitan city when Hotel San Carlos opened in 1928—a state-of-the-art accommodation for folks arriving by train, car and eventually air in 1935. Today you can still see many features of the Italian renaissance architecture, stay in one of 128 uniquely decorated rooms and have easy access to downtown shopping, attractions and nightlife.