Sunset Crater Volcano National Monument
Explore the 3,040 acres of Sunset Crater Volcano National Monument in Arizona. Drive, hike, or bike through the park.
A mere 1,000 years ago the earth opened up in Northern Arizona, spewing lava and gases into the air, creating what we now know as Sunset Crater Volcano, named for its rim of red and yellow cinders—mimicking an Arizona sunset. Drive, hike or bike through the park that officially became a national monument in 1930.
History & Nature
The Sinaguan people occupying this area 1,000 years ago must have been warned of the impending explosion, possibly through earthquakes and tremors, because there is no evidence of human casualties resulting from the volcanic eruption. The Sinaguans relocated to communities nearby, like Walnut Canyon and Wupatki, where their farming benefited from the remaining ash and cinders.
Today, the area is a reminder of what took place not long ago. The ground is covered with lava flows and cinder deposits. Yet, wildflowers, pine and aspen trees and desert vegetation also inhabit the area, an example of how life marches on. The lava flows create an extremely inhospitable environment for wildlife, but the cave-like lava tubes do provide homes for insects, spiders, lizards and even bats.
Things To Do
Explore the 3,040 acres of this National Monument by foot, or on wheels. You can drive or bike through the park for an overview of the sites, or hike your way through lava flows and trails. Guided tours are also available, offering you an even deeper knowledge of the history and ecology of the area. There are other programs and events held at the monument throughout the year, check the website for the most up-to-date schedule.
Hotels, Lodging & Camping
There is plenty of lodging, including hotels, motels and RV parks, available in the nearby Flagstaff area. Camping is not permitted within the monument, however Bonito Campground is located across from the Sunset Crater National Monument visitor center, and is usually open from May–October.
Hours & Pricing
Open daily, sunrise – sunset, year-round.
Scenic Drive: Open daily and nightly, year-round.
Visitor Center: Open daily, 9 a.m. – 5 p.m., closed Christmas Day.
* Please verify hours on the website.
Entrance Fees (includes entry to both Wupatki and Sunset Crater Volcano National Monuments):
Per Vehicle: $25/7 days
Motorcycles: $20/7 days
Individual/Bicycle: $15/7 days
For More Information
Sunset Crater Volcano National Monument
6082 Sunset Crater Road
Flagstaff, AZ 86004
(928) 526-0502
More to Explore Near Sunset Crater Volcano National Monument
Cities
Enjoy all four seasons in Northern Arizona's largest city — located along historic Route 66 just 80 miles from the Grand Canyon.
Located in Flagstaff, Walnut Canyon National Monument is a natural gem in central Arizona that offers opportunities to enjoy the outdoors and...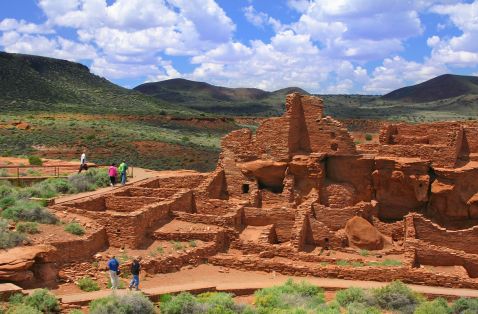 Wupatki National Monument, near Flagstaff, AZ preserves pueblos once inhabited by ancestors of the Hopi and Zuni people, amid red rocks and...