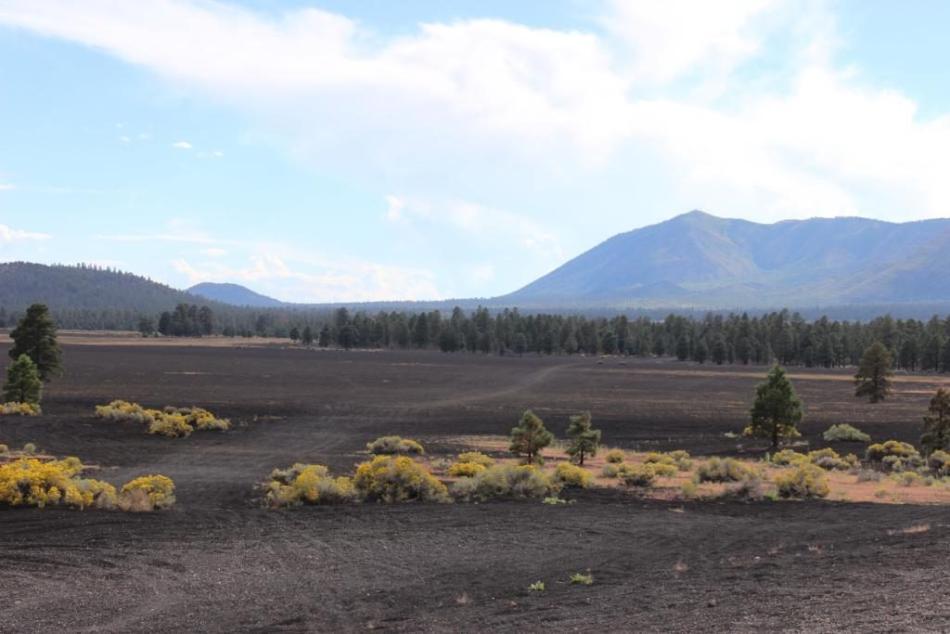 Outdoor Adventures
Hit the Open Road: 5 Off-Road Trails in Arizona
Explore Arizona by taking the road less traveled.
During an Arizona-based taping of "Top Gear" (U.S.) host, Rutledge Wood noted, "We've been on sand. We've done rock crawling. We've been on snow, and now what looks like volcanic ash, and we haven't left the state."
To most Arizonans, this isn't surprising. It's one of the reasons why Arizona is a great place for an off-the-beaten-path, off-roading adventure.
Off-roading, the activity or sport of driving a motor vehicle through rough terrain, is something people should do at least once in their life. Traveling this way makes it possible to steer clear of well-known routes, and camp, hike and explore with whoever might be riding along. (And, as in my case, you might just get hooked.)
Whatever you choose—ATVs, side-by-sides or an SUV—try the trails. Below are five of my favorites; these offer varying levels of difficulty and vehicle requirements, but provide something for first-timers and experienced drivers alike.
Duquesne to Lochiel to Harshaw
Trail start: 31°23'15.71"N 110°52'15.22"W
Difficulty: Easy
This easy day-trip starts just east of Nogales in southern Arizona. The dirt road quickly climbs into the Patagonia Mountains and passes two ghost towns, Washington Camp and Duquesne, before it ends at a monument on the U.S.-Mexico border. The trail then tracks back north, turning into Harshaw Road, and passing Harshaw ghost town, before ending in Patagonia. Overall, the trip is just less than 50 miles and is something that can be completed in almost any vehicle, any time. This is a great trail to experience some history and see wide grasslands and forested mountains.
Harquahala Mountain Byway
Trail start: 33°43'44.43"N 113°17'48.51"W
Difficulty: Moderate; requires 4-wheel drive
This is another great scenic trip for those who have a day to kill; however, this one requires a more capable vehicle, preferably a 4-wheel drive or at the very least, one with plenty of ground clearance. The trail begins about 80 miles west of Phoenix along Eagle Eye Road. About 10 miles in, the trail climbs more than 3,000 feet toward the summit of the Harquahala Mountains. At the top you'll find signs of a past life—buildings and ruins from a Smithsonian Observatory built in the 1920s and since abandoned. There are ample hiking and areas to explore on the way up, and the summit makes a good place to enjoy the 360-degree view from more than 5,600 feet up.
Backway to Crown King
Trail start: 33°56'12.04"N 112°19'27.23"W
Difficulty: Challenging
If you haven't heard of this trail, you are missing out on a true adrenaline-pumping experience. This is one of the most legendary trails in Arizona. You'll leave from north of Lake Pleasant and climb 26 miles into the Bradshaw Mountains to the small town of Crown King. There is an easier road (Crown King Road from I-17) that arrives at the same place, but if you want a real challenge and have a capable vehicle (ATVs, trail-ready SUV, etc.) opt for this route.
As this is one of the more challenging trails, I'd recommend traveling in a group and researching ahead of time because conditions can change and quickly make this trail significantly more difficult. Regardless, you'll pass through ghost towns and take in some great views. Once you're in Crown King, there's a cool oasis to escape the intense summer heat. Food, gas, and lodging are all available here.
Broken Arrow Trail
Trail start: 34°50'43.69"N 111°45'26.48"W
Difficulty: Moderate
Another legendary trail is found in Sedona. Sedona is to the off-roading community what Gettysburg is to a history buff. This trail is a measly four miles, but due to its difficulty, and the sometimes heavy traffic, it can take several hours to complete. You'll drive on and over the beautiful red rocks the entire time, which makes for some pretty fantastic photos and gives the driver a chance to test their skills. Even better, there are plenty of options; you can sit back and relax while completing the trail on a guided Jeep trip, rent a Jeep to do it on your own, or take your own vehicle. No matter how you do it, it's a trip you shouldn't miss if you're in the area.
Cinder Hills OHV Area
Trail start: 35°19'43.41"N 111°31'24.51"W
Difficulty: Easy
Finally, consider Cinder Hills OHV (Off-Highway Vehicle) area northeast of Flagstaff. This is basically a big, open playground to take your vehicle and play in the unique volcanic cinder cones in the area. There is a park boundary, but you're allowed to go wherever you want as long as you abide by a few rules. Whether that's right up to a volcano or just an easy cruise around the designated trails, it's a fun way to spend a few hours or even a few days. The different terrain here is almost like being in the sand dunes because of the very fine pebbles that make up the area.
---
These are just five of the hundreds of trails you can explore in Arizona. Try one of these with friends, go in a capable vehicle and you're sure to have an unforgettable experience. For more trail ideas, pick up a guidebook (they exist), do some online research and check out my personal site: azoffroad.net. See you on the trails!