Wupatki National Monument
Less than an hour north of Flagstaff, amid red rocks and prairies, Wupatki National Monument preserves pueblos once inhabited by ancestors of the Hopi and Zuni people.
Curious about ancient civilizations? You've come to the right place. Wupatki National Monument offers a glimpse into the past, where the ancestors of today's Hopi, Zuni and other Puebloan people built the Citadel and Wupatki pueblos.
History and nature
Tucked between the Painted Desert and the ponderosa highlands of northern Arizona, Wupatki's history as a community dates back centuries. For thousands of years, many communities of hunter-gatherers and merchants called it home, subsisting on water from the Wupatki Spring (now dry) and a diet of corn, beans, squash, seeds and grains, plus fresh meat from hunting.

In 1924, President Calvin Coolidge established Wupatki as a national monument in an effort to preserve and study this archaeological site, its important cultural heritage, and the rich human history that exists here.
The pueblos were inhabited by the ancestors of contemporary pueblo tribes from the 1100s, then later by sheep herders ranches, and rangers. Archaeological evidence shows trade among the people that lived here, including copper bells, shell bracelets and macaw parrots, all of which took place for hundreds of miles in all directions.
Most wildlife in the monument is crepuscular - animals that are primarily active in the early mornings and late evenings. If you arrive early to the area, you may see coyotes, mule deer, pronghorn, rabbits, lizards, and various species of birds.

"While Wupatki is protected specifically for its unique archaeological resources, that's only part of the story. If you visit, you will see incredible examples of geology, plant life, wildlife, and dark skies."

– Lauren Carter, Lead Interpretation Ranger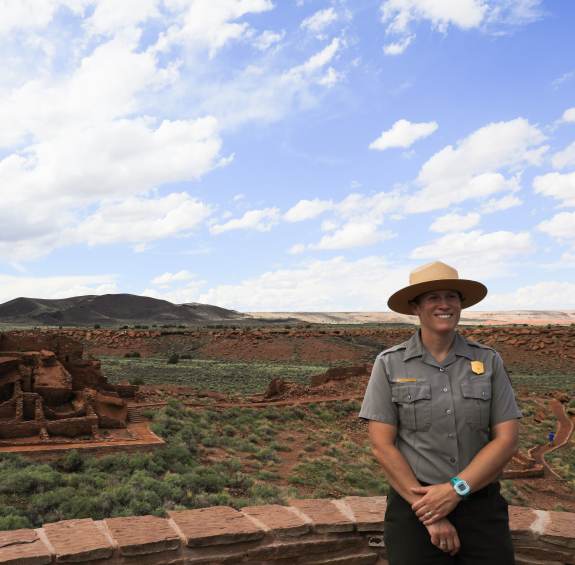 Things to do at Wupatki NM
Within the monument, there are seven different pueblos to see within 4 different trails. Visitors to the ruins today will see what remains of the pueblo structures amidst a red rock outcropping surrounded by miles of prairie. As you spend time here, ponder the resilience of people who carved their existence out of this challenging landscape.

To get the most out of your trip, pick from four different hiking trails throughout the monument. The trails—all rated easy—lead to different pueblos and are roughly between 0.2 – 0.5 miles roundtrip. (The Wuptaki Pueblo, Wukoki Pueblo, and Nalakihu Pueblo all have parts that are wheelchair accessible.)

For the truly adventurous, a variety of guided and off-trail ranger-lead hikes are offered from November to March, ranging from moderate to very strenuous. These hikes give visitors the opportunity to see petroglyphs and different pueblo structures. The Crack-in-Rock overnight hike is a two-day backpacking trip in an isolated area of Wupatki National Monument that explores rock art and pueblo architecture in an area that is usually closed to visitors. Signups happen via lottery for two trips—one in April, and another in October.


Places to stay
The closest hotel accommodations and restaurants are available about 40 minutes south in the town of Flagstaff. While camping is not permitted in Wuptaki National Monument, Coconino National Forest offers various camping opportunities near the monument, including reservable campgrounds and dispersed areas.
Hours & Pricing
Open daily, sunrise – sunset, year-round.
Visitor Center: Open daily, 9 a.m. – 5 p.m., closed Christmas Day and New Year's Day
* Please verify hours on the website.
Entrance Fees (includes entry to both Wupatki and Sunset Crater Volcano National Monuments):
Per Vehicle: $25/7 days
Motorcycles: $20/7 days
Individual/Bicycle: $15/7 days
More to Discover Near Wupatki National Monument