Imperial National Wildlife Refuge
Explore the wetlands of the Imperial National Wildlife Refuge near Yuma, AZ. Hunt, fish, and boat in this oasis surrounded by the Sonoran Desert.
You might not expect to find an area that's dedicated to protecting wetlands in the Sonoran Desert, but that's exactly what you'll discover at the Imperial National Wildlife Refuge. Spanning 25,768 acres, the refuge protects 30 miles of wildlife habitat along the Lower Colorado River.
History & Nature
The wetlands were created after the completion of the Imperial Dam back in 1938, and the Wildlife Refuge was established in 1941. Backwaters formed behind the dam, and it became the perfect spot for birds and other wildlife to move in. The Colorado River is the boundary between Arizona and California, and this refuge is the last unchannelized section before it flows into Mexico.
Things To Do
Surrounded by desert mountains, the lush area of the refuge is an unexpected green oasis. You'll want to admire this special place quietly: the main goal of the refuge is to ensure that nature always remains the primary influence on this place of serenity.
Watch wildlife from the Painted Desert Trail or Meers Point Trail, or at one of four observation points. Hunting is one of the priority recreational uses here, where you can find quail, fox, coyote, ducks, coots, geese, white winged dove, mourning dove, deer, desert bighorn sheep, and cottontail rabbit during the appropriate season. Fishing and boating are popular at Meers Point Recreation Area and Clear Lake, so bring a boat! And don't forget your camera, with over 200 species of migrating birds found here each winter, this is an outstanding place to snap memorable pictures.
Hotels, Lodging & Camping
By its nature, the wildlife refuge is isolated, but Yuma is approximately 40 miles away. You'll find plenty of comfortable hotels and motels to provide you with a just the right place to relax after a busy day outdoors.
Hours & Pricing
Refuge open daily, year-round.
Visitor Center Hours:
Winter: November 15 - March 31:
Monday - Friday: 8:00 a.m. - 4:30 p.m.
Saturday & Sunday: 9:00 a.m. - 4:00 p.m.
Summer: April 1 - November 14
Monday - Friday, 8:00 a.m. – 4:30 p.m.
Staff may be in the field and unavailable, please call ahead to confirm.
* Please verify hours on the website.
Entrance Fee: Free
For More Information
Imperial National Wildlife Refuge
PO Box 72217
Yuma, AZ 85365
(928) 783-3371
More to Discover Near Imperial National Wildlife Refuge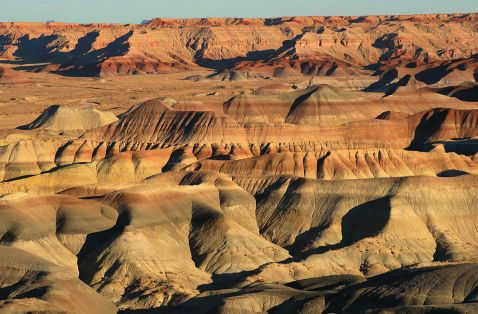 Colorful badlands meet the Mother Road in Arizona's high desert. Looking like pastel mounds of Neapolitan ice cream, Northern Arizona's Painted...
Take a trip back in time at Colorado River State Historic Park, which the U.S. army once used to unload, store, and distribute supplies.