Imperial National Wildlife Refuge
Visit surprising wetlands near Yuma that create a green oasis surrounded by rugged desert terrain.
Imperial Dam was built on the Colorado River in 1938, just north of Yuma. After backwaters formed wetlands, birds and wildlife flourished in the area. This refuge protects 30 miles of wetlands habitat along the last stretch of the Colorado River before it flows into Mexico. Admire the beauty of this oasis in the Sonoran Desert at one of four observation points off Red Cloud Mine Road that present panoramic photo ops of the marshes and unusual desert landscapes. Visitors can go deeper into the refuge on trails that lead to natural wonders.
Set Off on Hiking Trails
Explore remote desert mountains on hiking trails inside the refuge. From the visitors center, access Meers Point Trail for a short stroll that begins at the observation platform overlooking Martinez Lake. The longer Painted Desert Trail loops 1.3 miles into the surrounding desert. Hikers see a spectrum of colors in the mineral-rich rock formations left behind by ancient volcanic activity. This trail winds through craggy canyons and along dry rocky washes, remote places where sightings of wild burros and bighorn sheep are common.
Cast a Fishing Line
On the drive north of Yuma to the refuge, expect to share the road with visitors pulling boats. They are heading to Meers Point Recreation Area, which has a boat launch and picnic areas on the shore of Martinez Lake. Others are heading to Fisher's Landing, a nautical community that features a marina, bar and restaurant, bait shop, fuel dock and RV camping sites. Motorized and non-motorized watercraft access this refreshing strip of water year-round. In spring and summer, Fisher's Landing hosts bass and catfish tournaments at one of Arizona's best fishing destinations.
Visit More Wildlife Refuges
The abundance of wildlife supported by this stretch of the Colorado River is astonishing. Some 200 species of migrating birds find this special waterway, especially in winter. Bighorn sheep and mule deer come to the water at dawn and dusk. Two other refuges in the area invite visitors to enjoy wildlife viewing and outdoor activities in Arizona. Cibola National Wildlife Refuge along the Colorado River just north of Imperial is another vast marshland that attracts migratory birds and supports native wildlife. Kofa National Wildlife Refuge is an expansive wilderness preserve in the surrounding desert established in 1939 to protect native bighorn sheep.

For More Information
For the most current information on operating days, hours and pricing, please visit the destination website.
More to Discover Near Imperial National Wildlife Refuge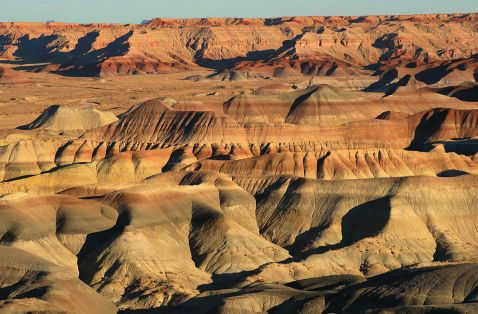 Colorful badlands meet the Mother Road in Arizona's high desert. Looking like pastel mounds of Neapolitan ice cream, Northern Arizona's Painted...
Take a trip back in time at Colorado River State Historic Park, which the U.S. army once used to unload, store, and distribute supplies.