Relish the great outdoors. Flanked by the rugged superstition mountains, Apache Junction is a desert playground with a historic past.
Locals call the jagged mountains southeast of Phoenix the "Supes." The iconic range is home to some of the state's most photographed trails as well as the Weavers Needle formation, Peralta Canyon, and the fabled Lost Dutchman's Gold Mine. As the legend goes, an immigrant discovered gold in the Superstition Wilderness, revealing it on his deathbed. Tons of gold has been unearthed in the region, but none verified as his.

Along the Apache Trail, you can take a mine tour and pan for gold at Goldfield Ghost Town, a recreated boomtown that's great fun for the whole family. You can also ride Arizona's only narrow-gauge railroad, catch a mock gunfight, visit the Superstition Mountain Museum, or, if you dare, take a ride on the Superstition Zipline.
But it's gold of another kind – celebrated Sonoran Desert sunrises and sunsets – that draw most visitors. This is a paradise for outdoor enthusiasts thanks to the wide-open vistas and lush desert vegetation that is especially gorgeous in spring when the cacti and wildflowers are in bloom.
Whether you're hiking, horseback riding, or off-roading, you'll want to continue on to Tortilla Flat. Once a stage stop, today the cantina serves a mean bowl of chili.
More to Explore Near Apache Junction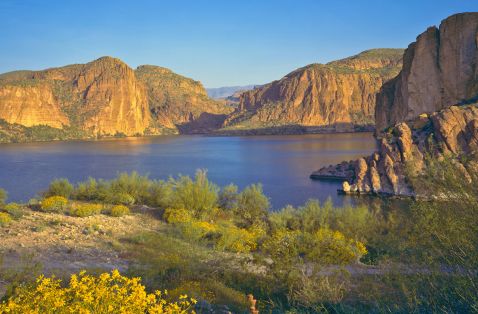 For a cool respite from the big city, relax at this Salt River reservoir 45 minutes east of Phoenix.
Visit the Lost Dutchman State Park for the fabled Lost Dutchman gold, or enjoy the scenic hiking and biking trails. Camping also available.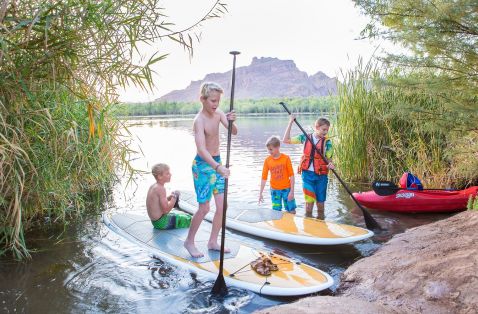 Cities
Look forward to cultivating and celebrating creativity, filling your closet, and soaking up the sun in Arizona's third-largest city.