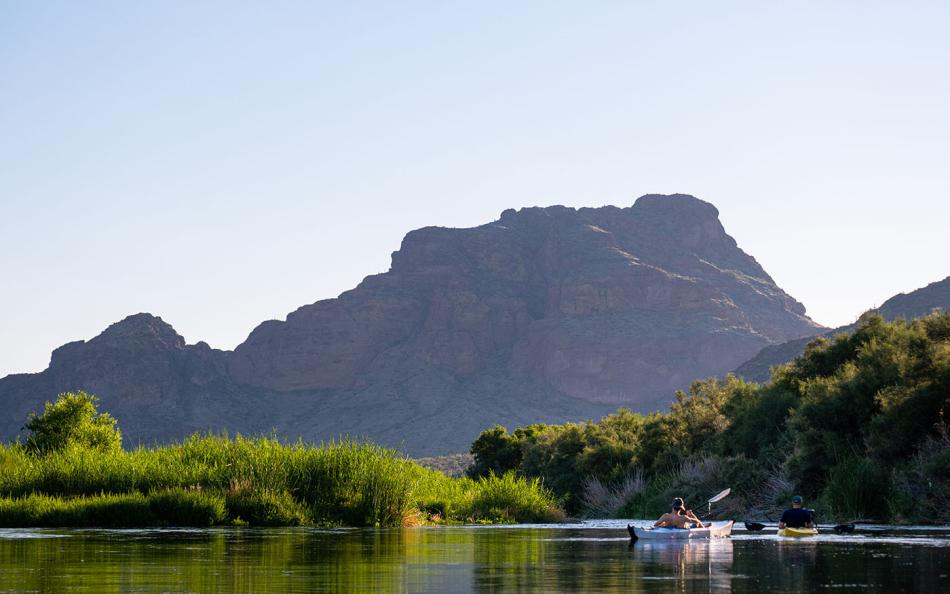 Must Do
Top Spots to Canoe and Kayak in Arizona
In Arizona, you'll find ample opportunities to get out on the water—from the lakes of the Mogollon Rim to the Colorado River in the Grand Canyon. Check out a few of our top spots to canoe and kayak.
1. Lake Pleasant, Morristown
One of the best places to kayak and canoe in Arizona is Lake Pleasant, located 45 minutes northwest of Phoenix. Canyons and cliffs tower over the six-mile lake, islands dot the middle of it and slot canyons hide on the northeast side. There are a lot of Arizona landscapes to explore on a kayak or canoe at Lake Pleasant, so set aside a full day for boating. This is also a popular place for power boaters, which could impact the water's flow. Stick to the shoreline for a smoother ride.
2. Watson Lake, Prescott
Situated just four miles from Prescott, Watson Lake welcomes kayakers to calm waters and up-close views of the Granite Dells. These boulders—rippled into shape by erosion—are 1.4 billion years old and rise from the water and line the lake's shores. Half the fun of kayaking and canoeing Watson Lake is navigating these rock formations in your boat. Don't own a vessel? No problem. Prescott Outdoors offers watercraft rentals (from $15/hour) such as solo kayaks, tandem kayaks, canoes and SUPs.
3. Lower Salt River, Mesa
For city dwellers seeking in-town kayaking and canoeing, look no further than Mesa, near the eastern border of Phoenix, where the Lower Salt River runs—not to be confused with Upper Salt River located within the Fort Apache Indian Reservation and requires a permit from the Tribe.

Kayakers launch from the north end near Saguaro Lake Guest Ranch; this provides a chance to spot wild horses, deer and other wildlife of the Tonto National Forest, as well as wildflowers on Bulldog Cliffs. Expect some rapids at the beginning of the river, but for the most part, the water lets beginner kayakers go with the flow. Exit the river at the southern end near Phon D Sutton, a popular take-out spot. Note: You will need two vehicles for drop-off and pick-up as there's no shuttle service.
4. Colorado River, Lees Ferry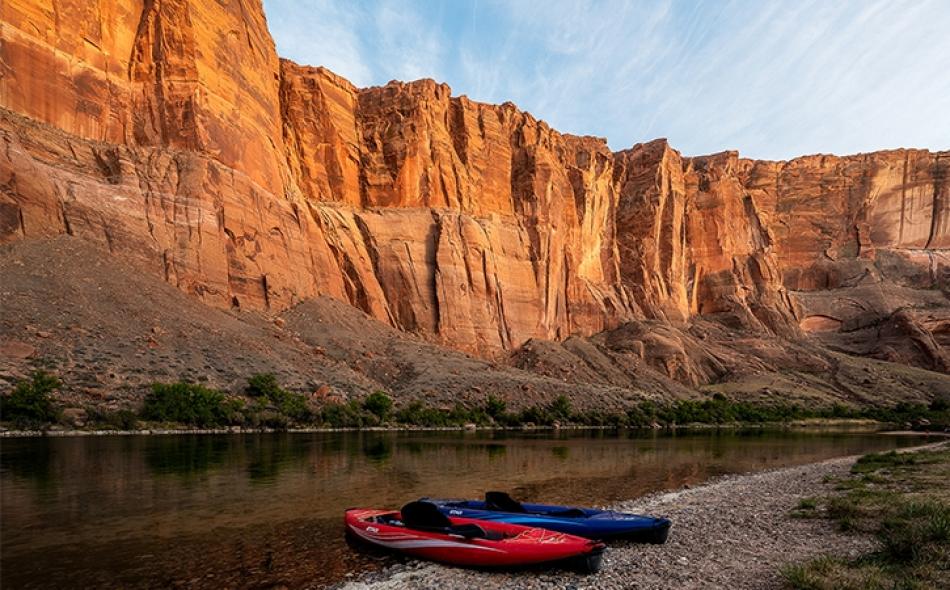 The Colorado River may be synonymous with the epic Grand Canyon, but other majestic sites await along the mighty river. To kayak the Colorado, put in at Lees Ferry, 42 miles from Page in northern Arizona. From here, paddle upstream. The flow is steady on this kayak adventure and you'll have to use those biceps to keep your vessel from floating back to the ramp, but the stunning vistas through Glen Canyon and by Horseshoe Bend more than make up for it. Look up to see the shifting colors of the sandstone walls; look down into the clear water to see rainbow trout.
5. Fool Hollow Lake Recreation Area, Show Low
Fool Hollow Lake Recreation Area in the Apache-Sitgreaves National Forest is one of the coolest parts of the state with temperatures in the mid-80s even during the hottest months of summer. As far as kayaking and canoeing in Arizona go, Fool Hollow Lake offers pristine waters perfect for all skill levels. The 150-acre lake sits in the shade of the world's largest belt of ponderosa pines and the boat-motor restrictions mean no boat wakes. During the summer, kayak and canoe rentals are available at J&T's WildLife Outdoors (from $20/hour) near the east boat launch ramp. The Fool Hollow Lake Recreation Area entrance fee costs $7-$10 per vehicle.
6. Canyon Lake, Mesa/Apache Junction
It's hard to choose just one starring attraction at Canyon Lake located in the Tonto National Forest. It could be the jagged red-rock cliffs. Or the secluded coves at the east end of the lake. Maybe it's the bighorn sheep that cling to the cliffside or even the wildflowers that sprout up along the shoreline in spring. No matter what you decide is Canyon Lake's best attribute, you'll be able to see it all from a kayak or canoe. The lake's waters can get a little choppy, so keep close to the edges for easy boating. Tonto Pass ($8) required.
7. Big Lake, Springerville
The beautiful blue waters of Big Lake Recreation Area, located 25 miles south of Springerville at an elevation of 9,000 feet, are popular with anglers thanks to its plentiful supply of rainbow, brook and cutthroat trout. But Blue Lake is also considered one of the best places to kayak in Arizona. This hidden gem is tucked away in the White Mountains and its serene waters sprawl over 450 acres. Blue Lake offers it all: tranquil waters, scenic vistas, and a remote, away-from-it-all locale. Disconnect and enjoy. To get to Big Lake from Springerville, travel 5 miles west to AZ-261, then travel 18 miles to FR-113. Turn left. Drive 2 miles to FR-115 and turn right at the entrance.
8. Lake Powell, Page
Lake Powell is popular with watercraft of all sizes, and for good reason. The lake stretches 180 miles long and contains more than 96 side canyons ripe for exploration. It's these canyons where boaters in smaller vessels like kayaks and canoes go when they're looking to get away from the lake's hubbub. Favorites include Antelope Canyon, Labyrinth Canyon with its maze of sandstone walls, and Lone Star Canyon. The water is suitable for both experienced kayakers and beginners, and Kayak Lake Powell offers guided kayaking tours into the canyons and boat and standup paddleboards (SUP) rentals. Rent a houseboat through Lake Powell Resorts & Marina for a more immersive, on-the-water stay.
9. Blue Ridge Reservoir, Happy Jack
Perched on the Mogollon Rim, Blue Ridge Reservoir offers mellow waters for relaxed paddling in Arizona. The lake looks more like a river—flanked by canyons and without much shoreline or beach—snaking through the pine-studded scenery. There's very little traffic along the reservoir and motorboats aren't allowed, so for kayakers in search of solo time, Blue Ridge is ideal. No permit is required to put in. To reach Blue Ridge Reservoir, drive 55 miles south of Flagstaff to Clints Well on FR- 3 (Lake Mary Road). Turn left on AZ-87 and go 4 miles to FR-138. Follow this to the Blue Ridge Campground and Blue Ridge Reservoir.

Note: Park ONLY in the designated parking spaces on FR 751 in the restricted area. During the winter, the reservoir closes to the public.
10. Patagonia Lake, Patagonia
A kayaking and canoeing favorite, Patagonia Lake State Park is a watery oasis in the middle of Southern Arizona's mostly desert region. The lake was created by damming nearby Sonoita Creek. As you paddle Patagonia Lake, keep your eyes open for birds that call this area home, such as great blue herons, Inca dove, vermilion flycatcher and various species of hummingbirds. For calm waters, kayakers should head to the lake's east end, where no-wake regulations are in place. Patagonia Lake also offers boat-in-only campsites, which line the shores and are delightfully remote and private.
---
Note: Costs and fees mentioned above were accurate at the time of publication. We do our best to maintain the information; however, we recommend you visit each destination's website for the most up-to-date pricing and details.
Find Your Oasis
Blessed with 128 lakes and 5 major rivers, Arizona beckons outdoor enthusiasts to hike, raft, ski and fish year-round.
Outdoor Adventures
Known for its iconic deserts, Arizona surprises with sandy beaches perfect for lounging or launching a water adventure.