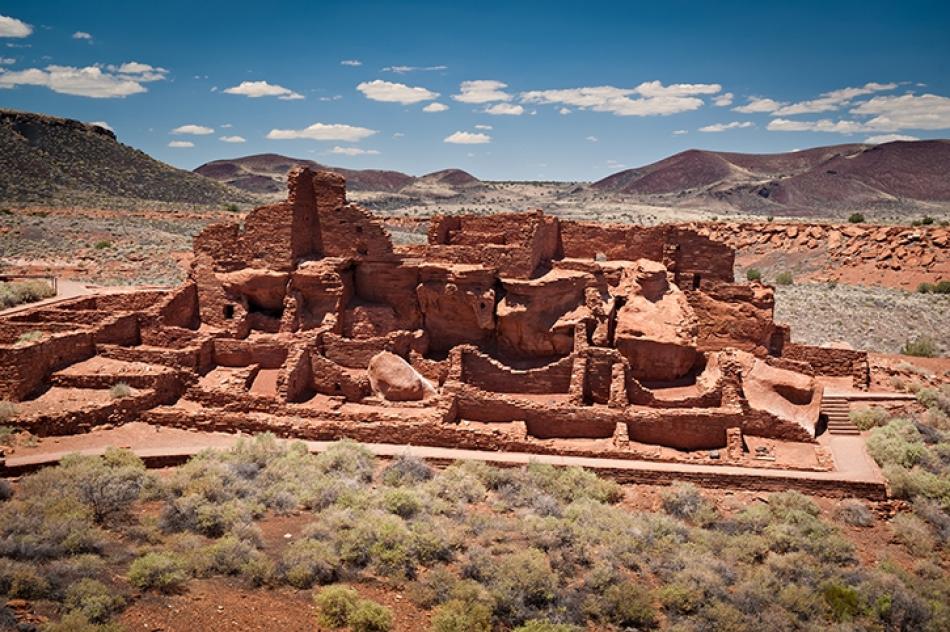 Heritage & Culture
Stories of the Ancients
To truly understand Arizona means walking ancient paths. Take time to learn about the first peoples that populated the land as you explore prehistoric dwellings, the weathered remains of entire villages, artwork etched into rocks, relics and artifacts that are all part of the archeological legacy left behind by different cultures. These are the stories that shaped Arizona
Tuzigoot National Monument
Rock walls crown a hilltop above the Verde River in Cottonwood and spill down the ridgeline. Tuzigoot National Monument protects the remnants of this ancient Sinagua pueblo built between AD 1125 and 1400. Walk the loop trail to savor the wraparound views of the lush Verde Valley framed by rising mountains. The National Park Service has restored a two-story room at Tuzigoot (Apache for "crooked water") so visitors can admire the building techniques and materials used by these resourceful people.
Montezuma Castle National Monument
No one forgets their first sighting of the ancient high-rise of Montezuma Castle National Monument. Tucked in an alcove in a limestone wall, the imposing five-story cliff dwelling perches above the Beaver Creek floodplain at the edge of Camp Verde. Early settlers believed it belonged to Aztec emperor Montezuma, and the name stuck. A paved trail meanders beneath the shade of graceful sycamore trees and leads to scenic viewpoints of the towering cliff house built by the Sinagua people more than 800 years ago.
Wupatki National Monument
On the quiet prairie north of Flagstaff, the pueblos of Wupatki National Monument rise like red-boned ghosts above swaying grasses. The dwellings were the work of Ancient Puebloans through the centuries, including the Hohokam, Cohonina, Kayenta and Sinagua cultures. They were constructed from thin blocks of Moenkopi sandstone, giving them their distinctive red color. Most were built more than 900 years ago. A paved trail curves past Wupatki Pueblo - at three stories and nearly 100 rooms, the largest structure in the park.
Walnut Canyon National Monument
Walnut Canyon National Monument is an upside-down Wupatki. Instead of large multi-room pueblos skylined above open prairie, the smaller dwellings of Walnut Canyon are secreted away in this forested gorge east of Flagstaff. The Sinagua people utilized the natural contours of the canyon, building rock shelters in shallow alcoves below the rim. Their cliff dwellings are well preserved, and some can be entered. They survived by farming pockets of soil atop the canyon rim. Why the Sinagua abandoned their homes remains unclear, but it is believed they were eventually assimilated into Hopi culture.
Tonto National Monument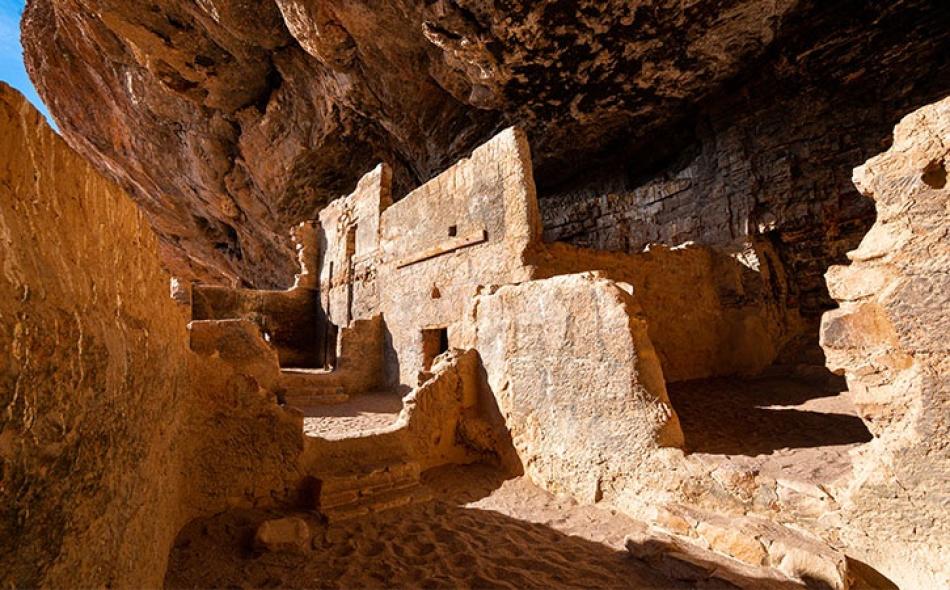 Overlooking Roosevelt Lake, Tonto National Monument showcases two distinctive Salado cliff dwellings. Built in natural caves on the flanks of the Superstition Mountains, the structures date back more than 700 years. The Salado people were known for their artistic flair, producing exquisite pottery and intricate textiles. Artifacts from the site are on display in the visitor center. The Lower Cliff Dwelling is open year-round. The larger Upper Cliff Dwelling is accessible only by guided tours November through April.
Painted Rock Petroglyph Site and Campground
Operated by the Bureau of Land Management, Painted Rock Petroglyph Site and Campground sits amid a lonely stretch of desert, northwest of Gila Bend. Some 800 petroglyphs are carved into a cluster of basalt boulders stacked atop a granite outcropping. The art is thought to be remnants of the Hohokam culture that existed in the area from about AD 350 to 1400. Look for human figures, animals, sun symbols, concentric circles, spirals and mazes. Signs provide historic and cultural information.
Navajo National Monument
Navajo National Monument protects remarkably preserved Ancestral Puebloan dwellings dating back centuries. Built in a cavernous alcove in the canyon wall, Betatakin was occupied in the late 13th century. Advance reservations are required to make the 17-mile round-trip hike to Keet Seel, the largest cliff dwelling in Arizona. Sheltered by a massive rock overhang, Keet Seel is considered to be the most intact large site in the Southwest, looking very much like inhabitants left it 700 years ago. Granaries, pottery, petroglyphs, timbers and corncobs give archeologists a glimpse into the distant past.
Petrified Forest National Park
Tucked away amid the colorful badlands of the Petrified Forest National Park, Newspaper Rock displays headlines from centuries ago. More than 650 petroglyphs, some dating back 2,000 years, are spread across several rock faces. Such a high concentration of rock art marks this as a special place. One look at the rolling grasslands punctuated by petrified logs seamed with color and desert hills painted in sunset hues and you know they were right.
Amerind Museum, Dragoon
Surrounded by the dazzling rock formations of Texas Canyon, the Amerind Museum seeks to promote understanding of America's first peoples through exhibits and artifacts. An impressive art gallery displays works of all Western genres. The beautiful grounds include walking paths and picnic tables set amid the boulder fields.
Heard Museum, Phoenix
Internationally known for its collection of American Indian artifacts and artwork, the Heard gives a contemporary voice to Native cultures. Spacious exhibit galleries and outdoor courtyards feature an array of art in a range of genres and styles, and visitors flock to the Heard for educational programs and vibrant festivals.
Museum of Northern Arizona, Flagstaff
This museum tells the story of the Colorado Plateau. It is a land gnawed by erosion, exposing geologic and scenic wonders ranging from Grand Canyon to Monument Valley to Rainbow Bridge to Canyons of the Ancients. Exhibits encompass the biology, geology, anthropology and art of the region.
Explore Navajo Interactive Museum, Tuba City
Set inside a large dome meant to recall a traditional Navajo Hogan, this 7,000-square-foot facility is one of the best places to discover Dine culture. Visitors will learn about creation stories, ceremonial life, family systems and language.
Article originally published in the 2021 Arizona Official State Travel Guide by Miles Partnership.
EXPERIENCES
The region that became Arizona was inhabited well before statehood. Tour the ancient ruins of American Indian sites, visit historic missions and...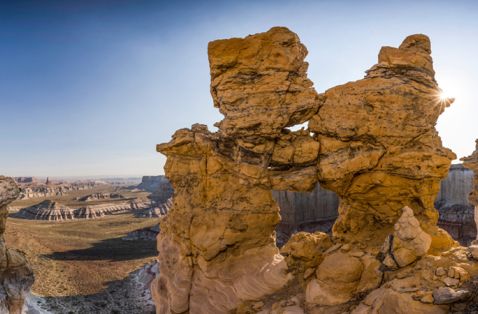 Road Trips
From cultural etiquette to tour suggestions, here's everything you need to know about visiting the many tribal communities in Arizona.
History & Heritage
Discover the rich history and traditions of the native communities in Arizona, where art and culture continue to be a major influence throughout...