Red Rocks
How to Spend the Week of a Lifetime in Sedona
From wine tasting to world-class hiking and mountain biking, the incredibly scenic city of Sedona has something for everyone.
Wondering how to spend the perfect week in Sedona? We're so glad you asked. Using our "25 Things to Do in Sedona" checklist as a guide, we created an action-packed 6-day itinerary in this north-central town.
With the help of local outfitters and guides, you'll do everything from soar above the horizon in a hot air balloon, tear through local singletrack on a full-suspension mountain bike, and sip some of Arizona's best wines after kayaking down a lazy river. Tie in a healthy dose of shopping, wellness and great food, and we wager you'll be raving about Sedona for years to come.

(All of the activities included below take place within or just outside of town. We recommend flying into nearby Phoenix or Flagstaff and renting a car, or wrapping Sedona into a longer Arizona road trip.)
DAY 1: Hike to a vortex and get a taste of Sedona
There's no better way to get acquainted with Sedona than by spending the day surrounded by red rocks and sweeping views. Take your pick of trails from Sedona's 7 Vistas, ranging from easy to moderate. Our favorite is the 5.1-mile Aerie Trail, where views of Boynton Canyon provide a look into one of the area's most well-known vortexes. Between endorphins from the hike and your proximity to a vortex, you're sure to feel the energy of Sedona.

Afterward, satisfy rumbling bellies with a stop at Pisa Lisa in downtown Sedona. You'll find a menu full of wood-fired pizza with locally sourced ingredients. That evening, get cozy around the campfire at Tiny Camp—or enjoy a restful night at any of the numerous lodging options nearby.
DAY 2: Embark on an epic art walk, swim in Oak Creek, and stargaze
Today you'll burn calories another way—with an art tour. Begin the morning at Creekside Coffee, overlooking a truly jaw-dropping view of the surrounding red rocks and Oak Creek beneath a canopy of cottonwoods. Then, hit the pavement.
Follow the Sedona Walking Trail and visit more than 15 art galleries featuring local and international artists. This is truly a wonderful way to capture the vibe of the town and peruse its every corner. By the end of the day, you might just be the one writing Sedona travel guides.

That afternoon, journey to Grasshopper Point, where an afternoon spent alongside Oak Creek is a refreshing escape from town. Or, continue up the road 1.8 additional miles to Garland's Indian Jewelry for some retail therapy.

Sedona is known for its nightlife...and by that, we mean its night sky. After the sun goes down, join the pros at Sedona Stargazing to gaze at distant galaxies through high-powered telescopes to discover why Sedona is rated a Dark Sky destination.
DAY 3: Go for a hot air balloon ride, then mountain bike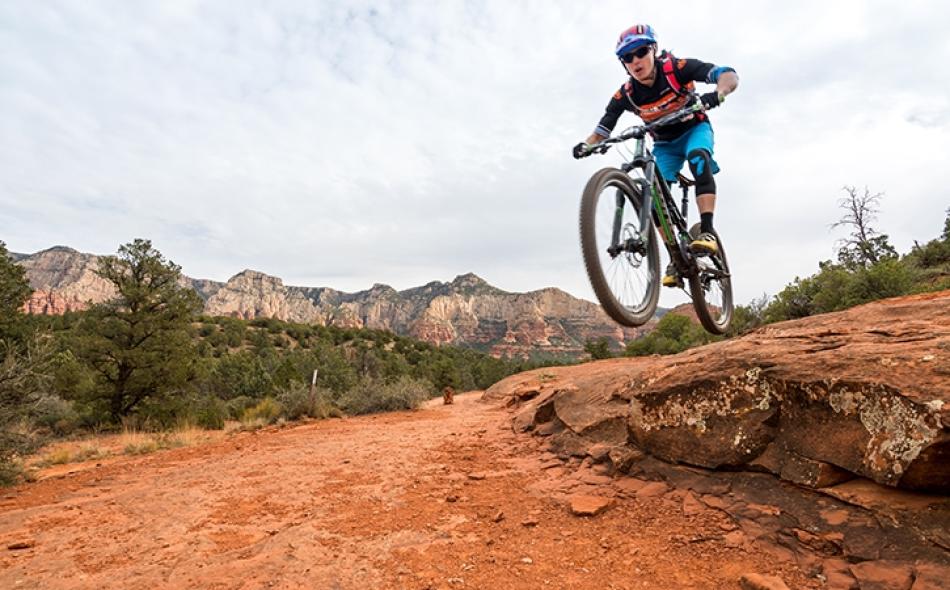 Kick things up a notch on day three with an adrenaline-filled schedule. In the morning, meet up with Red Rock Balloon Adventures. They'll take you soaring high above the red rocks of Sedona for a birds-eye view you won't soon forget.

After grabbing lunch, swing by one of Sedona's many mountain bike outfitters to rent a full-suspension ride. With 235 miles of local trails, there is truly something for every type of rider—especially those with advanced skills. Ask for recommendations in the shop or hire a guide to show you around (and fix your tire, should you accidentally run over a cactus). Another option for this afternoon is to meander the trails at Red Rock State Park, a wildlife preserve where lucky visitors can spot javelina, mule deer, bobcats and more.

Today is the perfect opportunity to celebrate your adventurous pursuits with a craft brew at Sedona Beer Company. Hot tip: The fried chicken sandwich is a real crowd-pleaser.
DAY 4: Step back in time (and enjoy an afternoon at the spa)
On day four, deepen your knowledge of the area with a few visits to key historical and architectural destinations. First, stop by the Sedona Heritage Museum. Then, walk the steps to the Chapel of the Holy Cross—an iconic building that individuals of all religious affiliations enjoy visiting and photographing. In the afternoon, continue on to the nearby community of Cottonwood, where Tuzigoot National Monument takes you even further into the past.

Upon returning to town, either get your aura read (or even photographed) or relax at one of the many local spas and wellness centers. L'Auberge Sedona has a full menu of luxurious treatments, including seasonal specials that are especially rejuvenating.
DAY 5: Let a local take the wheel and go wine tasting
Let someone else take the handlebars—err, steering wheel—on day four. Hire a Pink Jeep Tour to take you on a white-knuckle adventure over some of the most challenging local terrain. You'll wonder at the beauty of the scenery as well as the skill of your driver as they expertly navigate rocks and roots to take you to some of the most scenic spots in town. Prefer to stay on the pavement? Opt for a Trolley Tour, which will take you through Sedona at a slower, but enjoyable and informative pace.

That afternoon, go wine tasting. Sedona and its surrounding communities of Cottonwood, Clarkdale and Jerome are home to over thirteen tasting rooms, including Winery 1912 and Burning Tree Cellars. You can even make a whole day out of it and kayak down the Verde River to a special outdoor wine tasting. Talk about a great way to stay cool on a hot summer day.
DAY 6: Practice your putt on Sedona's greens
Finally, top it all off with a round of golf. Sedona is home to four exceptionally scenic greens; ranging from 9-hole par-3 courses to 18-hole Championship courses. They all share one thing in common—panoramic views of Red Rock Country that make it hard to concentrate on your game.

Later that day, stop by Red Rock Crossing to photograph iconic Cathedral Rock for sunset. If you followed along, you'll have accomplished all 25 things to do on our ultimate Sedona, Arizona bucket list. (And even if you didn't, we bet you still had a great time.)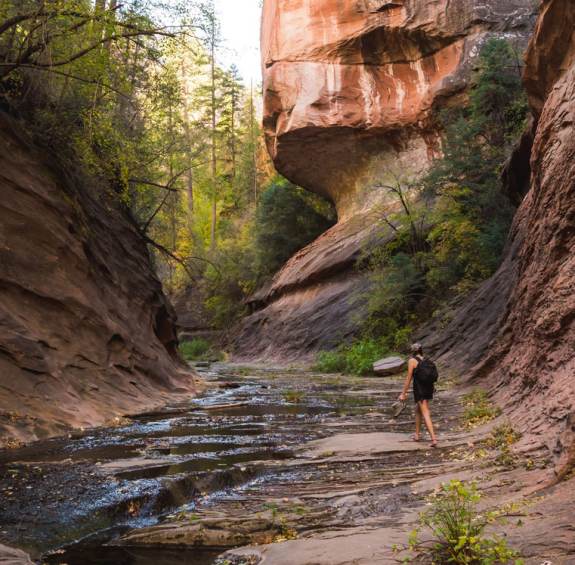 Sedona Cares Pledge
The rocks are red, and the silence is golden. I vow to respect the natural quiet of Sedona's open spaces and neighborhoods.
I will be mindful of Sedona's arid environment by minimizing my water and energy use, and I will be extremely careful with fire.
I'll make my own memories, but not my own trails.
I won't risk life or limb (human or sapling) for more likes. I won't get killed for a killer photo.
When playing outside, I'll be ready for rapid changes in weather and random episodes of magic.
I'll leave no trace and pack out all my trash—that includes TP and pup poo!
I will discover art in Sedona's galleries rather than making my own. Carving on trees or rocks, stacking stones, or defacing the environment diminishes nature's art.
If I can't find a parking spot, I will not invent my own. I will go with the traffic flow, using my turn signal often and my car horn seldom.
I'll be caring and considerate wherever I go because that's the Sedona way.