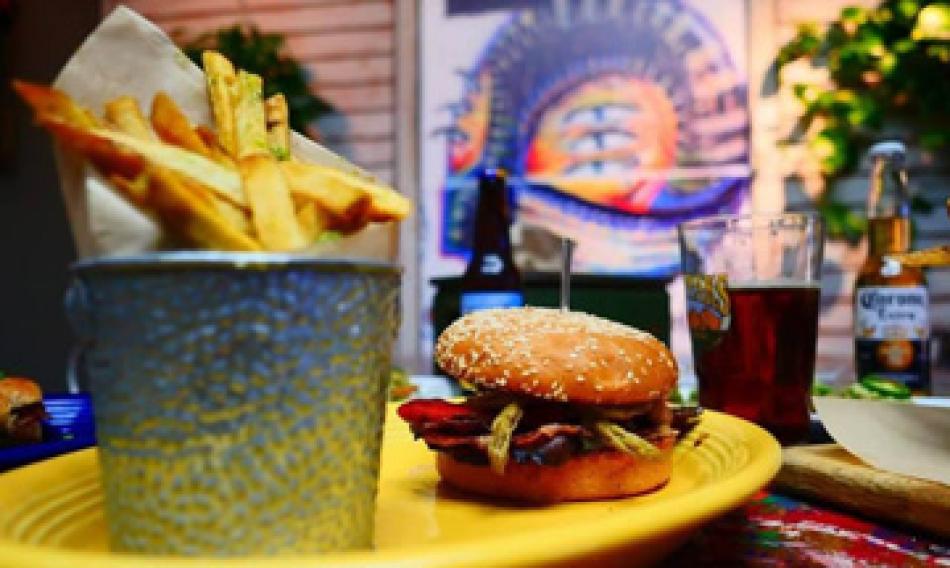 Eat Like a Tourist: Sedona
Visitors coming to Sedona for the red rocks find equally enchanting the nationally renowned fine food and creekside table settings.
You've heard the refrain, and it's a noble one: "Eat like a local." But what if you want to be an unapologetic tourist and try an Arizona restaurant you've been hearing about for years? There's a reason these places are famous, right? So go for it. This edition of "Eat Like a Tourist" takes us to Sedona.
CRESS ON OAK CREEK
Why It's Famous: The Views


Cress on Oak Creek's outdoor dining area sits on the riverbank of Oak Creek, beneath mature trees that form a leafy canopy over the restaurant. It's a fairytale setting that makes Cress on Oak Creek feel like an elegant dinner party you happened to discover while traipsing through the woods. On-site at L'Auberge (pronounced "low-berje") de Sedona resort, the restaurant also includes indoor dining higher up in the treetops with wall-to-wall windows of the forested environs. If the setting doesn't take your breath away, the food will. Three-, four- or six-course menu options feature a rotating lineup of seasonal ingredients. A recent item: foie gras on truffle brioche topped with toasted fluff, lingonberry jam.
ELOTE CAFE
Why It's Famous: Mexican Roots, National Press
Maybe you've heard of Elote Café. Since opening in 2007, it's received praise from The New York Times, Sunset magazine, The Boston Globe, Chicago Tribune and Fodor's, to name a few. Chef Jeff Smedstad gathered culinary inspiration in Mexico, where for two decades he traveled the country and immersed himself in the culture. His dinner-only menu puts a Southwestern twist on Mexican flavors, such as lamb in an ancho chile adobo sauce, huitlacoche quesadillas, or buffalo short ribs braised in mole poblano. The Vegetable Relleno is nearly too pretty to eat: A plump green chile relleno in a base of an ochre-colored sauce is topped with crispy tortilla strips and a dollop of sour cream, then sprinkled with pumpkin seeds and sided with salsa. One taste of the seared-vegetable and apple stuffing, however, and that pretty plate's contents disappear quickly. Of note: Elote Cafe doesn't take reservations. Show up early.
THE COFFEE POT RESTAURANT
Why It's Famous: The Kitsch Factor


This is a tourist-happy spot that Sedona locals love, too. The Coffee Pot Restaurant has been a constantly bustling eatery since the 1950s, with interior décor that reflects its history and the area's heritage. American Indian artwork, murals of cowboys and of the famed Coffee Pot Rock formation (for which the restaurant takes its name) cover the walls, as do signed photos from famous patrons. Slide into a funky booth, sip on coffee from one-of-a-kind dip-glazed mugs and browse the eight-page menu. The Coffee Pot Restaurant serves more than 101 omelets ranging from classic (No. 7: ham, tomato, onion and cheddar) to intriguing (No. 99: jelly and cream cheese). Browse the quirky gift shop if you happen to be waiting behind the dozens of other fans who flock here daily; it's filled to the brim with accessories, home goods, thingamabobs and knick-knacks.
DELLEPIANE
Why It's Famous: Foodie Cred
At Dellepiane, all-American burgers get a dash of Argentine flair. Owner and Chef Tomas Agostino launched the original Dellepiane restaurant in Buenos Aires, then arrived in Sedona to bring the concept stateside. The menu consists of sandwiches, starters, sides (foodies rave about the thick-cut yucca fries) and 10 signature, six-ounce Black Angus burgers with bold flavor combinations. The El Paso burger, for example, is laden with pecan-smoked bacon, a glob of cheddar, roasted red pepper, caramelized onion, jalapeño and guacamole. But it wouldn't be an Argentine restaurant without empanadas, including the sweet corn, butternut squash, jalapeño and pepper jack-stuffed corn and squash incarnation. Or, go for the one filled with blue cheese, mozzarella, celery and walnuts. Pair it all with a South American-influenced wine list, which is heavy on Malbecs and Cabernets from—you guessed it—Argentina.
RENE AT TLAQUEPAQUE
Why It's Famous: It's a Tourist Trap (In a Good Way)


Red Rocks. Pink jeeps. White tablecloths. The romantic setting at Rene at Tlaquepaque has made this place a cornerstone Sedona date-night destination for nearly 40 years. Fanned cloth napkins and fresh flowers at each table set the mood within an art-filled courtyard. The menu revels in the kind of entrées that out-of-towners happily make the drive for, such as the tenderloin of antelope, which is served with a whiskey juniper berry sauce. Not to be missed are the craveable Gruyere and Parmesan beignets, topped with fresh Parmesan and served with a tarragon sauce. But the dish that tourists really love is the seared scallops served over a prickly pear beurre rouge.