From mysteries to musicals to foot-stompin' tunes, Arizona dishes up lively stage shows with meals ranging from quick service to fine dining. Make reservations early for fun family entertainment that satisfies both the belly and the soul.
Page
Into the Grand
Into the Grand in Page presents the heartbeat of traditional American Indian dance and music with a showcase of modern pow wow dances. Only one dinner seating is offered per night at this small venue, and reservations are strongly recommended.
The food options include such items as traditional Navajo tacos, pulled pork carnitas, baked chicken, vegetarian chili and Navajo cheesesteak, all served up with a side of Navajo frybread and performances by local musicians.
The meal is followed by the pulsating drum and ethereal cry of traditional songs while young Navajos perform the women's jingle and fancy shawl dances and the men's fancy and grass dances.
The finale is the complex hoop dance in which performers create complex designs and evoke animals as they move in and out of a number of hoops.
Tucson and Oro Valley

The Gaslight Theatre
Old-timey melodrama with plenty of songs, dance and joking around is the hallmark of The Gaslight Theatre in Tucson. The audience is encouraged to boo the villain and cheer the hero during these locally written and produced shows that have included The Lone Stranger and Gnatman. Order up pizza, meal baskets or sweet stuff to eat during the action on stage, or nosh on the free popcorn.
The company also serves eats with musical revues and concerts at its newest location, The Gaslight Music Hall in Oro Valley, just north of Tucson. Laugh along to the Hee Haw Country Western Revue or play detective in the interactive murder mystery show.
Peoria
Arizona Broadway Theatre
Spend a fancy night or matinee with Arizona Broadway Theatre in Peoria. Start with table-service dining from a prepared-fresh daily menu. After the tables are cleared, the curtain goes up on a locally produced, popular musical like Mamma Mia! or An American in Paris. At intermission, enjoy dessert and after-meal beverages to finish out the performance.
You can buy tickets for only the show, but don't worry if you change your mind. With a little advance notice, you can add a meal.
The company also puts on tribute dinner concerts filled with hits by the likes of John Denver and Elvis Presley.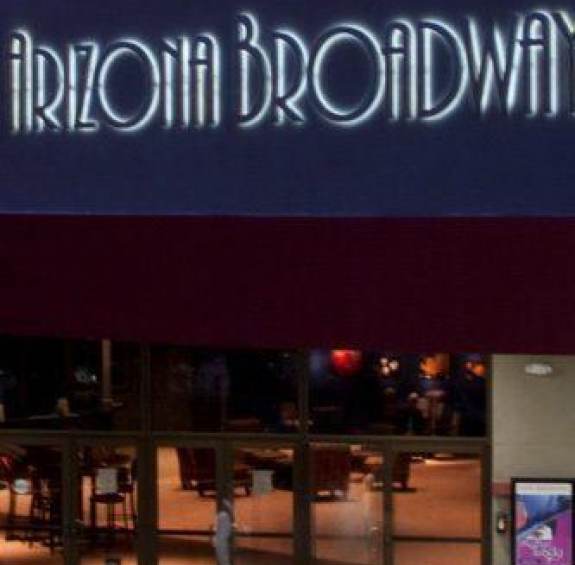 Tempe and Tucson
The Dinner Detective® Murder Mystery Dinner Show
Is that chatty diner at your table a suspect in a crime or just a friendly visitor like yourself? You'll have to wait until the end of the Dinner Detective Murder Mystery Dinner Show, on stage weekly in Tempe and Tucson.
Elements of a four-course meal - including chicken, salmon or pasta entrées - are served between acts while costumed actors move the plot along. The entire room is the stage, so you never know if you're sitting next to one of the unidentified, non-costumed actors in the audience.
Flagstaff
Black Bart's Steakhouse, Saloon & Musical Revue
Black Bart's Steakhouse, Saloon & Musical Revue in Flagstaff showcases singing waiters - many Northern Arizona University student performers - who serve food as they take turns singing in the musical revue. Expect foot-tapping pop oldies, Broadway tunes, jazz standards and Disney favorites.
Black Bart's has been serving up satisfying tunes and food for nearly 40 years and remains as popular as ever.
Apache Junction
Barleens Dinner Show
The Barleen family has been entertaining diners in Apache Junction east of Phoenix for more than three decades. There currently are 22 family members involved at Barleens Dinner Show, featuring performances by twins Barbara and Brenda, as well as a variety of musical acts and concerts ranging from country to rock and roll to popular standards, and even some comedy. Before the seasonal shows (November-April), you'll be served a home-style, plated meal heaped with slow-roasted beef, savory chicken, decadent chocolate cake and more.