Strike gold with Oro Valley's dynamic multi-use trail system.
Oro Valley means "Valley of Gold" in Spanish, a reference that dates to a time when prospectors were searching for their fortune. Nowadays the riches of this bedroom community refer to its stunning location: Folks are floored by views of the rugged Santa Catalina and Tortolita Mountains that flank town. But its not just views. Oro Valley has topped several national "best of" lists for its laid-back, family friendly demeanor.
Oro Valley's trails are ranked as gold level by the American League of Bicyclists. The city is the starting point for the annual 40-mile El Tour de Tucson, which attracts thousands of cyclists from across the United States on the first Saturday after Thanksgiving, when the weather couldn't be better.
Check in to the Hilton El Conquistador Golf & Tennis Resort for commanding views of Push Ridge. Then set out to explore Catalina State Park, gateway to 5,500 acres of pristine desert, offering all-season camping, hiking (including frequent guided ranger walks), and horseback riding.
Oro Valley is also home to the Tohono Chul Park – deemed "One of the World's Ten Best Botanical Gardens" by Travel + Leisure magazine – and the Oro Valley Aquatic Center, a competition-level facility that hosts national synchronized swimming championships every year. During the fall and spring, the Town holds three, free, outdoor concert series each month, and one just for kids!
Whatever you choose to do, keep your eyes peeled during both day and evening excursions: You might spot wildlife families including quail and javelina.
More to Discover Near Oro Valley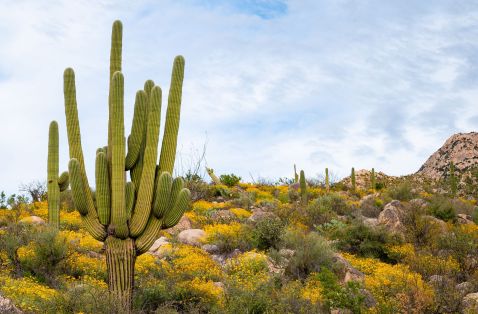 Bring your horse, bicycle, or just your hiking boots and you're bound to have a good time at Catalina State Park. Located less than 20 miles...
Looking for a place to get outdoors that offers easy and challenging trails? This is that place. On the northeast edge of Tucson, Sabino Canyon...
Cities
For authentic Southwestern experiences, Tucson (and surrounding Southern Arizona) fits the bill.